Efficiency Increases Lead to 35% More Capacity at RV Parts Fabricator
July 9, 2015 | 11:13 am CDT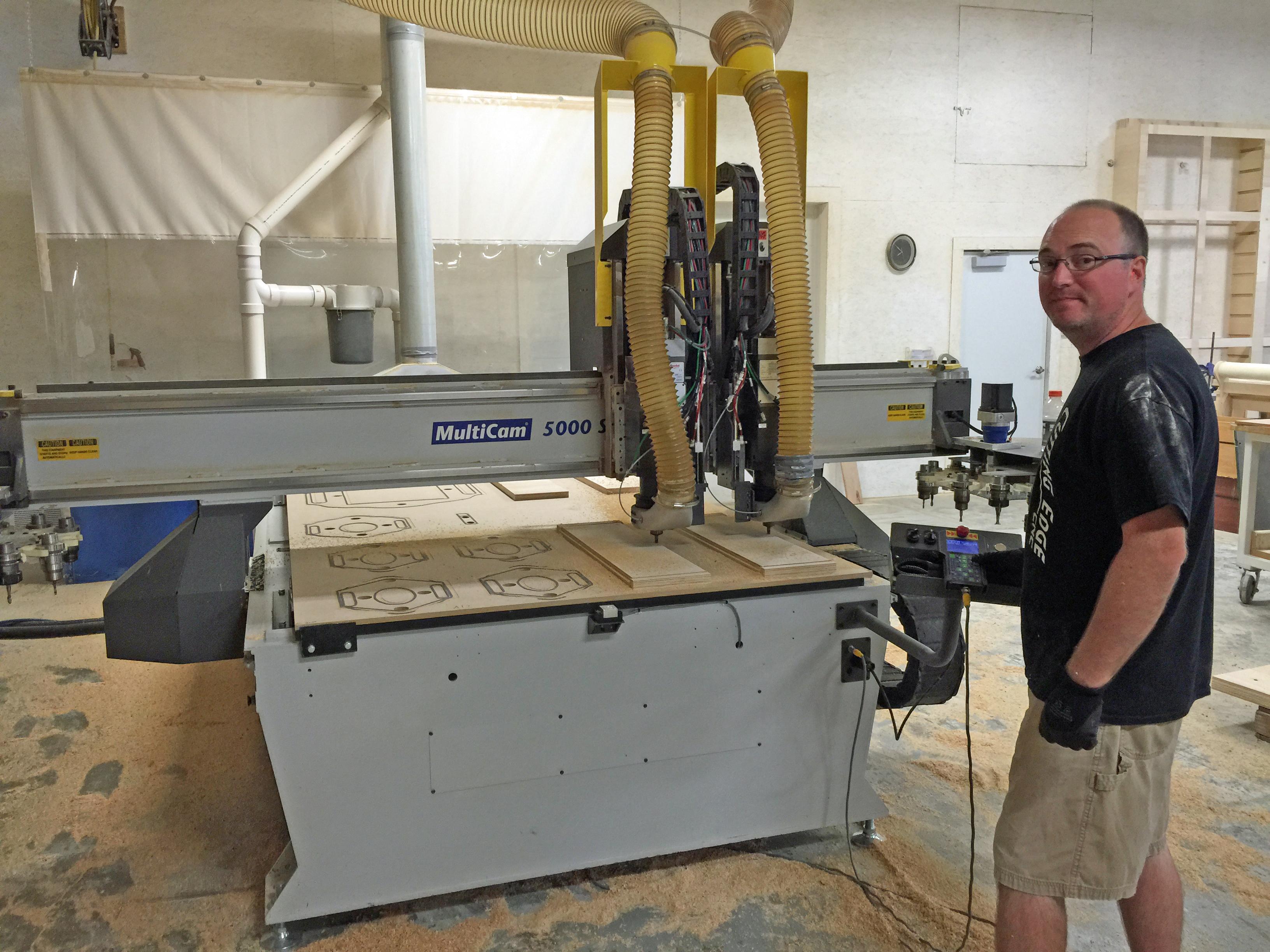 Photo By Cutting Edge CNC LLC
As driving vacationers across America gas up motor homes this summer, few are aware that many of the wood components found in their luxury campers are manufactured by a small Midwestern company using highly automated, computer numerical control (CNC) cutting technology. Growth has been steady at Cutting Edge CNC, LLC, ever since Danny Miller founded the firm in a northern Indiana garage five years ago. Its 2014 line chart shows a dramatically steep sales spike, thanks in no small part to a second MultiCam 5000 Series model added 18 months ago.
"Our growth has been tremendous: Sales are 100% from year-to-date last year," reports the former woodworking company salesperson who now is one of four co-owners of Cutting Edge CNC. The balance sheet presently shows sales exceeding $1.7 million. The real growth began three years ago, when Miller and his team invested in a speedy MultiCam 5000 with a 5x20-foot work area.
"We have to run our two older machines slower to get consistency and quality," says Miller, who acquired one of these smaller routers when he bought a CNC routing business in 2010 and moved the machine into his garage in Goshen, IN. Today, his two MultiCam CNC routers feature "repeatability and consistency [that] have boosted our quality," he continues.
Cutting Edge made sure it had space for a fourth CNC router when it moved in February 2014 to a 12,000-square-foot shop in a redeveloped industrial park 10 miles away, in Millersburg. And, there is room for even more growth -- in fact, a third MultiCam may be on the floor by the end of 2015, Miller notes.
The MultiCams are double-spindle machines, "and each spindle has a 12-position tool changer," he points out. (See sidebar.) "The older routers don't have tool changers on them." Adding the MultiCam 5x10-foot table size last year has resulted in an increase of capacity approaching the 40% range, Miller estimates. "Being quicker to respond has been huge for our growth," he adds.
Looking beyond RVs
When Miller purchased the routing firm, it had several clients in the recreational vehicle (RV) market, and RV components still account for some 75% of Cutting Edge CNC's work. "RVs are big in this area," he explains, adding that the firm produces a variety of hardwood products including slide-out trim and chair and table components as well as wine racks and letter holders. Diversification, however, is inevitable, and Miller and his team have branched out into the bus industry, making wood parts for hotel and airport shuttles. "We also are expanding into craft items and store fixtures," he says of his six full-time employees who operate a daily eight-hour shift.
Dealer support is a big reason why Miller and Cutting Edge CNC have become fans of MultiCam Inc. "They build a solid machine," Miller praises, but when there are service problems he knows he can count on MultiCam Great Lakes. "They are always responsive – either by phone or [via] tech support – within an hour," he explains. Based in Grand Rapids, MI, Great Lakes technicians can be on site, if need be, in less than 24 hours. "There's no fly-in required." More important is their attitude: "It's our livelihood, and they treat it that way," Miller concludes.
5000 Series Router
The MultiCam® 5000 Series CNC Routers are flexible machines, says the manufacturer, designed for easy configuration to meet most high-speed routing application requirements. This rugged cutting system can be used in a range of woodworking, plastic and non-ferrous metal production jobs.
Steel construction and a space-saving, moving-gantry design make the 5000 Series robust, commercial-grade machines designed for heavy-duty CNC routing. With the industry's largest range of standard table sizes and spindle configurations, MultiCam's 5000 Series is an ideal choice in today's competitive manufacturing environment.
Automatic Tool Changer (ATC)
There is an optional 12-position rotary tool changer for 5000 Series machines. MultiCam optimized this accessory for bidirectional rotation. It takes the shortest route to help reduce tool change time. All ATC systems come standard with automatic tool calibration. Tool change routines built into the controls simplify integration with CAM software. An automatic tool changer solution can help reduce job time, improve accuracy and reduce set-up errors.
Base Frame
MultiCam welds, stress relieves and precision-machines the one-piece 5000 Series steel-plate base frame. It features 0.5" thick side plates and 2" bar stock to support the X-axis linear bearings. One-piece construction provides an accurate and smooth cutting system while reducing installation time. It essentially removes the possibility for installation errors that could affect the system's performance and accuracy.
No Programming Experience Required
MultiCam CNC machines use MultiCam EZ Suite, which is a complete machine tool management solution that combines several applications to provide user-friendly methods for setting up, managing, updating, and troubleshooting the machine and job files. MultiCam's EZ G-Code is an easy-to-use CAM software solution that is designed to make CNC cutting easier at the operator level. Designers understand the art of creating beautiful parts and units in sophisticated CAD programs, but operators know how to fine tune machines and get the best cuts possible. After all, operators work with machines all day, every day.
The huge benefit of EZ G-Code is that the entire program from start to finish is easy to navigate simply by hitting the "Next" button. This takes the operator through the necessary steps to ensure perfect cuts every time.
Most CAM systems require several complicated steps to translate a CAD file into machine-ready G-Code. You must determine and enter such factors as tool selection, cut order, cut direction, kerf compensation, and speeds before you can create useable data. But EZ G-Code automates these tasks, saving valuable time and simplifying the production process.
Knife and Multivision
MultiCam's CNC knife option is available on the 5000 CNC Router. Today, a significant percentage of all machines shipped by MultiCam have an optional knife assembly in addition to the primary cutting head. The advent of MultiCam's knife cutting technology opened up markets in graphic arts, digital printing, packaging, automotive, aerospace, textiles, gaskets and many other industries.
Our CNC knife has fully programmable, 360 degree servo rotational capabilities and the compact design is available in either a single- or dual-knife configuration. Optional cutting heads include oscillating, drag, kiss-cut, pizza wheel, creasing and bevel.
MultiVision™ Digital Registration System auto corrects image skew and drift. A digital camera/software-based system, MultiVision™ recognizes media registration marks visually and aligns the image automatically. It integrates easily into your existing workflow while providing the additional flexibility of utilizing state-of-the-art CAD/CAM software for enhanced tool-path generation as well as advanced 3-D sign and graphics applications.
Standard Features
•    Heavy, all-steel gusseted plate frame construction
•    25-mm linear ball-bearing profile rails for maximum stiffness
•    MultiCam EZ Control® user-friendly operator interface
•    High-speed three-axis motion-control system
•    12-MB memory with unlimited file size
•    transfer capabilities
•    Standard Ethernet or RS232 direct connections
•    Brushless digital ac servo drive system
•    Automatic tool calibration
•    MultiCam EZ G-Code™ programming software
•    MultiCam EZ Control Hand Held Operator Interface
No CNC routing machine in its class offers more standard features than the MultiCam 5000 Series.
•    User-friendly operator interface
•    25-mm linear bearing profile rails for
maximum stiffness
•    2700-IPM rapid traverse
•    Standard automatic tool calibration
•    High-speed three-axis motion controller
•    12-MB memory with unlimited file size
transfer capabilities
•    High-performance brushless digital AC servo system standard
•    Helical rack in X and Y axes
•    Standard Ethernet or RS232 direct connections
 
Have something to say? Share your thoughts with us in the comments below.