ModuForm's Case for Intelligent Storage & Retrieval
August 16, 2011 | 9:11 am CDT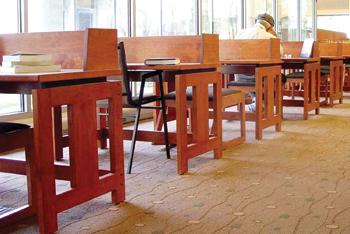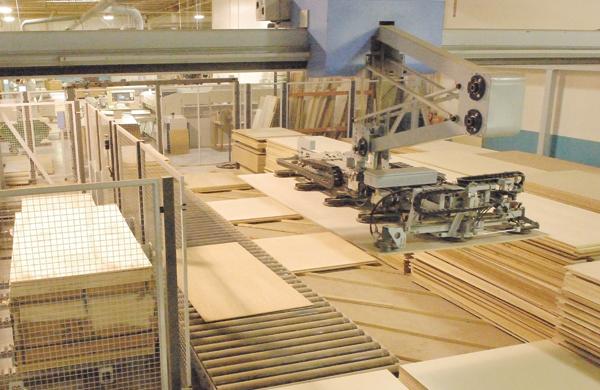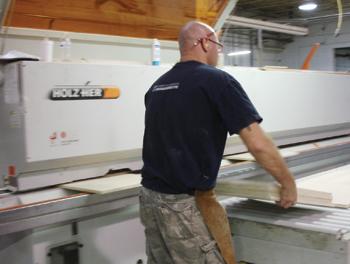 ModuForm recently purchased this automated storage and retrieval systems to increase efficiency.


When a panel saw operator is spending as much time pulling material as cutting it, then it is time to expedite the process. And that is exactly what William (Bill) Weissman, president of Massachusetts-based ModuForm, a manufacturer of casegoods and components for the educational and institutional markets, decided to do when he purchased an automated storage and retrieval system to increase the productivity of his operation.

The Bargstedt IntelliStore storage system, from Stiles Machinery, is automatic with a robotic arm. Located at the rear of the 170,000-square-foot manufacturing facility, near the loading dock, the system consists of several components, including two infeed stations, a control center, a protection fence and a conveyor belt. The overhead robotic arm moves material from the infeed station to storage stacks, and then to the conveyor belt, which feeds a Schelling panel saw.

The software used in the storage system has what can be considered an intelligent design or an artificial intelligence, which allows it to optimize material work flow handling according to the company's needs and use of certain materials.


ModuForm manufactures casegoods and components for
the education, library, corrections, government and health
care markets.
Photo credit: ModuForm, T. Hurd
Weissman explains that the sheet goods used most by the company are tracked by the machine via an algorithm in its software. It then stacks the sheet goods accordingly, either closer to the conveyor or farther away depending on usage.

"We currently inventory more than 200 skus," he says. "This system is also capable of taking inventory and compiling it in a chaotic stack, [which] means there are different kinds of skus in the same pile. But it knows where every piece is in that pile. When we give it a work order list to retrieve material, it knows exactly where to go."

This ability to quickly store and track material has optimized operations for ModuForm. Facilities Manager Deborah Rydell says that panel saw operators were spending approximately 50 percent of their time cutting and the other 50 percent searching and retrieving material. After adding IntelliStore, operators now spend more than 90 percent of their time at the saw cutting.

Weissman agrees with her assessment that the storage and retrieval system allowed them to organize the material handling process in a more efficient way. "We had a warehouse with stacks and stacks of materials," he notes. "We had about 240 skus in different kinds of sheet goods." Without a dedicated materials handler on staff, saw operators spent a great deal of their time in a process that was not adding value, in terms of a lean manufacturing perspective.

"We have a term in manufacturing called non value added (NVA) and the going and fetching of material is what we call NVA," Weissman explains. "In any manufacturing, anything you can do to reduce NVA is really important for lean."

How It Works
The first step is to record the newly delivered material. Workers unload sheet goods on the dual in-feed stations after their barcodes have been scanned and material quantities have been entered at the control panel. When the robot is not servicing the saw, it will then place these loads in inventory. Weissman says that the system works 24/7, even "when the lights are off in the factory. At night time it will build stacks of materials to go on the saw for the next day."


The education market is a significant part of ModuForm's business. Photo credit: ModuForm, T. Hurd
Next, project cutlists are sent to the panel saw. The operator signals the IntelliStore for required material. The robotic arm will retrieve the material from a stack within the protective fenced-in area and place it on a conveyor belt.

The robotic arm picks up individual sheets with the aid of vacuum cups, which have been specifically designed to match the company's variety of sheet good sizes.
"Most people are using 4x8 sheets, but we also use other size sheets, so the system is capable, because of the design, of handling various sizes," Weissman says.
After the robotic arm picks up the panel, it weighs it to ensure that it has only picked up one sheet. When it releases the material, either in a stack in inventory or on the conveyor, the arm slightly vibrates to make sure the entire sheet has been released from the vacuum.

Long before he purchased the IntelliStore, Weissman says he was aware of this type of automated storage system, but the technology he was familiar with was more than a decade old.

"They have improved the sophistication of these machines over the last 10 years enormously," he notes. "We have taken trips to Europe, where a lot of this equipment gets designed and made. What we saw in Europe was that most of the factories are using these automated storage and retrieval systems. It's just one of those things you add to your wish list and when you can do it, you do it."

ModuForm installed IntelliStore a little more than a year ago. But the actual purchase decision was made approximately two years ago when the company decided to create a manufacturing cell to increase productivity and optimize the work flow.

"At the time we were designing the cell, that was when we thought it was time to investigate automated storage and retrieval. So that's when we began planning."
The new cell, which includes a Holz-Her edgebander and a Biesse Skipper CNC, as well as the Schelling saw, was developed to process melamine and plywood components, Rydell notes. The storage system feeds not only this cell, but the solid wood machining area, which features a Biesse Rover CNC machining center. "The Rover does the solid wood pieces for the college casegoods line," she adds. From there the solid wood components are sent directly to finishing.

ModuForm's finishing department has been at the forefront of environmentally friendly practices for decades. In 1988, Weissman says he moved to UV finishing well before the current green movement push. When ModuForm converted its finishing process to UV, its emissions dropped significantly.

All of the company's casegoods educational products and library furniture are coated with a water-based stain on a flat line UV finishing system from Cefla.


All components are finished on ModuForm's UV flatline
finishing system before assembly to ensure the integrity of
the finish.

ModuForm's History
Weissman, who has a chemical engineering background, started ModuForm in 1976. It primarily manufactured plastic molded product for psychiatric and correctional facilities — seating that might be subjected to abusive behavior.

Although the plastic molded furniture was the company's "bread and butter," Weissman decided to branch out into more vertical market niches like the educational market, including libraries, and added sophisticated woodworking and casework. The vast majority of the operation now is woodworking, he says.
With the purchase of the Library Bureau, founded in the 1800s by Melvil Dewey — creator of the Dewey Decimal System, as well as library furniture, ModuForm solidified its move into the woodworking market.

Tom Hurd, executive vice president, says ModuForm is anticipating an increase in sales volume this year, mainly from closing competitive market gaps by increasing its distribution network. Much of the new equipment, including the IntelliStore system, was added in anticipation of that new volume of sales.

"It is a great way of growing revenues," he says, noting how much ModuForm's "real gem" of a facility was a factor. "[We're] not just catching up [with the latest technology], we're jumping ahead. The future is in the product lines and the capability of the plant."

The high-tech addition of equipment like IntelliStore has also allowed ModuForm to maintain its domestic workforce. Adds Rydell, "Pieces of equipment like that allow you to reduce labor cost and increase utilization." It's important not because you're eliminating jobs, but because of a general lack of skilled labor in the industry. ModuForm also promotes woodworking education by working with the wood program at nearby Massachusetts Tech Vocational School.
Have something to say? Share your thoughts with us in the comments below.