Lights Out Woodworking at Ro-Bois-Tic
February 4, 2013 | 12:47 pm CST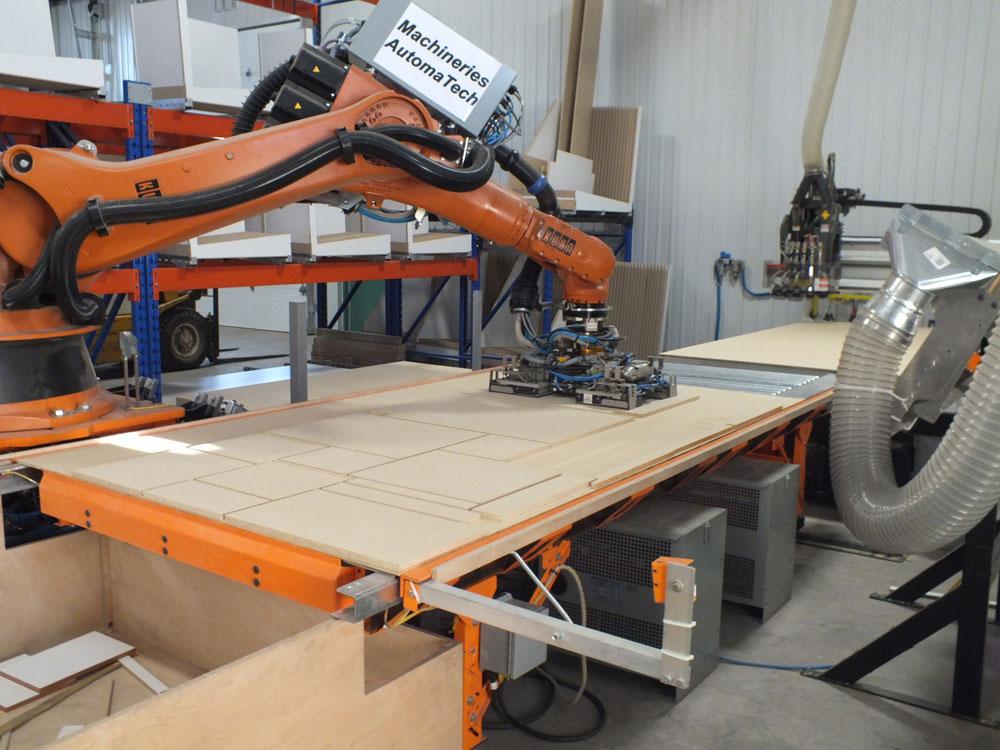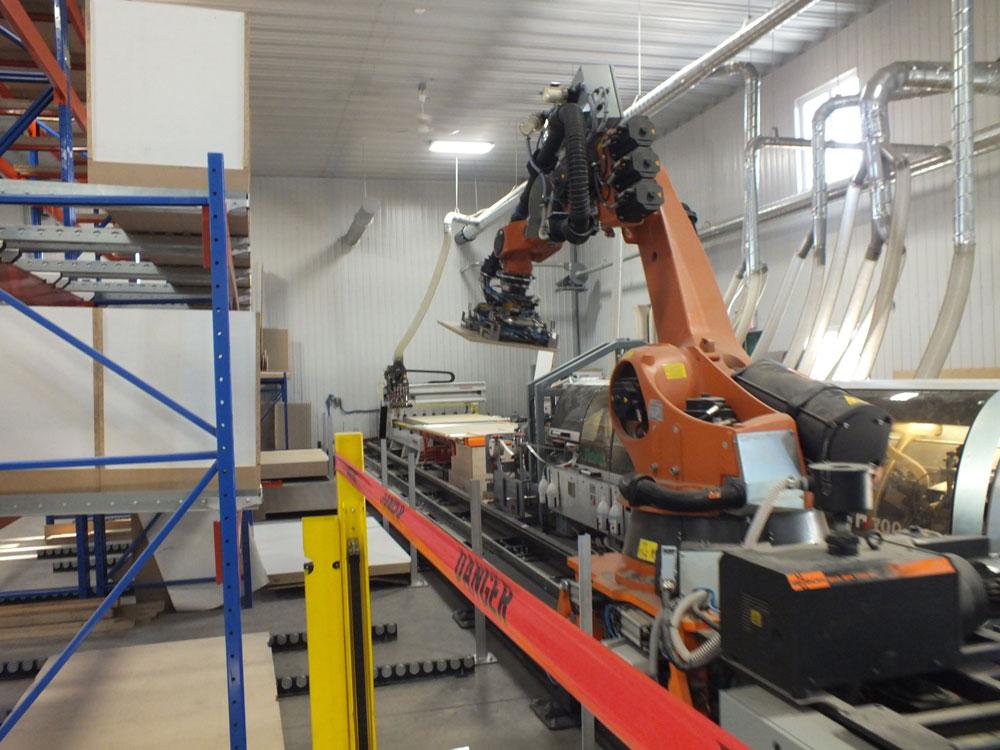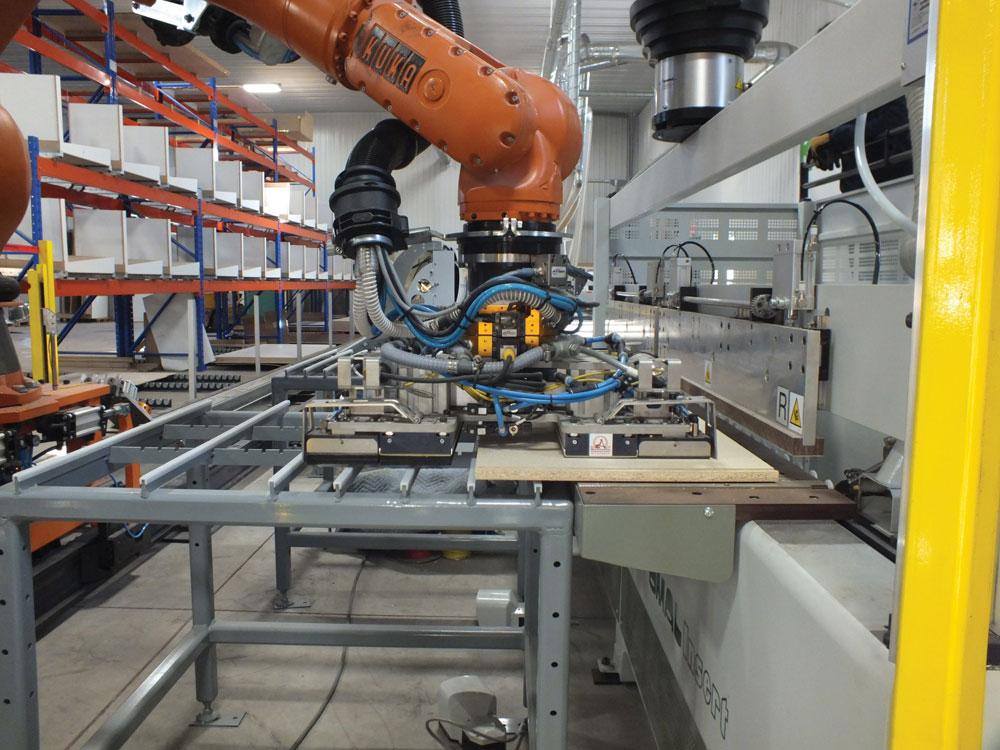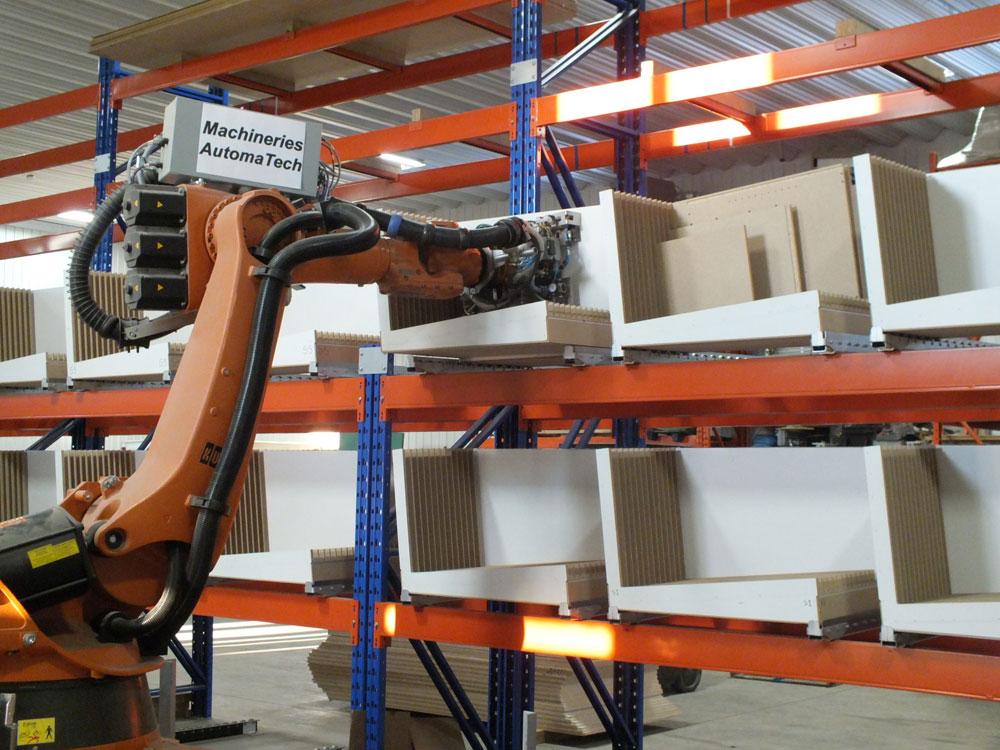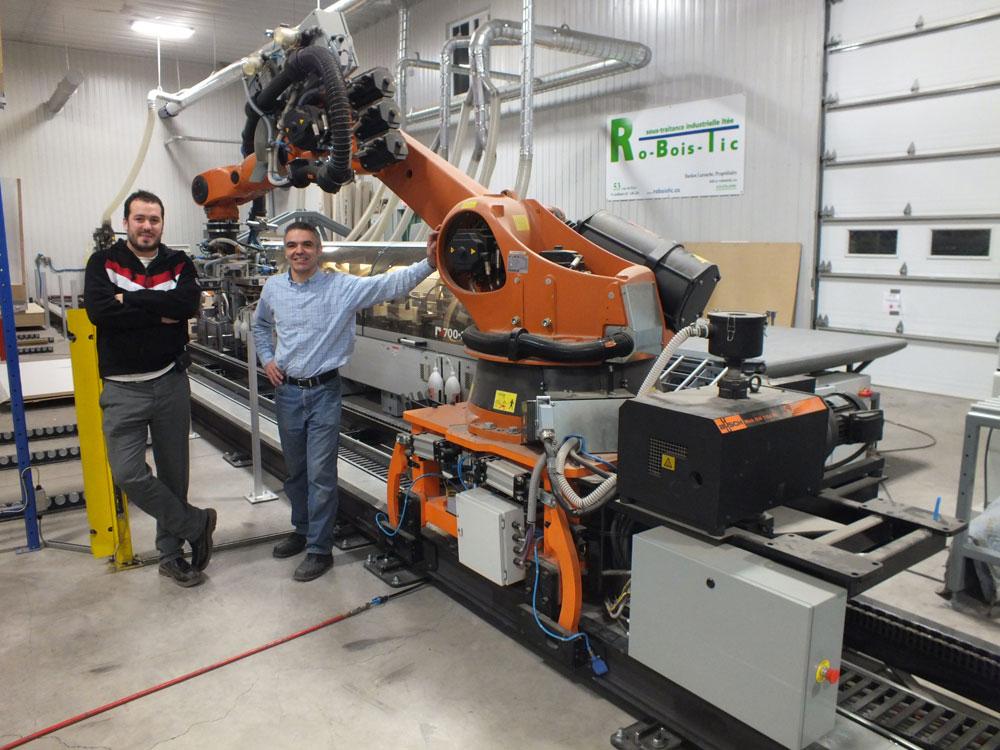 Robots are far from new to the woodworking industry, but how one is being deployed at a most ambitious start-up near Quebec City is unique to North America and maybe the world.
The company is called Ro-Bois-Tic - bois being French for wood. It's the brainchild of Bastien Larouche, who has more than 25 years of experience working in high-volume manufacturing environments. Larouche began his diverse manufacturing career at Kraft Foods in the mid 1980s and more recently served stints as director of manufacturing for metal furniture maker Amisco and as plant manager of Teknion, a manufacturer of wood office furniture.
In Larouche's mind, the challenges posed by each succeeding job along his career path, plus the MBA in business administration that he earned in 2003, helped prepare him to reach for the stars in August of 2011. That's when he decided to create a lights-out factory that could fabricate wood products with zero human intervention.
Since last November, Larouche, with the help of a Kuka robot, a trusted technology partner in Machineries Automatech and a complement of panel processing equipment, has been doing just that. Larouche downloads his customers' DFX product design file into a computer. When the robot gets its marching orders it begins its methodical task of making panel components gliding along the 80-foot rail that spans the line. The software, custom developed by Machineries Automatech for the Ro-Bois-Tech project controls movement of the Kuka robot and other equipment that make up the robotic line.
This includes:
• Pulling full-size sheets of laminated panels off a rack and accurately positioning them onto a Thermwood CNC nesting router;
• Lifting nested parts off the router and feeding them up to four times through a Fravol edgebander;
• Feeding the edgebanded parts into a Omal drill and dowel insertion machine;
• Carefully placing each completed part into a bin containing the entire family of the parts required by the customer to assemble a kitchen cabinet, office filing cabinet or other type of wood storage product; and
• Sweeping scrap remnants off the router to prepare it for the next panel and cycle.
How does it feel to be the guy who took the plunge and a loan to invest more than $1.1 million to make Ro-Bois-Tic happen? Says Larouche, "When I watch the line running, I just enjoy the moment because I'm seeing a dream come true."
The Robotic Concept Takes Root
"I pretty much always wanted to have my own company to run," Larouche says. "I never diverted from this goal. I was patient, always learning and diversifying my experience."
His experience with automated workcells, including those involving robots, led Larouche to wonder how many tasks a single robot might be programmed to efficiently perform in a woodworking plant.
His curiosity led to research that ultimately brought him into contact with Tommy Gagnon, CEO of Machineries Automatech, a Quebec City-area systems integrator specializing in robotic automation of wood and metal processes. "Toward the end of August 2011, I had this idea about launching Ro-Bois-Tic and I met Tommy Gagnon to share the vision I had. It took only 24 hours for Tommy to come back to me and say that his company was 100 percent behind the project to be my technological partner. This was sufficient support for me to go ahead and realize all the necessary steps to found and start Ro-Bois-Tic as it is today."
Gagnon and his team came up with solutions for a variety of manufacturing challenges. For example, Machineries Automatech developed the rail system and a vacuum gripping tool that allows the robot to handle a full size 5-foot by 9-foot panel, as well as a part as small as 3 inches by 6 inches. "From my view, that's amazing," Larouche says.
In addition, Gagnon worked very closely with CNC Automation, a woodworking machinery distributor based near Montreal. Like Gagnon, Larouche says CNC Automation President Andrew Legault "was truly a believer of the Ro-Bois-Tic vision from the beginning" and pledged to put his company's full technical support behind the project.
CNC Automation supplied the three key pieces of panel processing equipment - router, edgebander and drill and dowel inserter. A key to the robotic line's success was getting all of these components to work in harmony and like clockwork.
"A lot of change was necessary to integrate this equipment in the robotic line," Larouche says. "Running the first production last June with the just the robot and the CNC router was a challenge in itself," Larouche says. "But a lot more change was necessary to integrate all of the equipment to the robotic line.
"Edgebander integration was tougher than expected," Larouche says. "Being able to put an edgeband on all four sides of a 39-inch by 96-inch panel as well as on a small part of 6 inches by 6 inches is very challenging for a robot. We solved this and all other problems that surfaced over the implementation period but it took a lot of resources and time to realize that."
"I am totally satisfied by the line currently running," Larouche adds. "I currently run at 75 percent of expected efficiency. This number is going up and it will take between six to nine months to reach the expected efficiency to have a capacity of 1,200 cabinets per week. When we reach this level I will have hired two people to run the plant on a 24/7 schedule, including four hours per day for cleaning and maintenance."
The Premise and the Promise
Ro-Bois-Tic does not make products for end users. One of Larouche's customers is a cabinet manufacturer that subcontracts Ro-Bois-Tic's services to meet overflow demand for its products. Most of his current cabinet customers, however, do not have manufacturing plants and instead concentrate on sales, design, assembly and installation.
Larouche's manufacturing model is based on lean manufacturing concepts and fast turn-around times.
His customers are required to have their raw materials — mainly laminated panels and edgebanding — delivered to the Ro-Bois-Tic plant per schedule. This practice not only eliminates the need for Larouche to inventory materials, it allows his customers to purchase their specified products from their preferred supply sources.
Larouche makes a couple of promises to his customers. First, he will provide them with a price quote for their order within 24 hours of receiving the designs and specifications. Second, he will complete the order within five full business days of receiving the required materials.
A Man with a Plan
Larouche has put his MBA in business administration to good use, developing a strategic plan to help guide the growth of his company.
With the robot doing all of the heavy lifting, Larouche's first priority is finding new customers to grow his business. "In my business plan, I am looking to have half of my production devoted to office furniture and the other half to kitchen cabinets."
His short-term goal is to drum up enough business to have the line running 60 hours a week. He's hoping to reach that milestone this June, at which time he will hire his first employee. When Ro-Bois-Tic advances to 80 hours of weekly production time, he plans to hire a second worker.
"One of the best things about the robotic cell it is extremely flexible to meeting fluctuating demand. I can operate from 20 hours one week to 120 hours the next."
Looking four years down the road, Larouche says his business plan calls for "beginning to reimburse the loan" and "adding another CNC router to increase the overall capacity of the cell."
Larouche's greater ambition, however, is to ultimately develop additional Ro-Bois-Tic plants, first in Montreal, and later in Toronto and Vancouver.
In other words, Larouche's dream is only just beginning.
Watch a video of the robot in action.
Have something to say? Share your thoughts with us in the comments below.