Master Amish craftsmen win contract for walnut millwork at TWA Hotel in New York
January 23, 2019 | 11:37 am CST
NEW YORK -
In what is being billed as a toast to American craftsmanship, two Amish-owned firms in Ohio beat out competitors from three Asian countries to win the contract for the TWA Hotel. Opening in Spring 2019, it will feature custom-built millwork proudly crafted in the U.S.A. by expert Amish woodworkers.
Despite receiving lower bids from vendors in China, Malaysia, and Vietnam, MCR/MORSE Development, the nation's sixth-largest hotel owner-operator, turned to Ohio's Amish Country for the elegant walnut martini bars and tambour walls that will grace the TWA Hotel's 512 guestrooms. Built in 1962 and designed by Eero Saarinen's iconic 1962 landmark is reigniting the magic of the Jet Age.
Family-owned Highland Wood Products of Millersburg, Ohio, and Hilltop Woodworking of Fredericksburg, Ohio, manufactured the specialty pieces from locally-grown walnut trees.
---
The massive project used about twenty 18 wheelers' worth of logs, involved more than 200 Amish craftspeople and took five months to complete. In total, the hotel will feature 40,000 square feet of tambour, which equates to a whopping 13 miles of wood!
TWA tambour comes to life: walnut boards cut on angles are curing after varnishing.
Creating the TWA tambour is a true labor of love — and proof of the Amish commitment to producing pieces that stand the test of time. After the walnut is cut, the wood is steamed to bring out its rich color and spends weeks drying. Millworkers then carefully sand and shape the boards before putting them through a moulder to achieve the distinctive tambour style. From there, artisans stain, seal, sand (again!) and — finally — varnish each panel to perfection.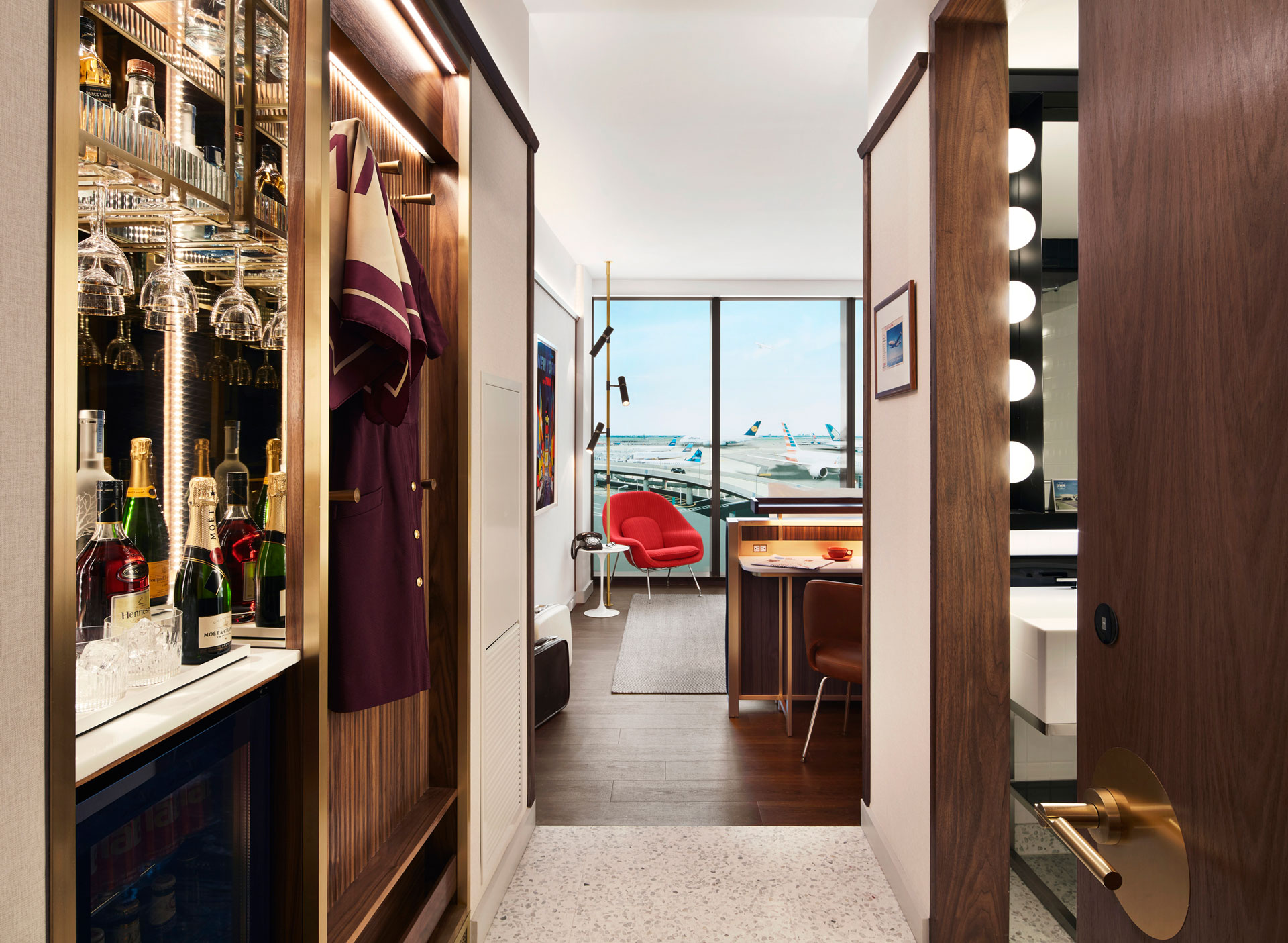 The TWA Hotel, JFK Airport's only on-airport hotel, will feature: 
•
512 ultra-quiet guestrooms
•
Six restaurants and eight bars
•
High-end retail outlets
•
50,000 square feet of event space, including a 15,000-square-foot ballroom 
•
A rooftop pool and observation deck 
•
A 10,000-square-foot fitness center 
•
A Lockheed Constellation L-1649A transformed into a cocktail lounge 
For more information on the TWA Hotel, please visit twahotel.com.
Throughout the production, nothing goes to waste. Lumber scraps are tossed into factory furnaces for heat. Sawdust turns into bedding for horses and cows.
The TWA Hotel team visited Amish woodworker Joe Yoder (far left) at his Ohio factory to watch the tambour production process.
Tyler Morse, CEO of MCR and MORSE Development, visited the Ohio factories last fall with TWA Hotel team members to witness the production firsthand. Joe Yoder, owner of Hilltop Woodworking, and his father, Eli, who started the company 25 years ago, hosted a behind-the-scenes tour of the Amish- and Mennonite-owned facilities — and a buggy ride courtesy of their horse, Charlie. The visitors also planted walnut trees as part of the local community's regrowth program.
"We value our craftsmanship and heritage greatly — and we feel so blessed to be able to produce furniture for this prestigious property," says Joe Yoder. "It's very special when someone is truly dedicated to buying American, even when money could be saved overseas. Tyler Morse is what I call a Great American Warrior!" 
MCR's Vice President, Construction, Jason Garone planted walnut trees with Eli Yoder as part of the local community's regrowth program.
"The Yoders and their community build top-quality furniture with integrity right here in the U.S.A. That makes them the perfect partner for the TWA Hotel," says Tyler Morse, CEO of MCR and MORSE Development. "We can't wait for our guests to have the chance to appreciate their work — and we're looking forward to hosting the Yoders at the TWA Hotel."
Based in New York City, MCR is the sixth-largest hotel owner-operator in the United States with a $2 billion portfolio of 85 premium-branded hotels across 26 states and 67 cities, including The High Line Hotel, an adaptive reuse hotel in Manhattan, and the TWA Hotel at John F. Kennedy International Airport, scheduled to open in spring 2019. For more information, please visit mcrinvestors.com. To receive updates about the TWA Hotel, enter your email address at twahotel.com.
Have something to say? Share your thoughts with us in the comments below.