Innergy bringing cloud-based ERP software to WMS
August 31, 2019 | 9:23 am CDT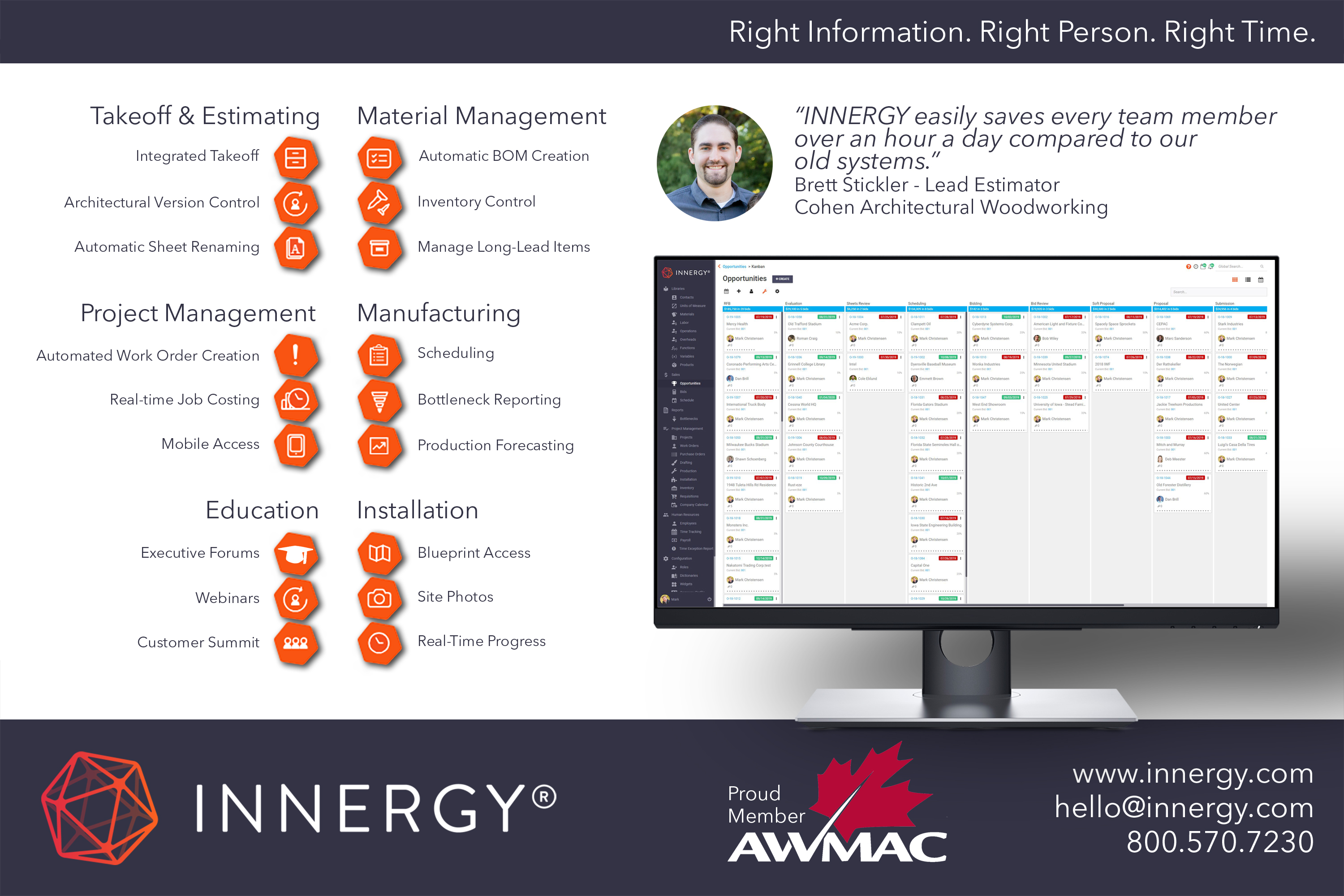 MISSISSAUGA, Ontario – Innergy, a specialist in cloud-based ERP software that drives the complete business process of custom woodworking shops, will exhibit at the Woodworking Machinery & Supply Conference & Expo (WMS) Oct. 31-Nov. 2.
Innergy says its business management solution "is made by millworkers for millworkers. We provide a unique combination of software and business strategy education forums that are proven successful in helping manage business processes and encouraging team collaboration."
The ERP software unifies a wood product manufacturer's data across all business processes into a single platform, providing industry specific functionalities throughout the entire organization. Innergy also provides real-time data on each job from estimating through installation and invoicing.
Innergy supports its software customers with Executive Forums (see accompanying video) that are designed to not only help users take full advantage of ERP but to reexamine how their businesses function to be more efficient, productive and profitable.
"Innergy is the only software vendor to offer industry-specific education, not just software training," the company says. "Our forums are designed to help your company manage change, align your team, target sales efforts and ultimately be more profitable. Software is not a magic bullet. Making a company more efficient and profitable takes knowledge and leadership. Innergy equips its customers not just with software to accomplish their goals, but education as well."
Innergy will demo its software at WMS booth #1509. Learn more at innergy.com or phone 800-570-7230.

About CCI Media

CCI Canada is owned by CCI Media, a business-to-business media company focused exclusively on industrial wood products manufacturing markets in North America. CCI Media's flagship publication, FDMC magazine, circulates monthly in print and digital formats. CCI Media also publishes the bi-monthly Closets & Organized Storage magazine. Woodworking Network is the umbrella brand for the combined portfolio of wood manufacturing print, digital, and web products and industry events operated by CCI Media. CCI Canada also produces the Woodworking Machinery & Supply Conference & Expo, Oct. 31-Nov.2, at the International Centre, Mississauga, Ontario and Salon Industriel du Bois Ouvré (SIBO), which will be held April 23-25, 2020, in Drummondville, Quebec.
In addition to WMS 2019 and SIBO 2020, CCI Media produces Wood Pro Expo Texas and the Cabinets & Closets Conference & Expo, both of which will be co-located March 11-13,  2020, at the Arlington Convention Center in Arlington, Texas. The company also produces Wood Pro Expo Lancaster 2019, to be held October 17-18, at Warehouse at the Nook, Manheim, Pa., and the Executive Briefing Conference, November 8-10, 2020, at The Broadmoor in Colorado Springs, Colo.
Have something to say? Share your thoughts with us in the comments below.