WMS marks a triumphant return
November 4, 2023 | 4:13 pm CDT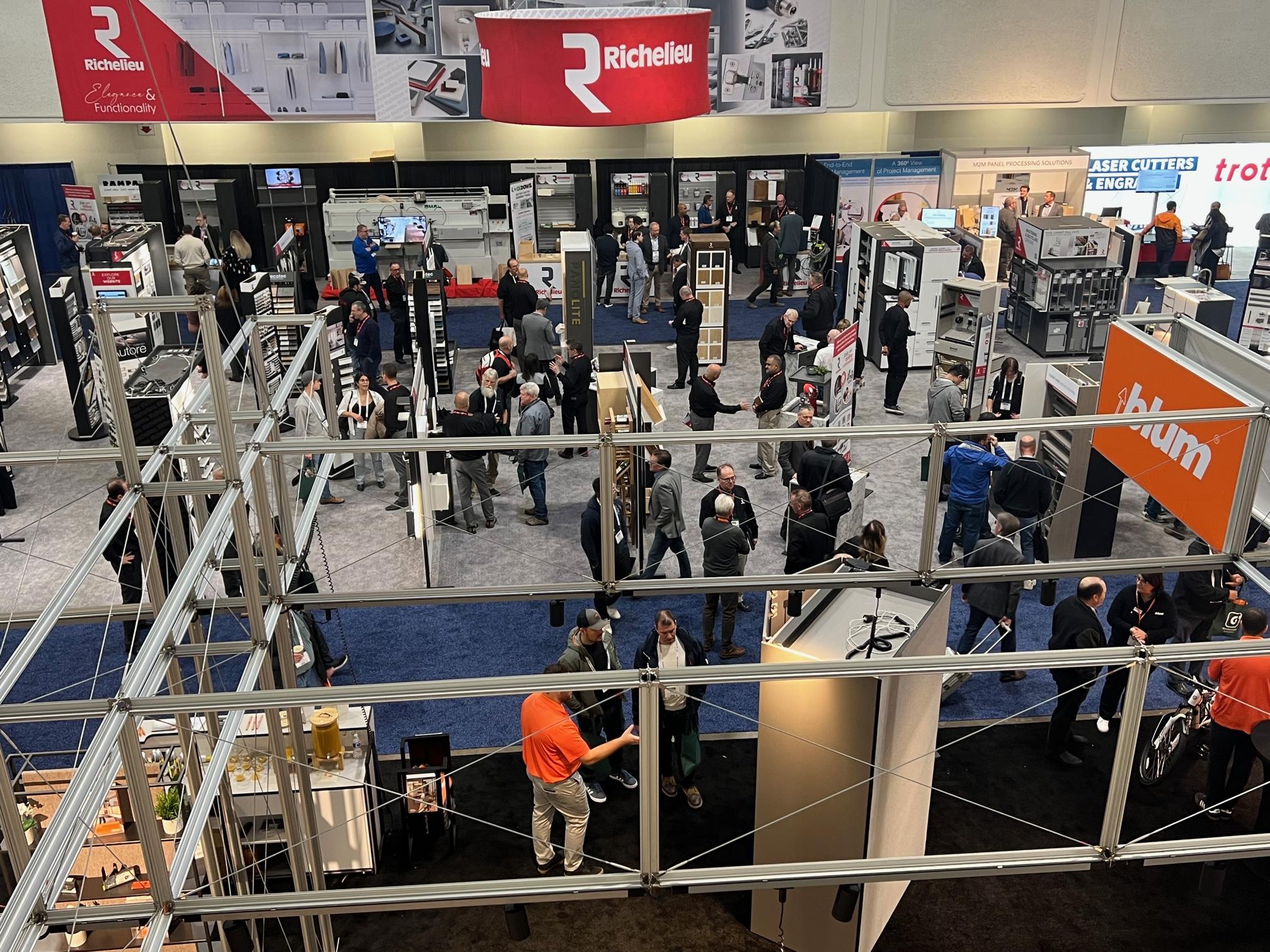 MISSISSAUGA, Ontario – The Woodworking Machinery & Supply Conference and Expo concluded its three-day run today on a high note today, receiving thumbs up from attendees and exhibitors alike.
Canada's national Industrial woodworking event, last held in 2019 due to the COVID-19 pandemic, opened to a bustling crowd on Thursday morning. Professional woodworkers came to the show eager to see the latest woodworking machinery, software, hardware, decorative surfacing, and other products displayed by an international cast of exhibitors. 

In addition to checking out the exhibits, many of the attendees participated in the free WMS Live conference. WMS 2023's opening keynote presentation by Luke Elias, president of Muskoka Cabinet, one of North America's most technologically advanced cabinet companies, was one of several standing-room only sessions. WMS Live featured more than a dozen educational sessions covering a variety of timely topics ranging from Industry 4.0 and workforce development through digital marketing and opportunities in the closets and home storage market.

Five of the WMS Live seminars were presented in partnership with the Wood Manufacturing Cluster of Ontario. Several of the sessions were led by other WMS partners including the Ontario Chapter of the Association of Woodwork Manufacturers of Canada, Canadian Kitchen Cabinet Association, and Wood Manufacturing Council.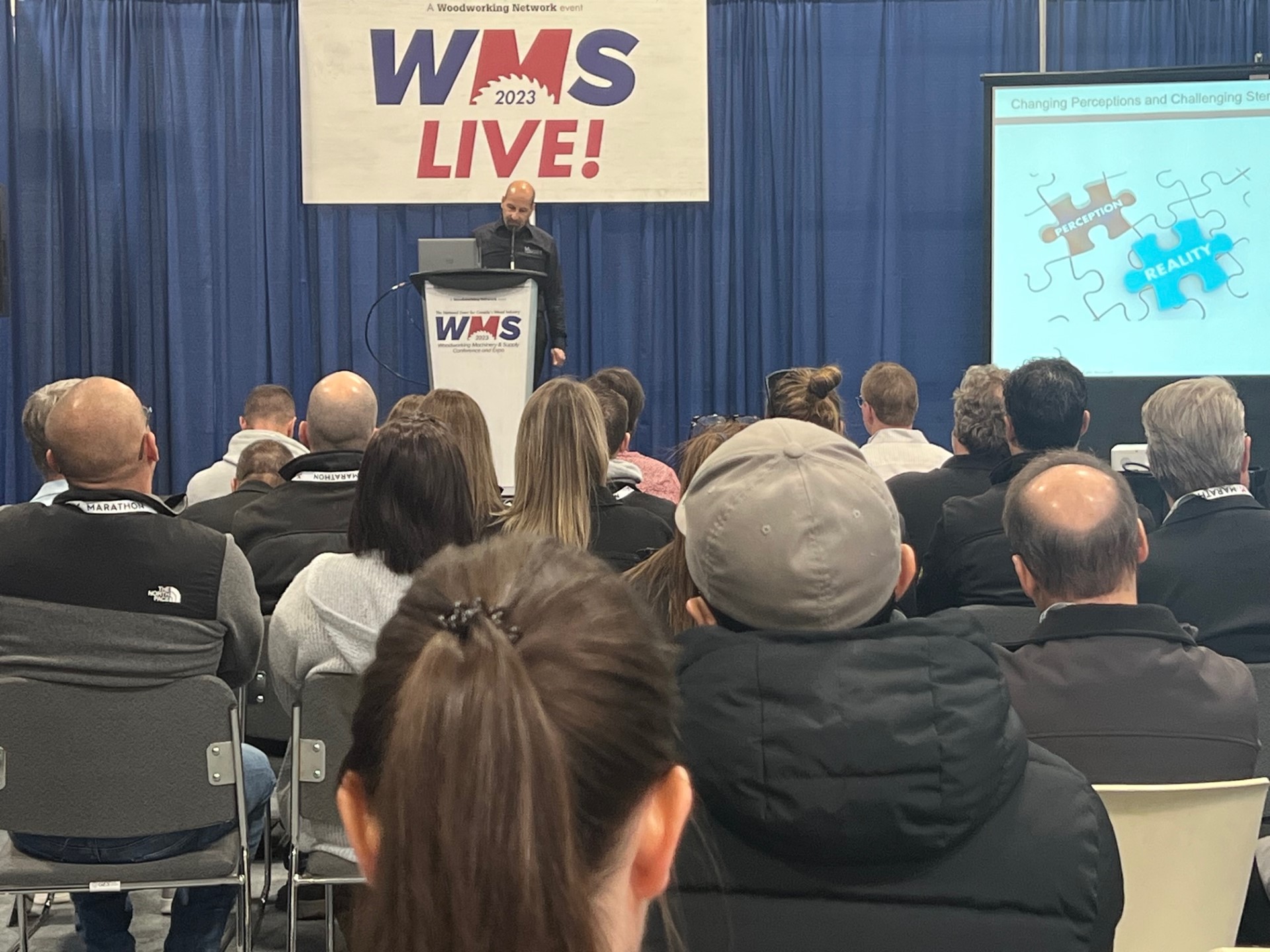 WMS 2023 also featured two new attractions.
First, Friday afternoon featured the WMS Live Auction presented in partnership with Boss Auctions. The auction, which was live-streamed, allowed WMS attendees and remote buyers to bid on a variety of woodworking equipment, materials and supplies. Many of the machines were displayed by Taurus Craco and occupied a 5,500-square-foot section of the show floor.
Second, the inaugural WMS Student Day drew more than 100 students and instructors from high schools and postsecondary woodworking programs throughout the greater Toronto region. Student Day, presented in conjunction with the Wood Manufacturing Council, gave students an opportunity to see the many advances in technology, materials, and supplies that are transforming the industry. The special day also featured a WMS Live session highlighting career opportunities in today's woodworking industry.  
WMS moving to Toronto Congress Centre in 2025
CCI Media Canada, owners of the show, announced that the next edition of WMS will be held Nov. 12-14, 2025, at the Toronto Congress Centre, conveniently located at 650 Dixon Road near Pearson International Airport.
Tim Fixmer, CEO of CCI Media, noted that more than half of the larger space for WMS 2025 had already been reserved by WMS 2023 exhibitors. They quickly seized the first rights opportunity to select their booth location on the floor plan of the new venue.
"The success of this year's show reaffirmed the need for all stakeholders of the Canadian woodworking industry to have a robust event that they can call their own," Fixmer said. "WMS provides a national forum for showcasing the latest developments in machinery and supplies from around the world and in the process serves as a vital conduit for connecting suppliers with their customers and prospects.
"We're looking forward to presenting WMS 2025 at the Toronto Congress Centre," Fixmer continued. "Exhibitors will find that the larger floorplan of WMS 2025 at the Congress Centre will offer more configuration options and maximize booth visibility. Attendees will find the expo floor at the new venue dramatically easier to navigate."
For information about exhibiting at WMS 2025, contact Gavin McAuliffe of Corcoran Expositions at 312-265-9649 or [email protected].
Learn more about the Woodworking Machinery & Supply Conference and Expo.

Have something to say? Share your thoughts with us in the comments below.