Video: Felder launches DIY hot tub video
January 27, 2023 | 12:14 am CST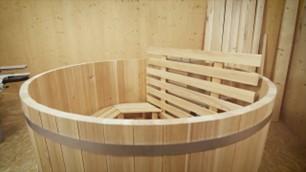 The Felder Group has released a DIY "Hottub" video. "This luxurious project," the company says, "will get all your tools in motion, especially if you have any of our tools featured in the video. It will challenge those who have only worked in the American woodcraft style and help elevate your understanding of woodworking from the European perspective.
"We hope this inspires and imitates an appreciation of the wide world of woodworking. Please share your results with us with the hashtag #feldergroup. Good luck, and as we in the Felder Group say, "Happy Woodworking!"    
 
In the video, the carpenter uses a Felder combination machine, the CF 741 SP, which is a combination of 5 stand-alone machines with only 2.5 square meters of space required. Planing, moulding, cutting, and drilling operations can be accomplished in one machine.
The company provides a construction plan, along with the necessary software for download.
Have something to say? Share your thoughts with us in the comments below.