Panel processing past the cutting edge
November 14, 2019 | 10:50 am CST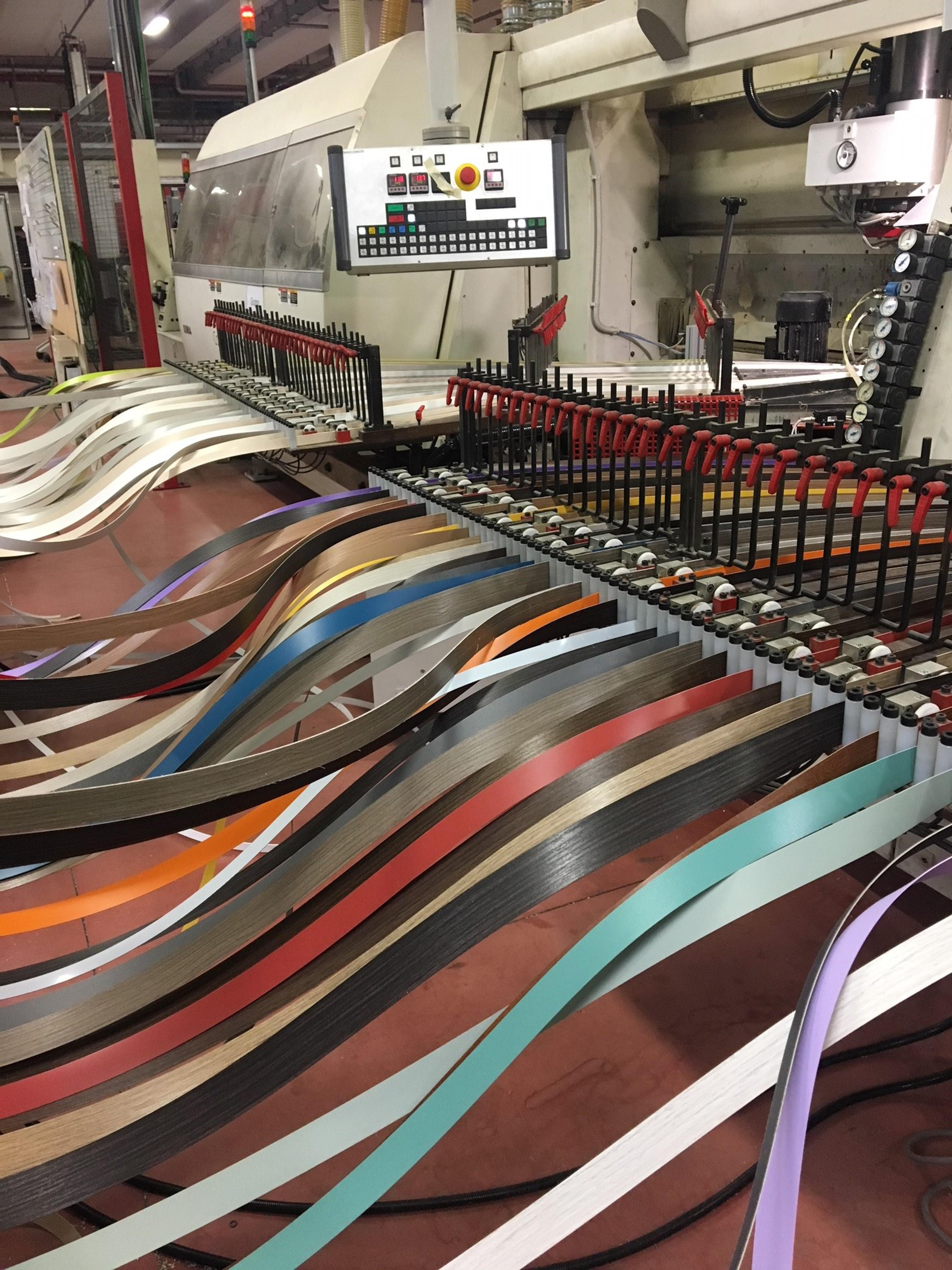 Technology is changing the face of panel processing at such a rapid pace that many manufacturers will hardly recognize the factories of the future with their sophisticated robotic material handling and greatly reduced need for human intervention. 
Picture a plant producing 1,500 parts in a single shift, with custom orders and multiples produced one after each other in the same line with no let-up as the line automatically loads itself with new sheets and unloads finished parts. And it takes just five people to run the entire line. This isn't just some futurist's dream. Factories like this already exist but mostly in Europe.
Participants in the IMA Schelling Italy Technology Tour 2019 included about 30 people representing a wide variety of woodworking manufacturers across North America.
Thanks to a technology tour sponsored by IMA Schelling, about 30 people from North American factories got the chance to tour more than a dozen of these high-tech sites in Italy in September. Traveling by bus to up to three factories a day for a week, they were amazed by the level of automation on display. That included sophisticated storage and retrieval systems that not only supply all the raw materials, but also can provide automated storage buffers to facilitate maximum yield and production efficiency while still sorting and bringing all parts for even custom projects together to be automatically stacked at the end of the production line.
Most of the factories visited included some common features: automated retrieval and storage with rainbow stacking, automated buffering, batch one processing, multi-function edgebanding on the fly, and hybrid machining that couples nested-based CNC units with beam saws right on the same production line.
Virtually all of the plants on the tech tour used automated storage and retrieval systems like this one at Caccaro.
Automated retrieval and storage
A key feature of most of the factories on the tour was automated storage and retrieval. Panels to be processed are all stored in stacks in a caged area serviced by a robotic vacuum lift running on a gantry crane over the entire storage area. As new raw panels arrive, they are added to the stacks, but not in any particular order. This kind of stacking is sometimes called random stacking, or rainbow stacking, or even chaotic stacking since a single stack can contain multiple colors or types of materials. The secret is that every single sheet and its location is accounted for in the Manufacturing Execution System (MES) software that controls the whole process.
It works similarly to the way data packets are stored on a hard drive. Related packets of information don't have to be stored in one place as long as the computer knows where they all are and can access them when necessary. This system works the same way with the crane picking, choosing, and resorting the stacks as needed to load panels into the production line in the order they are needed. No humans are required to sort or load panels.
A 20-level buffer managed by software and robots at Tomaselli allows parts to be taken off the line and returned for maximum efficiency without hindering production flow. The random stacking is managed by software so robots can instantly locate any part in the system.
Automatic buffering
Related to automated storage and retrieval are automatic buffering systems. Instead of a big fenced in area with stacks of panels, individual parts are pulled from the production line and temporarily stored in a buffer area. The buffer could be shelves that reach several stories high in the factory. A robotic system stores the parts on the shelves, recording the locations of every part. This allows for maximum efficiency and yield because parts for same project can be machined from different sheets and at different times then seamlessly retrieved and added back into the production line to join the rest of the parts from the same project. At the end of the line, robots stack all the parts for each project together in a center-balanced stack that looks like some wild Jenga game in progress.
Robots sort mixed stacks at Veneta Cucine. The center-balanced stacks hold the parts for one project or unit of parts.
Batch one processing
Whether you call it mass customization, batch one processing or some other name, the idea is to integrate custom, one-off projects on the same production line with multiples. Parts on these sophisticated new lines can look like a disorganized rainbow of different colors and shapes traveling down the conveyors one after the other. All parts are barcode labeled and the MES system talks with machines so each part gets the right machining and edgebanding treatment with no letup in production speed. Some parts are kicked out to buffers temporarily and then return to the line to join the rest of the parts for their particular project in a stack at the end.
Multi-function edgebanding
One of the miracles that makes these systems work is the latest in multi-function edgebanding technology. The IMA Schelling edgebanders in these factories were all set up to a wide variety of different tasks without missing a beat. For example, some setups featured banders set up with magazines of 48 different kinds of edgebanding all loaded and ready to go. Most of the edgebanders we saw on the tour could use laser edgebanding or PUR and change on the fly without stopping. One part coming down the line might require white 18mm banding, and the next part right behind it could call for 32mm wide blue edgebanding, and the next part could require yet another combination. Furthermore, robotics tied into the MES and part labeling would return and rotate each part so up to four sides can be banded correctly. That means that for a line that produces 1,500 parts in a single shift, the bander could actually be processing up to 6,000 edges in the same shift.
Hybrid cutting and routing systems at Arredo 3 combine beam saws and CNC routers with robots for maximum efficiency.
Hybrid machining
For a long time, the panel processing industry has debated the value of production driven by beam saws as opposed to nested based CNC manufacturing. With these high-tech, high-speed, batch one production lines, many feature a hybrid cutting and machining solution. This involves mating beam saws with CNC routers in the same production line to handle rip cuts and cross cuts and other machining chores at maximum efficiency. A panel coming into the line might be ripped with a Schelling CombiCut panel saw and then the ripped part flows into a bank of CNC router heads to do cross cuts and additional work, all with no need for the parts to leave the production line.
Here's a look at the individual factories and applications that were shown on the IMA Schelling Italy Technology tour.
IMA Schelling tour participants check out the Cleaf showroom. Cleaf is known for the wide range of surface and panel products they offer featuring 600 decorative papers.
Cleaf
A leader in innovative surfacing materials, especially the latest textured laminates, Cleaf was a great place to start a tour of European panel processors since it makes many of the panels used by other factories on the tour. Cleaf offers some 600 decorative papers in its panels. For many on the tour it was also their first introduction to the larger European panel size of 5.6 meters by 2.1 meters (18 feet 4 inches by 6 feet 10.6 inches). The larger panels offer opportunities for more efficiency and better yield. Equipment included a Schelling ah6 angular saw with automatic stacking, a Schelling fh6 single-axis beam saw and various IMA equipment in two production lines. The family-owned company with 200 employees reported annual sales of 128 million Euros.
Porro, a manufacturer of home and bedroom furniture, was set up to do 1,500 parts per shift.
Porro
A manufacturer of home and bedroom furniture, Porro, showed off a massive storage and retrieval system that fed a cut-to-size operation with a CNC router. The system could produce 1,500 panels per shift and only two human workers were visible on the line. Equipment included the BIMA PCut, Novimat, and Combima I plus laser edgebander, which was set up with a magazine holding 48 different kinds of edgebanding. An automated rotating and return system continuously fed the edgebander until parts were banded on all sides.
At Caccaro, parts come off the cutting and banding line in mixed stacks according to projects. Robots stack the center-balanced stacks to be transported drilling and assembly facilities.
Caccaro
Caccaro, a home and bedroom furniture manufacturer, had its manufacturing divided in three different buildings for cutting and edgebanding, drilling, and assembly. The tour focused on the first building, where production was designed to produce 1,000 parts per day.The Scheeling SL1 panel saw worked in coordination with an intelligent buffer system to optimize parts flow. The Combima I plus laser edgebander was set up to do both laser and PUR edgebanding on the fly. Parts were automatically spaced going into the edgebander to optimize production flow and eliminate and manual attention. Two 24-roll magazines kept the bander running with all the different kinds of banding needed. At the end of the line, center-weighted mixed stacks of parts were rolled right onto a truck with special pneumatic hold-downs in the truck to secure the stacks on their ride to the next building for drilling.
Stilcurvi
As its name suggests, Stilcurvi was established in 1986 to manufacture mostly curved furniture parts. Today, the company still does some curved work, but the emphasis is on straight components. The cut-to-size operation centered on a Schelling panel saw fed by a storage and retrieval system. The production line produces 800 to 1,000 parts per day at a processing speed of 30 meters per minute. In reflection of the curved work the company still does, including furniture for cruise ships, the line includes contour edgebanding capabilities.
Six robotic cells at Tomaselli provide buffering and storage for part adjacent to the production line.
Tomaselli
Started in 1943, the company is now in its third generation of family ownership manufacturing living room and bathroom furniture in a 90,000-square-meter (968,000 square feet) facility. Two identical production lines run parallel to each other down the length of the plant. A 20-level buffer helps in batch one production and in efficiently spacing parts on the line as close of a gap as current technology allows.
Arko
A supplier of furniture components, Arko produces up to 8,000 parts per day (up to 4,000 parts per shift). One of the unusual features of their production line was a curved conveyor that turns the parts around. First, parts move lengthwise through the line, then they move crosswise.
The showroom at Arredo displayed beautiful examples of the kinds of modern European style kitchen components the company produces in its state of the art factory.
Arredo 3
One of the most impressive plants on the tour was Arredo 3, a manufacturer of kitchen and home furniture components. While virtually all of the plants on the tour exhibited a high level of cleanliness, Arredo 3 stood out. The sparkling new production line begins with vertical stacking and a cutting center. They use the full height of the building for buffering in the system. The line itself produces 1,400 to 1,500 parts per shift with just five people on the entire line. The Combima edgebander was set up to do both laser and PUR banding on the fly and was loaded with 48 colors of banding accessible instantly. A six-sided drilling and routing unit machines the parts. The larger European-size panels were the mainstay material for the operation to maximize yield and efficient nested production. IMA Schelling officials on the tour said 85 percent of IMA Schelling's business today is in selling systems like the one installed at Arredo 3.
Tour participants check out the monitor for the automated manufacturing system at Veneta Cucine.
Veneta Cucine
Veneta Cucine makes kitchen and home furniture and is the third largest kitchen manufacturer in Italy, reporting sales of 200 million Euros per year. Like some of the other plants on the tour, they operate two parallel production lines. Each line is capable of producing 1,500 parts per shift, including 6,000 edgebanding operations. The dual line system offers not only more capacity but also redundancy for more safety and more flexibility. The Combima I edgebanders were capable of switching between laser and PUR banding on the fly.
Colombini
For sheer size, the Colombini plant dwarfed other factories on the tour. Making home furniture and kitchens, the company is housed in a six-story, 150,000 square meter (1.6 million square feet) factory. In fact, officials there said their biggest challenge is the logistics of moving parts and materials from one floor to the next. An automated storage system 40 meters high spans four floors of the building. Production was listed at 6,000 components per 7.5-hour shift. The company ships 40,000 components daily. In addition to parts, the company does assembly to order, building 1,000 boxes per shift. Sales are between 180 and 200 million Euros per year with 720 production employees. The company handles all this volume with no inventory of finished goods. It takes six days from order to shipping, and they only produce what has already been sold.
Sink cutouts are partially machined in production of countertops at Topstar to aid in installation but keep the countertop strong enough for transport.
Topstar
Making kitchen countertops, Topstar, uses vertical storage with their automated CNC driven line. They produce between 1,200 and 1,600 work surfaces a day with two shifts. One interesting feature of the countertops was that CNC machines were used to cut out sink openings, but they left the waste in the countertop and still connected by a few tabs. This ensures easier shipping with less opportunity for damage and installers can easily gut the tabs to install the sinks.
A robot stacks parts at the end of the production line at Imab where the company's methods are more focused on capacity rather than materials yield.
Imab
Imab, a home furniture and kitchen manufacturer, produces 150,000 parts per week using three shifts and two edgebanding lines. The plant the tour visited makes parts for two other plants to assemble. While this plant used similar processes to the other plants on the tour, it also featured a sophisticated maintenance program, with a control center monitoring all the machinery constantly. The system records and tracks common issues to reduce down time and address any issues. One of the points made while exploring this factory was the European emphasis on capacity over yield to achieve higher production volumes.
Have something to say? Share your thoughts with us in the comments below.