WorldSkills Competition 2022 is off and running
October 19, 2022 | 12:58 pm CDT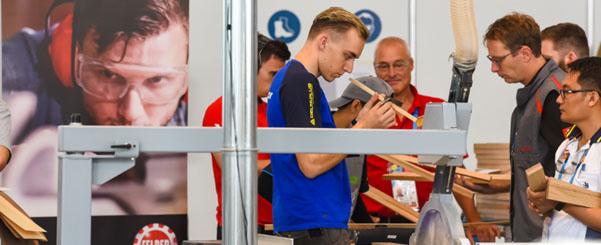 The WorldSkills Competition 2nd.022 Special Edition, the official replacement for WorldSkills Shanghai 2022, which was canceled in May due to the pandemic, is ongoing in select areas around the world. The cabinetmaking portion was held Oct. 11-14 in Switzerland.
WorldSkills Competition 2022 Special Edition Competitors in Cabinetmaking, Carpentry, and Joinery displayed their craftmanship and creativity at Holz, Switzerland's woodworking sector trade fair.
More than 40 young professionals from 27 different countries and regions took part in the event at Messe Basel, Switzerland. 
The Felder Group was an official partner for competitions related to furniture and construction carpenters. The Felder Group/AT and HM-Spoerri provided the woodworking machines for the competition in their role as Leading Competition Partner.
Hansjörg Felder, managing director of the Felder Group, called the event the World Cup of Trades. "A competition inspires and we will certainly witness and experience top performances when the best of the best are able to compete internationally and demonstrate the high level of professional training in the carpentry trade worldwide. For apprenticing companies, this competition is more than just a recognition of their apprentices' successful training, it is also a mission to continue their investment in future generations of young professionals."
The competition is the largest skills competition in the world. Thanks to the commitment of WorldSkills Partners and Members, 62 skill competitions are being hosted in 29 events, in 26 cities, in 15 countries and regions between September 7 and November 26, 2022.
While the SkillsUSA will field a team this year, they are not competing in the furniture or construction skills. Instead, the USA team planned to compete at the Welding Technology and Training Center, Cleveland, Ohio from Oct. 17-20. The U.S. will be hosting the Construction Metal Work and Welding competitions.
In Canada, the WorldSkills Competition 2022 Special Edition for Industrial Mechanics kicked off in Brampton, Ontario, Canada. 
"The WorldSkills Competition 2022 Special Edition is an opportunity for competitors to test themselves against the best in the world. It also represents a chance to highlight the incredible careers that are available to our future workforce and their importance for our country's economy," said Shaun Thorson, Chief Executive Officer of Skills/Compétences Canada.
Have something to say? Share your thoughts with us in the comments below.