World's largest timber construction - Noah's Ark - opens for business
July 6, 2016 | 1:09 pm CDT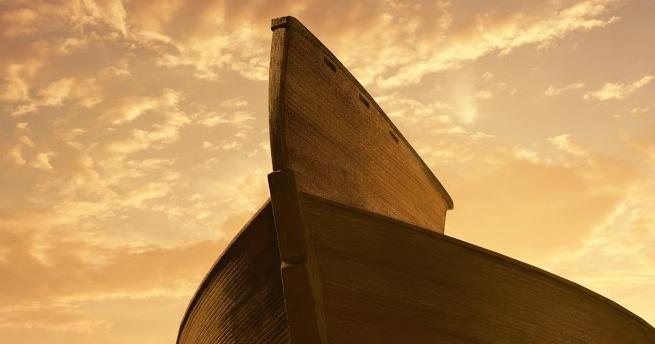 WILLIAMSTOWN, Ky. — A 510-foot-long, $100 million pine-clad Noah's Ark replica has opened in Kentucky.  And Colorado Timberframe was chosen to mill the logs because they are said to be the only U.S. group capable of milling logs as large as 50 feet long and 36 inches in diameter. 
The Ark Encounter was engineered and built using exact biblical measurements, requiring over 3.3 million board feet of timber to construct it, and fitting over 16,000 people simultaneously. The Book of Genesis describes Noah's Ark as 300 cubits long, its width 50 cubits, and its height 30 cubits.
The attraction will feature museum-like exhibits, displays of Noah's family, and lifelike models of animals - existing in pairs and in compartments just like the Bible described. Guests will be able to tour the ship for $40.
In an effort to employ techniques used in the ancient time the Ark was said to have been constructed, one hundred Amish craftsmen built the replica using ancient timber framing techniques, such as manually bending the wood for the rudder rather than steaming it to make it more pliable. Most of these techniques were utilized, but some had to be altered to adhere to modern building codes (builders originally planned to hold the ark together with wooden pegs, but had to change to steel fasteners).
A length of 20.1 inches was chosen for the biblical cubit. This produced plans for an ark measuring 510 feet (160 m) long, 85 feet (26 m) wide, and 51 feet (16 m) high. The 3.3 million board feet of wood was harvested from as far away as Oregon and British Columbia. The Ark's framing consists of Englemann spruce, and the exterior is made mostly of Accoya wood - sustainable, insect-resistant radiata pine that undergoes an acetylation process to make it class 1 durable.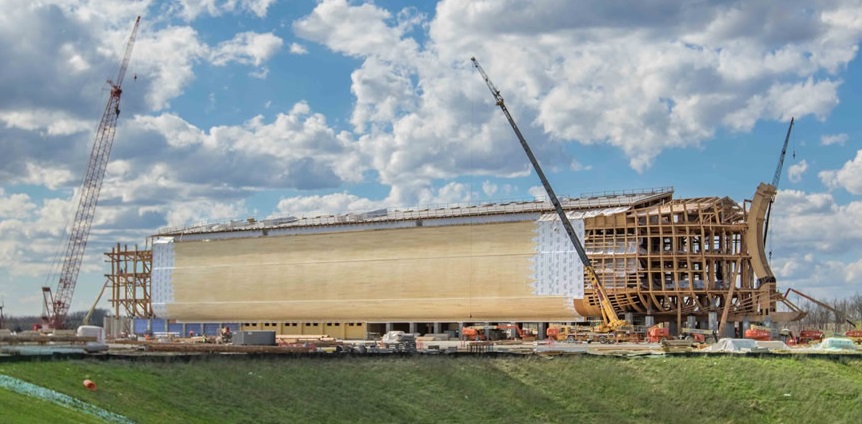 The ark contains 132 bays for animals, each standing about 18 feet high. The structure is held off the ground by three 80 foot masonry towers, which contain stairwells, elevators, and bathrooms. Each features electric lighting designed to resemble oil lamps. Below the ark is a theater and giftshop, and a restaurant sits on its roof.
The structure was supposedly built using green construction methods and utilized Leadership in Energy and Environmental Design (LEED) practices, like geothermal and solar heating, and rainwater capture.
Creator and devout Christian Ken Ham said the massive ark will stand as proof that the stories of the Bible are true. Ham's group Answers in Genesis believes God created the world and everything in it around 6,000 years ago.
The ark opens July 7 and will attract an estimated two million visitors in its first year, putting it on par with some big attractions in nearby Cincinnati. 
It has stirred up much controversy among atheists, other religious groups, and those who disapproved of tax incentives given to Ham and his group.
Have something to say? Share your thoughts with us in the comments below.