Wilsonart Laminate Going Eco and HiDef at KBIS
April 9, 2013 | 3:13 pm CDT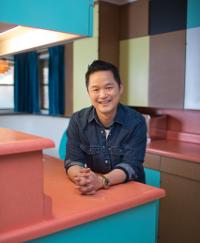 TEMPLE, TX - Countertop laminate manufacturer Wilsonart will welcome environmental lifestyle expert Danny Seo to the Kitchen & Bath Industry Show, April 19-21 in New Orleans. Seo will be signing copies of his latest book in the Wilsonart booth #3335. Seo describes his way of living as the crossroads where style meets sustainability. Through his best-selling books, television programs, products, magazine and syndicated newspaper columns and his how-to lifestyle lectures, He continues to share the creative ideas that have made him America's leading lifestyle authority on modern, eco-friendly living.
Seo encourages America to live a greener lifestyle with great style. His first of nine lifestyle books Conscious Style Home (St. Martin's Press; 2001) chronicled his renovation of his parents' home in Green Hills, PA, using easy-to-find, eco-friendly materials. The beautifully photographed book received rave reviews in The New York Times, Elle, Food & Wine, Elle Decor, and USA Today, who raved "Say 'environment' to Danny Seo, and it's as if you've punched the word into the search engine Google: Out roars an avalanche of ideas and references that threatens to scramble your brain." Conscious Style Home helped Seo soon become America's favorite environmental lifestyle authority.
No more seams
Also at the show, Wilsonart HD Kitchen will demonstrate how to obtain a competitive edge when it comes to unsightly seams. The firm is unveiling two new sleek and modern countertop edges – the Cascade and the Crescent – as part of the Wilsonart HD Kitchen, a contemporary look for contemporary lifestyles. Inspired by the elegant curve of a cascading waterfall and the gentle arch of a crescent moon, the two new additions to Wilsonart Decorative Edges are a beautiful marriage of hi-tech and hi-touch. Both the Cascade and the Crescent edges give countertops a thicker seamless look while inviting the touch of your hand for a luxurious feel. The edges can be applied to any of the 51 HD color and finish combinations, plus select Wilsonart Premium Laminate designs, allowing various options for customization.
Wilsonart Laminate is available at kitchen and bath dealers, home centers and local fabricators nationwide.
Have something to say? Share your thoughts with us in the comments below.