Watkins Industries acquires window millwork firm Lexington Manufacturing
January 4, 2019 | 9:03 pm CST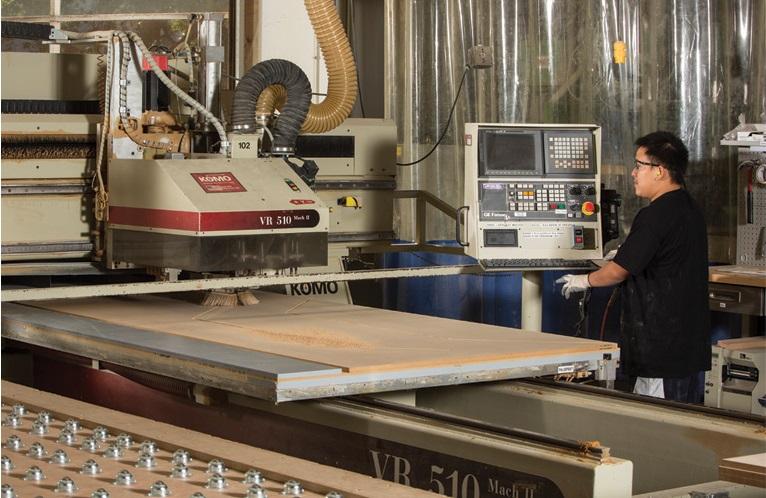 Photo By Lexington Industries
ATLANTA - Watkins Associated Industries has acquired Minneapolis-based Lexington Manufacturing,a full-service window, door and structural millwork component parts supplier, providing a wide variety of machining and fabrication services to meet specific customer needs  
Privately held Watkins, based in Atlanta, focuses on creating long-term value by building and managing world-class businesses in real estate, food processing, insurance services, and building materials. The stable, long-term management team at Lexington led by owners Bob and John Dimke and Mike Dillon, president, will remain in place post-acquisition. Watkins will partner with this successful team to drive future investment and growth opportunities in Lexington's core business.
"As a multi-generational family-owned business, we understand the issues of ownership transition and know how to acquire family-owned businesses responsibly," says Eric Wahlen, President of Watkins Associated. "We take a long-term view as we identify businesses with attractive future growth prospects and a management team with a desire to remain involved. We allow presidents of our businesses to operate independently, while partnering with them in goal setting."
Lexington Manufacturing has 35 years of experience as a provider of engineered window and door components that are strong, consistent and environmentally friendly for OEMs in the United States and internationally. The firm manufactures a multitude of engineered wood components for windows, doors, and other millwork and related industries, as well as fire-rated door components for the commercial and residential door industry. 
Lexington products are comprised of a variety of materials, including hardwoods, softwoods, aluminum, plastics, MDF, particleboard and other panel products. It is recognized as a valued partner in the window and door industries because of its process engineering capabilities, dependability and customer service. Lexington was established in 1981 and has facilities in Brainerd and Coon Rapids, Minnesota.
Bob Dimke, CEO of Lexington Manufacturing, said, "This partnership will ensure that Lexington Manufacturing will not only continue to grow in revenue and market share, but also maintain the family-oriented culture that makes people enjoy coming to work each day. The fit between the philosophies of both companies is perfect for what each organization needs going forward."
"I am so happy we have secured the future of the company in a way that will provide advantages not only for the family that founded Lexington but also for its current workforce," says John Dimke, Vice President at Lexington. "I look forward to working with Watkins Associated Industries and reaping the benefits of our combined expertise and business knowledge."
Closing of the deal took place on 12/31/18. Croft & Bender LP, led by Managing Director Neale Fisher, served as Lexington's investment banker on the transaction and Stinson Leonard Street LLP under the direction of partner David S. Ezrilov provided Lexington's legal counsel. Moore Colson CPAs and Advisors, with lead partners Christopher S. Arnone, Josh Thomas and Jonathan Levens, provided accounting services as well as earnings and tax due diligence. Benesch, Friedlander, Coplan & Aronoff LLP under associate Michael J. Mozes provided legal counsel to WAI for the transaction.
Founded by William B. Watkins in 1932, Atlanta-based Watkins Associated Industries owns and manages a diverse set of operating companies who outperform their competition through strategic planning, disciplined investment, and operational measurement. The firm's current areas of investment interest include: 1.) adjacencies to or "one step away" from their current portfolio of businesses, 2.) pet-related businesses that provide veterinary, grooming, and/or boarding services, 3.) water and air quality testing services as well as environmental consulting, and 4.) rail maintenance services and short line railroads.
Croft & Bender: Since 1996, Croft & Bender has provided superior M&A, capital raising, and financial advisory services to middle market and emerging growth companies with enterprise values of up to $300 million or capital raising needs greater than $10 million. Croft & Bender provides advisory services on both sell-side and buy-side assignments. With institutional relationships across the country, Croft & Bender
also helps companies raise capital, whether for growth or the recapitalization of existing shareholders. Croft & Bender also provides advisory services for a broad range of business situations to help business owners, directors, and management teams assess critical strategic issues that impact shareholder value. Croft & Bender is also the exclusive U.S. partner firm of Clairfield International, a partnership of leading corporate finance firms around the world. In addition, through its affiliated firm, C&B Capital, the firm co-invests in compelling private growth opportunities.
As one of the nation's 200 largest law firms with nearly 500 attorneys, Stinson Leonard Street serves clients nationwide from its 14 offices in the Midwest, Mountain West and Southwest, and in Washington, D.C. The firm provides sophisticated corporate, transactional and litigation legal services to clients ranging from Fortune 500 corporations to privately held companies and emerging businesses. Stinson Leonard Street combines its national reach and depth of experience with a cost-effective approach to advise regional, national and international clients on critical legal and business issues.
Moore Colson is the business advisor of choice for any company seeking thoughtful financial and strategic guidance. That's why since 1981, family-owned businesses and Fortune 500 corporations alike have trusted Moore Colson with their accounting and consulting needs. And unlike most firms, Moore Colson uses a true partnership model, which means every client has access to their entire team of experts. A nationally-recognized firm, Atlanta-based Moore Colson has the experience and personal touch to shape your future and help your company grow.
Benesch is an AmLaw 200 business law firm with offices in Chicago, Cleveland, Columbus, Hackensack, Shanghai and Wilmington. The firm is known for providing highly sophisticated legal services to national and international clients that include public and private, middle market and emerging companies as well as private equity funds, entrepreneurs, not-for-profit organizations, trusts and estates.
Have something to say? Share your thoughts with us in the comments below.