Vertical Panel Saw Specialists Sagetech and Zapkut Merge
November 25, 2013 | 2:47 pm CST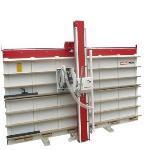 SILCHESTER, UNITED KINGDOM -- Vertical panel saw specialists Sagetech and Zapkut have merged under the Sagetech name, making their Zapkut and Koolkut saw families the widest single range available of economically priced vertical panel saw solutions.
Established in 2002, Sagetech focused on intermediate to heavy industrial users with its Koolkut family, while Zapkut, launched in 2006, concentrated on light to intermediate users and those requiring portable cutting solutions. Both companies' saws have proved popular with signmakers, cabinetmakers, timber and plastics traders and various other types of business.
"Different businesses and users have differing needs, in the area of sheet cutting as in other areas," explains Keith Bunker, managing director of the merged company, Sagetech Limited. "Both Sagetech and Zapkut have consistently focused on supplying wall saws which while very competitively priced, are robust, high quality and feature-rich. With the Zapkut and Koolkut saw families complementing one another, it made perfect sense to bring the two together in a single company."
Following the merger, Sagetech Limited offers a clear, cohesive range of saws from the entry-level Zapkut ZK (still the world's only genuinely portable vertical panel saw) through to the heavyweight Koolkut range, suitable for workloads up to medium-to-heavy industrial and capable of handling sheet sizes of up to 3.1m x 2.1m. Each family of saws is available in a range of sizes.
Have something to say? Share your thoughts with us in the comments below.