U.S. ranked top destination for Taiwan's woodworking machinery exports 2015-2021
August 4, 2022 | 7:54 am CDT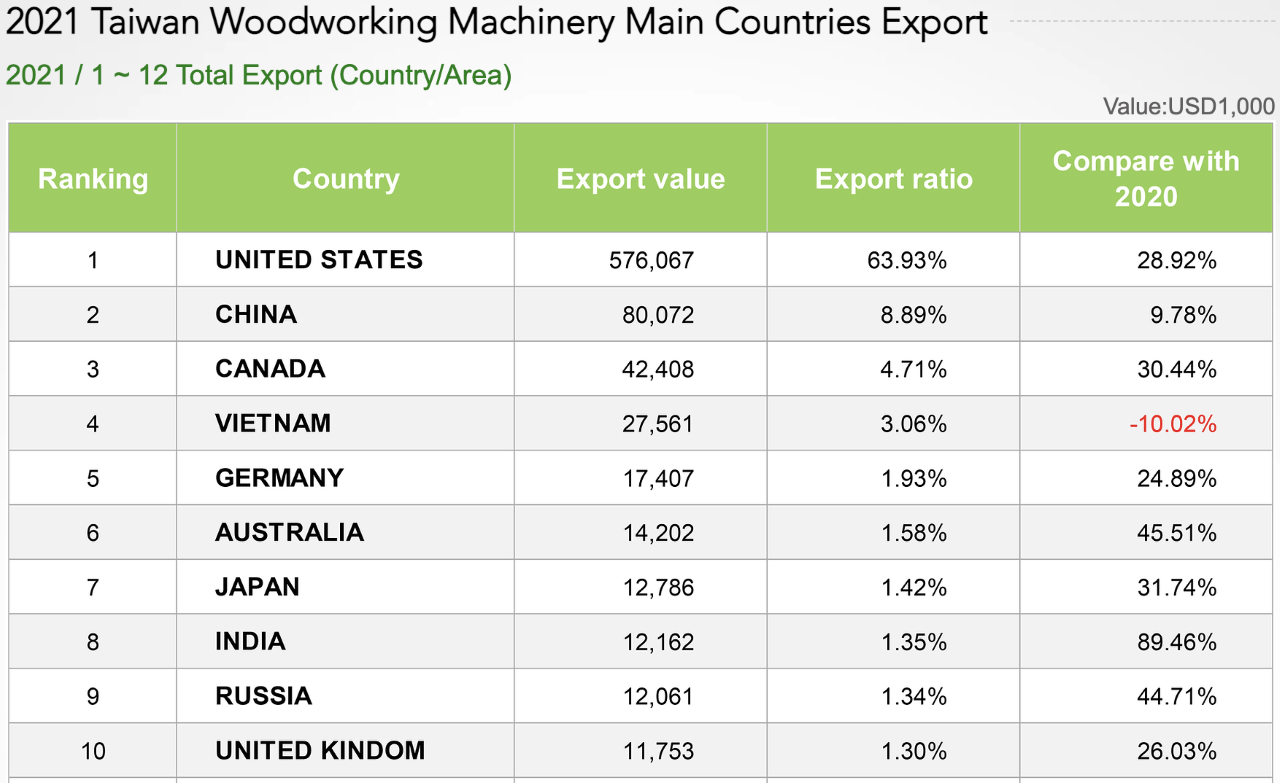 TAIPEI -- Taiwan is the world's fourth largest exporter of woodworking machinery. Among all exports, the US has been Taiwan's top destination since 2015. According to the annual report from the Taiwan Woodworking Machinery Association (TWMA), the U.S. once again ranked as its largest market in 2021 with $576 million in shipments.  Last year represented an all-time high with almost 30% growth over 2020's $446.8 million.  View the full report.
From all the woodworking machinery being exported to global markets in 2021, sawing machinery ranked the top with $486.2 million, and followed by planning/ milling/moulding machinery with $142.3 million, sanding/polishing machinery with USD61.8 million, drilling or mortising machines with $47.8 million, and woodworking lathes with $18.6 million. 
American woodworkers are familiar with the 4-sided moulder maker-Leadermac, or the CNC router maker- Anderson, but in fact, there are more OEM/ODM makers, specialized machinery, and customized machinery brands also from Taiwan. These brands include the optimizing rip saw maker-Kuang Yung, the sanding machinery brand-Sanderson, the EDM brand-OAV, and the veneer-making machinery and box-packing machinery-Innovator. Most of these Taiwanese machinery makers are specialized in one or two kinds of woodworking machines, but they have also cooperated with each over for decades in helping local and foreign customer build a production line or even the whole factory.
According to the TWMA, the U.S.-China trade war has opened another opportunity for Taiwan woodworking machinery sales to the U.S. market, and for buyers sourcing customized woodworking machinery, accessories, or cutting tools. Here are some activities recommended by the TWMA to learn more about Taiwan's woodworking industry:
Have something to say? Share your thoughts with us in the comments below.