Trump campaign visits Freres Lumber in Oregon
November 22, 2019 | 11:18 am CST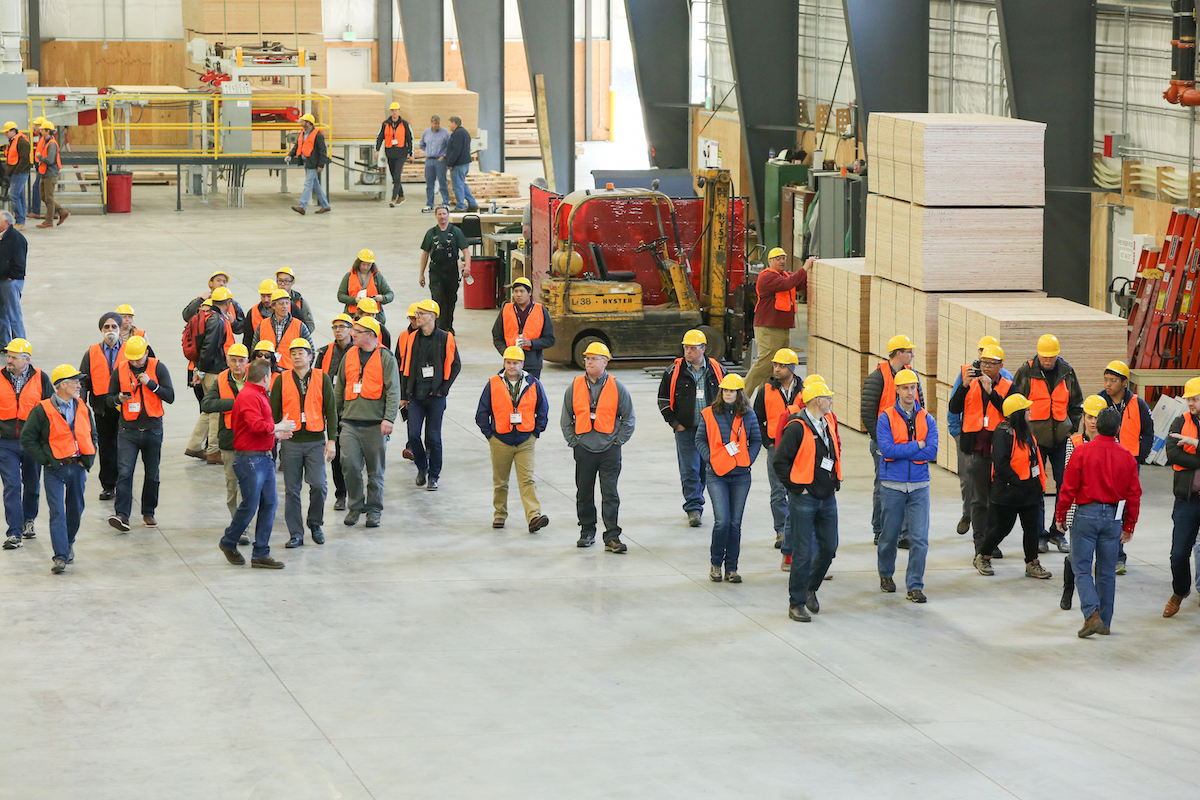 LYONS, Ore. -
President Trump's reelection campaign visited Freres Lumber's manufacturing plant in Lyons, Oregon Wednesday. Freres Lumber is the company behind Massive Plywood Panels, densely-layered Douglas veneer sheets for commercial building construction. News of the panels made one of 
2017's most popular Woodworking Network articles.
The president's campaign manager Brad Parscale and campaign advisor and daughter-in-law Lara Trump learned how Freres makes its massive panels, which use 20-30 percent less wood than cross-laminated timber. The trip marked the pair's first trip to Oregon.
Freres Lumber President Rob Freres
Rob Freres, president of Oregon-based Freres Lumber, explained how the state's mismanaged forests are creating problems for him and other companies in the industry. Other lawmakers and business owners were also present, as well as the Timber Unity Coalition, who warned Parscale and Trump of the dangers of Governor Kate Brown's environmental policies.
Rob Freres isn't a stranger to getting political. In June, he personally pledged $1 million to overturn a new business tax in Oregon. The tax, which passed in Oregon state legislature in May, is designed to provide an additional $1 billion for Oregon public schools every year. The tax is on businesses - imposing a 0.57 percent levy on sales by companies with more than $1 million a year in revenue. 
Freres and Freres Lumber have donated close to $1.5 million to Republican candidates and campaigns since 2007. 
In July, Stimson Lumber called for a mass boycott of businesses who supported a state carbon cap and trade bill - despite the bill dying in state congress. That came soon after
 Stimson laid off more than 60 employees at an Oregon sawmill
, citing rising costs caused by state programs and state policies. CEO Andrew Miller said the shutdown was forced "due to the rising cost of doing business in Oregon" and has elected to move production to Idaho and Montana instead.
Fourteen Western Oregon counties are in process of
suing the state of Oregon for $1.4 billion
, claiming the state is poorly running public forests and that it's costing them logging revenue. The suit is backed by Stimson and other members of the state's lumber industry.
Parscale said he is watching Oregon, and if he believes the Trump campaign has a chance of winning the state in 2020, they will fight for it, 
reported KGW8 News.
Have something to say? Share your thoughts with us in the comments below.