Productivity improvements help Patrick Industries' Q1 profits soar
April 30, 2022 | 7:34 pm CDT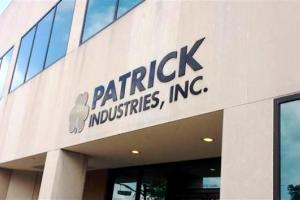 ELKHART, Ind. – Patrick Industries said productivity improvements and labor efficiencies contributed to first-quarter net income of $112.7 million, a 137% increase over the same period in 2021.

Patrick, No. 58 in the FDMC 300,  posted net sales of $1.3 billion for Q1 2022, an increase of $491.7 million or 58% compared to Q1 2021. The company said its expanded sales reflected momentum in all of its end markets and contributions for 2021 acquisitions.

Net sales in the first quarter of 2022 increased by $491.7 million, or 58%, to $1.3 billion from $850.5 million in the first quarter of 2021. The increase reflects continued strong performance in our RV and marine leisure lifestyle markets as well as our MH and industrial end markets, market share gains, and the impact of acquisitions completed in 2021.
Patrick's Operating margin of 12.1% in the first quarter of 2022 increased 400 basis points compared to 8.1% in the same period a year ago, driven principally by the realization of productivity improvements and labor efficiencies, increased throughput and leverage of the fixed cost structure, and the contribution of acquisitions.
"We are pleased with our first-quarter performance as our team continued to execute on driving efficiencies with improved scheduling and more consistent material procurement on the back of strong production levels across all of our end markets," said Andy Nemeth, Patrick's CEO. "Although supply chain visibility remains challenging with certain products, the dedication our team put forth over the past twelve months to coordinate our efforts across our brands and operations and provide better procurement stability are taking hold to drive improved service and reliability for our customers."
Patrick's industrial unit sales, which represent 10% of its total revenue, climbed to $127 million, an increase of 39%. The RV industry unit, Patrick's bread-and-butter market, realized a 64% increase to $820.6 million.
 
Have something to say? Share your thoughts with us in the comments below.