Notre Dame spire will be constructed exactly the way it was
July 17, 2020 | 12:43 pm CDT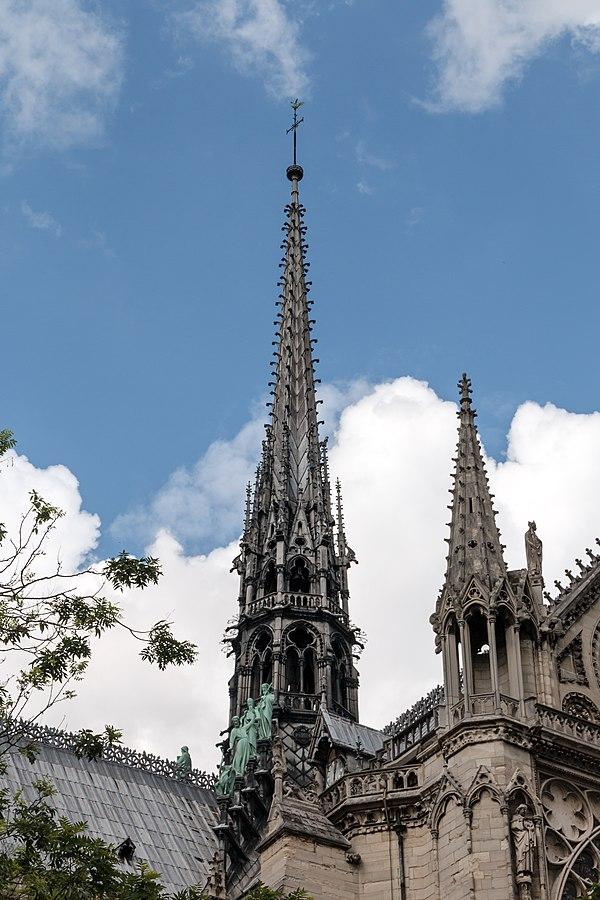 Photo By Dietmar Rabich / Wikimedia Commons / "Paris, Notre Dame -- 2014 -- 1494" / CC BY-SA 4.0
PARIS - French President Emmanual Macron has cleared up some speculation on the reconstruction of the Notre Dame cathedral, stating that the iconic 300-foot spire will be rebuilt exactly as it was before last year's fire.
Designed by Eugène Viollet-le-Duc, the spire was added to the 13th-century cathedral in 1859.
The decision to build the spire as it was may have been influeced by Macron's desire to see the cathedral rebuilt in time for the 2024 Olympics - set to be held in Paris. The decision directly contradicts a previously announced "international competition" to design the cathedral's next spire.
The details of how the cathedral's rebuild will happen are still unclear. In May 2019, Asselin, a French maker of high-end custom handcrafted traditional windows, doors, cabinetry, wood panels, parquet flooring, and staircases with offices in Atlanta, was reportedly in talks to help rebuild the cathedral.
Company president Francois Asselin 
told WSB-TV Atlanta news
 that the company assembled a bid to rebuild the cathedral's wooden roof framing. Asselin has experience restoring and rebuilding historical monuments, having restored all of the windows of Versailles and wood framing inside the Louvre.
Asselin's windows at Versailles.
Rebuilding Notre Dame's roof would be a serious challenge
. The wood of more than 1,300 ancient oak trees supported the 850-year-old cathedral - much of which was destroyed in the fire. The huge trees date back to the 12th century and come from primary forests - forests largely untouched by humans. There are hardly any left in Europe.
"They'll have to look far and wide for it," University of Montana professor of wood science and technology Ed Burke told the Missoulian. "You're not just going to roll your logging company out. They built the way they could in the 1100s. This is going to take a concerted effort to find those resources again."
"You cut oaks fall and winter and you need two - three years to find specific oaks for the framing," Asselin said. 
France may have to consider other building options if it wishes to follow through on President Emmanuel Macron's promise of a five-year rebuild. Some French officials doubt the five-year timeline, saying it could take up to 15 years and cost billions of dollars.
Have something to say? Share your thoughts with us in the comments below.