North Carolina groups aid SBP in recovery process after Hurricane Florence
December 18, 2018 | 12:00 pm CST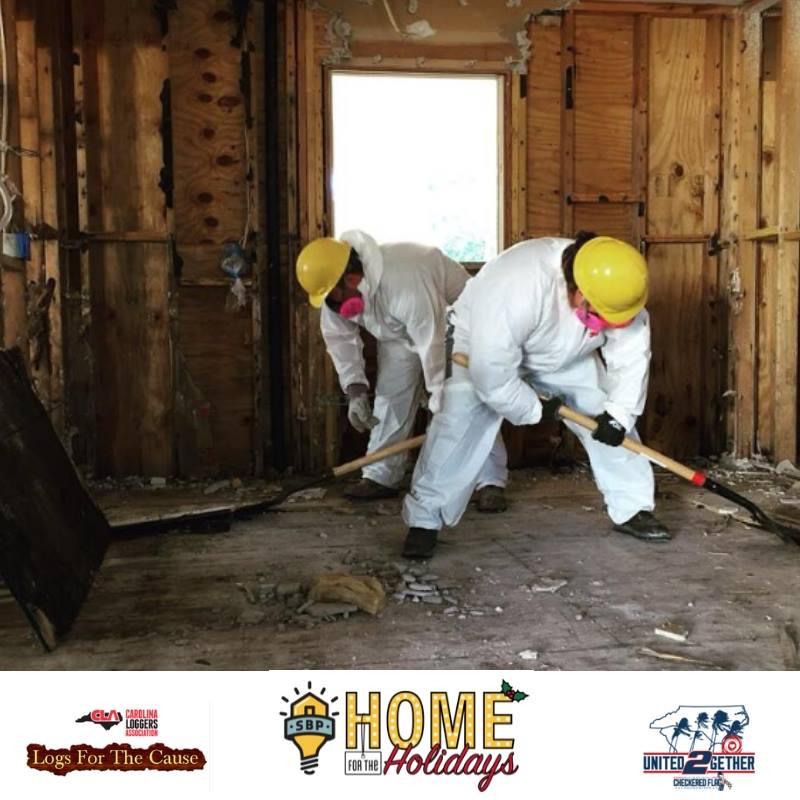 HENDERSON, N.C. -
 In an effort to assist first responders and veterans impacted by Hurricane Florence, two North Carolina groups have partnered with the
St. Bernard Project
's (SBP) Home for the Holidays program. The hurricane, which struck North Carolina on Sept. 14, 2018, was a category 1 rainmaker that caused immense damage, so
Logs for the Cause
and
United2gether
have offered their aid in the state's recovery process.
SBP's Mission is to shrink time between disaster and recovery and to prevent some of the suffering caused by disaster. Founded in 2006 in St. Bernard Parish, Louisiana, SBP has rebuilt homes for more than 1,600 families with the help of 180,000 volunteers in a total of 11 communities across the United States and Puerto Rico.
"Through this partnership, SBP will be able to provide a predictable path home for disaster-impacted families of veterans and first responders in North Carolina," says Zack Rosenburg, SBP co-founder and CEO. "We believe that this partnership is an example of the seldom discussed, but ever-present ties that bind us together."
Logs for the Cause is hosted by the
Carolina Loggers Association
, a nonprofit organization dedicated to promoting logging professionalism and business opportunities for the state's forest products network. The organization acts as a unified voice for the state's timber harvesters, offers networking and business contact information, and promotes and aids in state certified logger education programs. 
"While those affected have long since returned to work, the impact from this storm will be felt for years to come," says Ewell Smith, executive director of the Carolina Loggers Association. "The logging community in North Carolina – one that was hit especially hard by the storm – is close-knit; we believe in giving back and paying it forward, and helping to kick start the rebuilding process is the perfect place to start."
United2gether is hosted by
Brad Keselowski's Checkered Flag Foundation
, a foundation that honors and assists those who have served and sacrificed for the country. Since 2010, the foundation has supported more than 250 organizations and individuals in order to help veterans and first responders during their road to recovery.
"Immediately following the storm, we created the United2gether campaign to support first responders in affected areas," says Paige Keselowski of the foundation. "Teaming up with the Carolina Loggers Association and SBP on the Home for the Holidays program is a great way for us to continue our support of first responders and veterans that are still dealing with the impact of the storm."
The Home for the Holidays program is actively seeking building products partners to assist in the rebuilding efforts. Anyone interested is encouraged to contact Ewell Smith at
[email protected]
for more information.
"Every gift given through both the Logs for the Cause and United2gether campaigns between now and January 31, 2019," says Smith. "Will go toward SBP's efforts to rebuild homes for first responders and veterans throughout North Carolina who were impacted by Hurricane Florence."
Have something to say? Share your thoughts with us in the comments below.