New York Custom Interior Millwork burns in five-alarm fire
August 6, 2016 | 11:23 pm CDT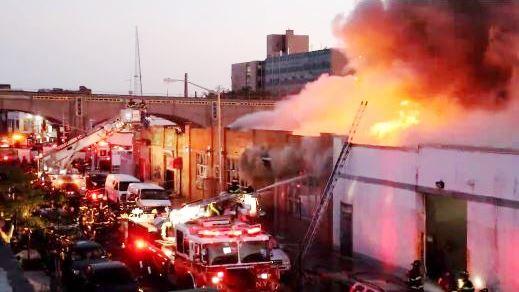 New York Custom Interior Millwork Corp., a high-end architectural woodworking company in Queens, New York, was hit with a five-alarm fire that started August 3 and continued burning August, fueled by the wood, lacquers, thinners and paint at the business.
New York's WABC reports that the fire destroyed the facility used by a commercial and residential interior woodworking design and building company, despite efforts of more than 150 firefighters.

The New York City Health Department is advising people in the area avoid smoke exposure from structural fires by closing windows while indoors and reducing outdoor activity where smoke is present. A video of the fire by Richard York is show at the New York City Firewire Facebook page.
Among New York Custom Interior Millwork's many high-profle jobs was the renovation of the famed Tavern on the Green in New York's Central Park. A member of the Architectural Woodwork Institute, New York Custom Interior Millwork is a family run business, established in 1966.

 
Have something to say? Share your thoughts with us in the comments below.