Milwaukee Tools Releases New Impact Duty Driver Bits
August 26, 2015 | 12:00 pm CDT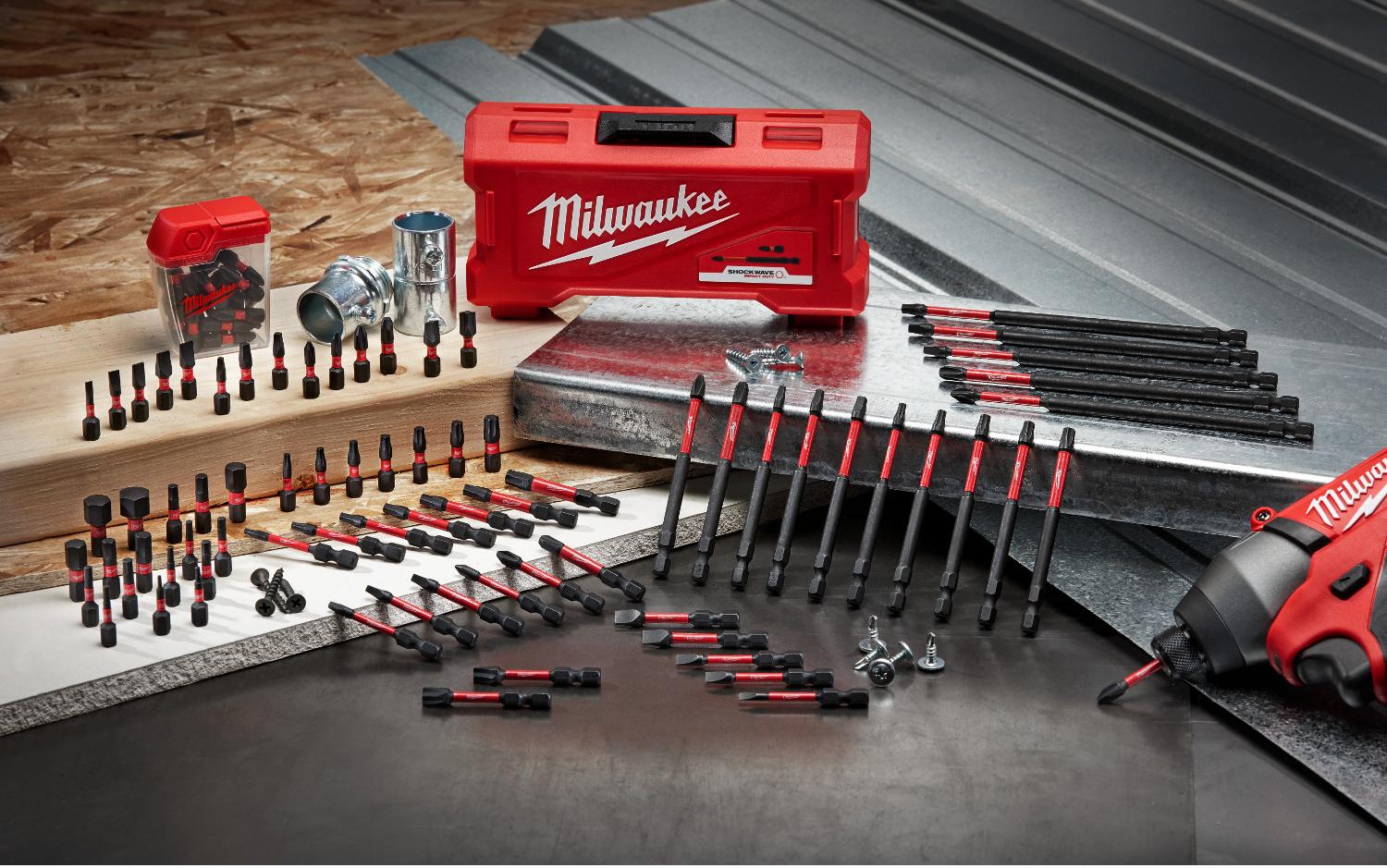 Photo By Milwaukee Tool
MILWAUKEE, WI – Milwaukee Tool continues to deliver game-changing solutions with the next generation of their market-leading SHOCKWAVE™ Impact Duty driver bits.  Engineered and tested to be the most durable, best fitting driver bits on the market, the new generation will feature an optimized Shockzone™ geometry to provide up to 30x longer life and absorb 3x more torque vs. other impact bits.
"Following the launch of SHOCKWAVE™ in 2009, several competitors have followed in our footsteps with their own imitation of the Shockzone™, but these designs do not absorb peak torque without snapping at the tip," says James Grow, Sr. Product Manager for Milwaukee Tool. "As impact tools continue to gain momentum in the industry, and the available offerings have more power and more speed control than ever before, we are proud to be on the forefront of accessory solutions that deliver extreme durability for the most demanding tools and applications."
The new generation of SHOCKWAVE™ driver bits will include a variety of bit tip sizes, lengths and kit configurations of Phillips, Square, Torx®, Slotted, ECX™ & Hex driver bits. Designed to deliver maximum life, each bit is optimized with a unique Shockzone™ geometry in varying lengths and thicknesses to absorb torque in all applications.
In addition, the Precise Fit Custom Machined Tip™ prevents stripping and reduces wobble for the best fit in the industry. Made of Custom Alloy76™ Steel, a proprietary heat treat process maximizes resistance to wear and shock. 
With the expansion of the SHOCKWAVE™ Impact Duty line, Milwaukee Tool demonstrates its continued commitment to delivering innovative accessory solutions to save time and increase productivity on the jobsite.
New SHOCKWAVE™ Driver Bit Types
Phillips – P1, P2, PR2, P3
Square – SQ1, SQ2, SQ3
Torx® – T10, T15, T20, T25, T27, T30, T40
Slotted – SL#4, SL#6, SL#8, SL#10, SL#12
Hex - 1/16", 5/64", 3/32", 7/64", 1/8", 9/64", 5/32", 3/16", 1/4", 2.5mm, 3mm, 4mm, 5mm, 6mm, 8mm, 10mm, 12mm
ECX™ – ECX#1, ECX#2
Suggested Sample List
48-32-5003: SHOCKWAVE™ 1" Insert Bit PH2 (25pk)
48-32-5004: SHOCKWAVE™ 2" Power Bit PH2 (15pk)
48-32-4606: SHOCKWAVE™ 2" Power Bit SQ2 (5pk)
48-32-4685: SHOCKWAVE™ 2" Power Bit T25 (5pk)
48-32-4005: SHOCKWAVE™ 36PC Driver Bit SetNew Shockwave Driver Bit Tip Types
Have something to say? Share your thoughts with us in the comments below.