Mattson helping educators think like industry
July 3, 2019 | 11:55 am CDT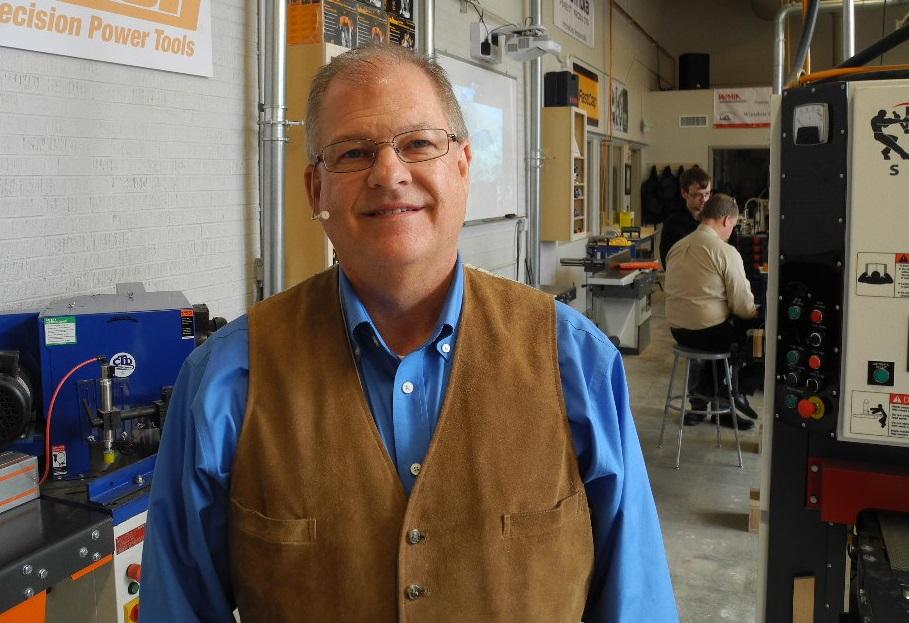 Dean Mattson is not retired.
He is busier than ever.
He moved back to Oregon a year ago, but he is still involved with the MiLL National Training Center, and a consulting business he started to help educators meet the needs of industry.
And Mattson is also back to where he started in education, currently consulting with the Salem-Kaizer school district.
He moved to Oregon in June of 2018, right after school was completed. He sold his woodworking company and bought a new home in Dallas, Oregon, with his wife, Rosemary.
In Oregon, he has built a woodworking shop where he builds prototypes for the training program. Part of his consulting is working with wood executives or business executives, putting their organizations on a leading edge platform.
"After building and teaching 200 kitchens, I got to build my own cabinets for my own home," Mattson said. "That's been one of my dreams. I had to remember how to build cabinets."
Finishing at the MiLL
Mattson is founder and president of the MiLL, and is CEO. Day-to-day duties are handled by lead instructor John Stearns and Tim Kistler, superintendent of Peyton School District.
At the MiLL, they are putting the finishing touches on a national training center for Sherwin-Williams. They needed an air remake system, which Sherwin-Williams donated. They hope to have this finishing line, equipped with a DuBois coater, up and running before the end of the year.
Mattson said the MiLL is also starting a welding training center. JLT Clamps is helping with that.
The MiLL is operating at capacity, with 180 students in wood manufacturing. They will run three classes simultaneously with a total of 65 students at any one time, in six periods during the day. The program has gone from 30 to 180 students.
The Salem-Keizer school district sent an administrator to the MiLL in Colorado. When Mattson left Colorado, they wanted to hire him as a consultant.
But they did not know how to speak the language of an industry seeking employees, Mattson said, and they needed to break those barriers.
Salem-Keizer is starting using the MiLL model, first in culinary arts. The school is planning a seminar with a large casino in the area, and a food supplier.
"Education has looked at this model, and said we need to have professionalism," Mattson said. "We need to speak the language of industry. We're launching a nationwide format, using the model of the MiLL, with education partnering with industry."
Mattson is taking culinary arts and industry people to communicate with educators. A Blum representative will be a keynote speaker. Educators will learn how industry talks. Mattson is speaking at AWFS Fair's College of Woodworking Knowledge. He will also show teachers how to work a show.
Helping educators think like industry
Mattson's new consulting company is called Beyond Career Technical Education Consulting.
The goal here is to have high school teachers become more industry oriented than education oriented. They may not know the industry trade shows, publications, or what is happening. Educators might not know what the industry is, or that there are jobs available. The goal is to help educators be updated on the careers themselves.
"If you're going to put a career technical education program in your high school and it is not attracting students, it may not be dynamic enough," he said.
Getting involved
How can woodworking companies and suppliers get involved in the MiLL or in their own local school?
The big push is to come to the MiLL and take the course for teachers, Mattson said. They are now starting to teach the business side of things. Companies can send employees for certain kinds of training, to train teachers how to teach woodworking to their new employees.
What can a woodworking company do today to help ensure they will have qualified employees tomorrow?
"Those that are close to the MiLL, need to invest time and resources. We've had tremendous success. Companies that are unknown to these teachers are not likely to get these graduates. The companies need to have a stake in the game."
Companies can call Mattson at 503-851-5276, email [email protected].
"We've gotten messages from 200 companies to get graduates. Companies call and say they want our graduates. But they haven't made investments in time and money in developing them."
The employers have been the least involved, but they have been getting the benefits of the program, Mattson observed.
"This has to change. We're paying for all these students to be trained to go into wood industry. Employers need to be involved. The students will recognize who they are and want to go to work there."
Have something to say? Share your thoughts with us in the comments below.