Mass timber construction okayed for Washington State building codes
March 19, 2018 | 12:14 pm CDT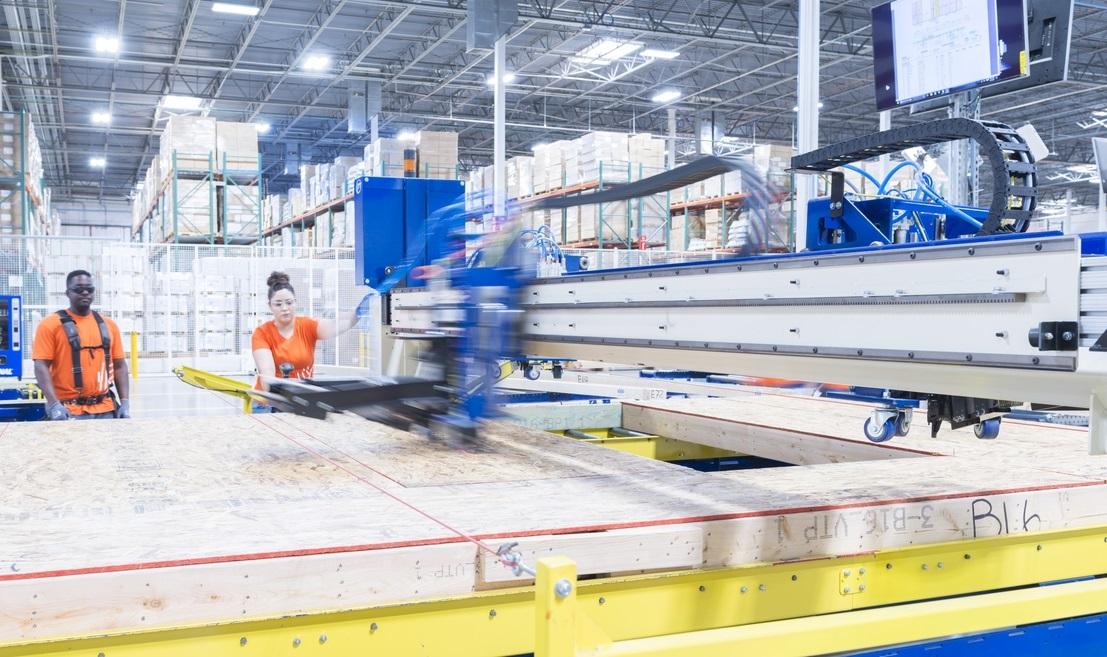 Photo By Katerra
OLYMPIA, Wash. – Washington State legislators changed building codes in new legislation, a move expected to increase in the use of mass timber products in commercial and residential construction.
The Washington Forest Protection Association says the move will boost business for rural communities and forest landowners and will lead to an increase in the use of mass timber products in commercial and residential construction.
For Katerra, founded in 2015, CLT is an element in a broader strategy for resetting the building and construction industry. The company announced $865 million Series D funding round led by the SoftBank Vision Fund to fund its new plant in Washington, and it has already accumulated more than $1.3 billion in bookings for new construction, spanning the multi-family, student and senior housing, and hospitality sectors. It already has a fully operational manufacturing facility in Phoenix.
"The $12 trillion construction industry is extremely fragmented with tens of thousands of companies using minimal levels of technology. While labor-productivity growth has skyrocketed in the overall global economy, the construction industry has averaged only 1% annual productivity growth over the past two decades," said Jeffrey Housenbold, managing partner for SoftBank Investment Advisers. New investors in Katerra's latest the round include the Canada Pension Plan Investment Board (CPPIB), a private investment fund managed by Soros Fund Management LLC, Tavistock Group, Navitas Capital, DivcoWest, and others.
An impediment to the wider use of mass timber products in construction has been that building codes have not been updated to permit the new building materials. Senate Bill 5450, passed overwhelmingly 45-2 in the Senate and 91-6 in the House, rectifies this, directing the Washington State Building Code Council to adopt rules allowing for the use of mass timber in construction.
Including mass timber in the state building code will make it easier for developers to use CLT and other mass timber products by adding certainty to the permitting process, said Jason Callahan, Director of Governmental Relations for the Washington Protection Association.
"State lawmakers are paving the way for more buildings in Washington to be constructed with mass timber products that have a lower carbon footprint and use less energy and water than other building materials," Callahan said. "Cross-laminated timber, for example, is strong, fire-resistant and because the CLT panels are prefabricated, it's fast and simple to install."
The prime sponsor of SB 5450 was Sen. Marko Liias, D-Lynnwood, with other key contributions from Sens. Dean Takko, D-Longview, and Guy Palumbo, D-Maltby.
"Mass timber is already being used in countries around the world to construct sustainable, ecologically sound buildings," said Liias. "Putting people first means taking every step possible to build a greener, more inclusive economy for every Washingtonian."
"Creating a pathway for greater use of mass timber in Washington embraces our greatest natural resource while bolstering a crucial industry for rural economies," said Takko. "Timber has long provided family wage jobs in communities across the Evergreen State and I'm proud that the Legislature took action this year to keep that tradition strong."
More certainty in the permitting process will mean more building projects using mass timber, which in turn will lead to more mass timber production facilities, more demand for timber from sustainably managed forests and more jobs in the rural communities where the forests and production facilities are located.
SB 5450 is the latest move by the Legislature to increase the use of mass timber products. In 2016, state lawmakers allocated $5.5 million for the construction of new classrooms around the state using CLT. The 20 classrooms for kindergarten through third grade are being built in the Sequim, Seattle, Mount Vernon, Wapato and Toppenish public school districts.
The Washington Forest Protection Association (WFPA) represents private forest landowners growing and harvesting trees on about 4 million acres in Washington State. Members of the 100+ year-old association are large and small companies, individuals and families who practice sustainable forestry in Washington's private forests. For more information, go to
www.wfpa.org
.
Have something to say? Share your thoughts with us in the comments below.