Kitchen & bath association bullish on 2022 
June 7, 2022 | 12:36 am CDT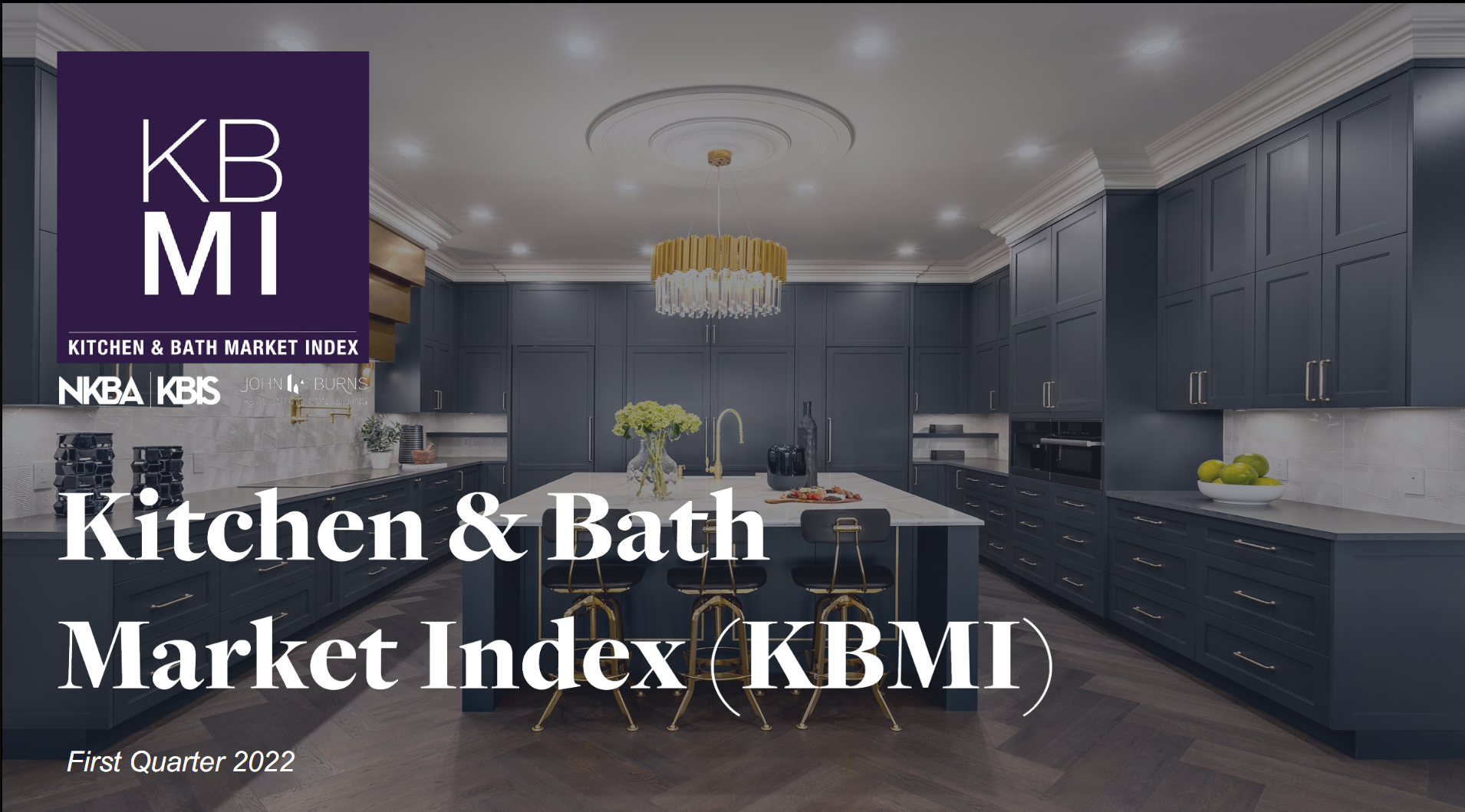 HACKETTSTOWN, N.J. – The kitchen and bath industry is on par for a successful 2022 after the industry enjoyed a 12.6 percent increase in sales in the opening quarter of the year, according to research from the National Kitchen & Bath Association (NKBA).
The NKBA's Kitchen & Bath Market Index (KBMI) for Q1 of 2022, which is aimed at measuring the health of the kitchen and bath industry, found that industry professionals expect further growth as the year continues. 
"Despite a number of ongoing economic hardships, from material shortages to higher labor costs, we're excited to see our industry continue to grow and be optimistic about the future," said Bill Darcy, CEO of the NKBA. "As the world shifts toward a new normal, we've seen the kitchen and bath industry continue to adapt to the times by evolving e-commerce practices, stocking up on available products, and turning toward historically underutilized brands to fulfill customer needs."
While price points have continued to rise, demand for remodeling projects has stayed strong, enabling the industry to continue to grow in the new year. In the KBMI report, all kitchen and bath industry segments reported high single-digit sales growth year-over-year (YOY) except for manufacturers, who reported double-digit sales growth of 10.3%. Not only were sales numbers up compared to 2021, but quarter-over-quarter (QOQ) sales accelerated for all segments of the industry, said Darcy.  
In 2022, full-year sales growth expectations have also increased after a successful first quarter, with professionals anticipating +15.1% growth for the year, up from the 9.4% reported just three months ago. 
In the latest KBMI report, the kitchen and bath industry rated future business conditions a 78.6 on a 100-point scale, displaying cautious optimism about the future of the industry. Rising interest rates and low resale inventory have been tailwinds for big remodeling projects as consumers leverage home equity and other discretionary income to 'trade up in place.' Despite additional inflationary pressures potentially pricing out some homeowners, the industry reported a healthy number of backlogged projects, allowing the sector to feel confident about the road ahead.  
"From manufacturers and designers to contractors and retailers, the entire kitchen and bath industry has had to adjust to the ever-evolving times that we live in. Despite the ongoing headwinds and potential unknown challenges ahead, all signs currently suggest that 2022 will be another strong year for the industry," said Darcy. 
Among the report's key findings were: 
•    Material shortages cause delays and cancellations: As the ongoing worldwide material shortage continues, kitchen and bath industry professionals have reported serious delays to their projects. 
Forty-three percent (43%) of building and construction firms report most of their projects were behind schedule in Q1 2022. Firms have tried to get out ahead of projects by pre-ordering as often as they can, however, industry-wide backorders and shipping delays prevent them from maintaining timelines. A further consequence of these material delays has been client cancellations due to long timelines, as 46% of building and construction firms had clients cancel or postpone projects in Q1. While this is a slight improvement from Q4 2021's 50% cancellation and postponement rate, the trend continues to be a concern for the industry moving forward. 
•    Luxury products in demand, come with the longest lead times: The KBMI for Q1 2022 found that luxury products once again are the most popular category for consumers. However, these products also come with the longest wait times. 
An increasing number of industry professionals (55%) report differing lead times across luxury, mass market, and entry-level products/materials. Seventy-nine percent (79%) of those indicating a difference say lead times for luxury products/materials are the longest. Consumers choosing to move forward with big project remodels are often opting for high-end products, associating quality and durability with the higher price tag.
•    Labor remains elusive and expensive: Industry professionals reported labor availability as having a significant impact on their businesses and their ability to keep up with demand, rating the overall impact a 6.7 on a 10-point scale. 
Industry professionals continue struggling to find qualified labor, raising rates by 18% on average to retain and/or attract talent. Seventy-six percent (76%) of designers are increasing labor rates by 21% on average to retain existing employees, saying competition for qualified labor is fierce.
To learn more, click here.
Have something to say? Share your thoughts with us in the comments below.