Industry machines in place for MiLL training center
October 12, 2017 | 3:48 pm CDT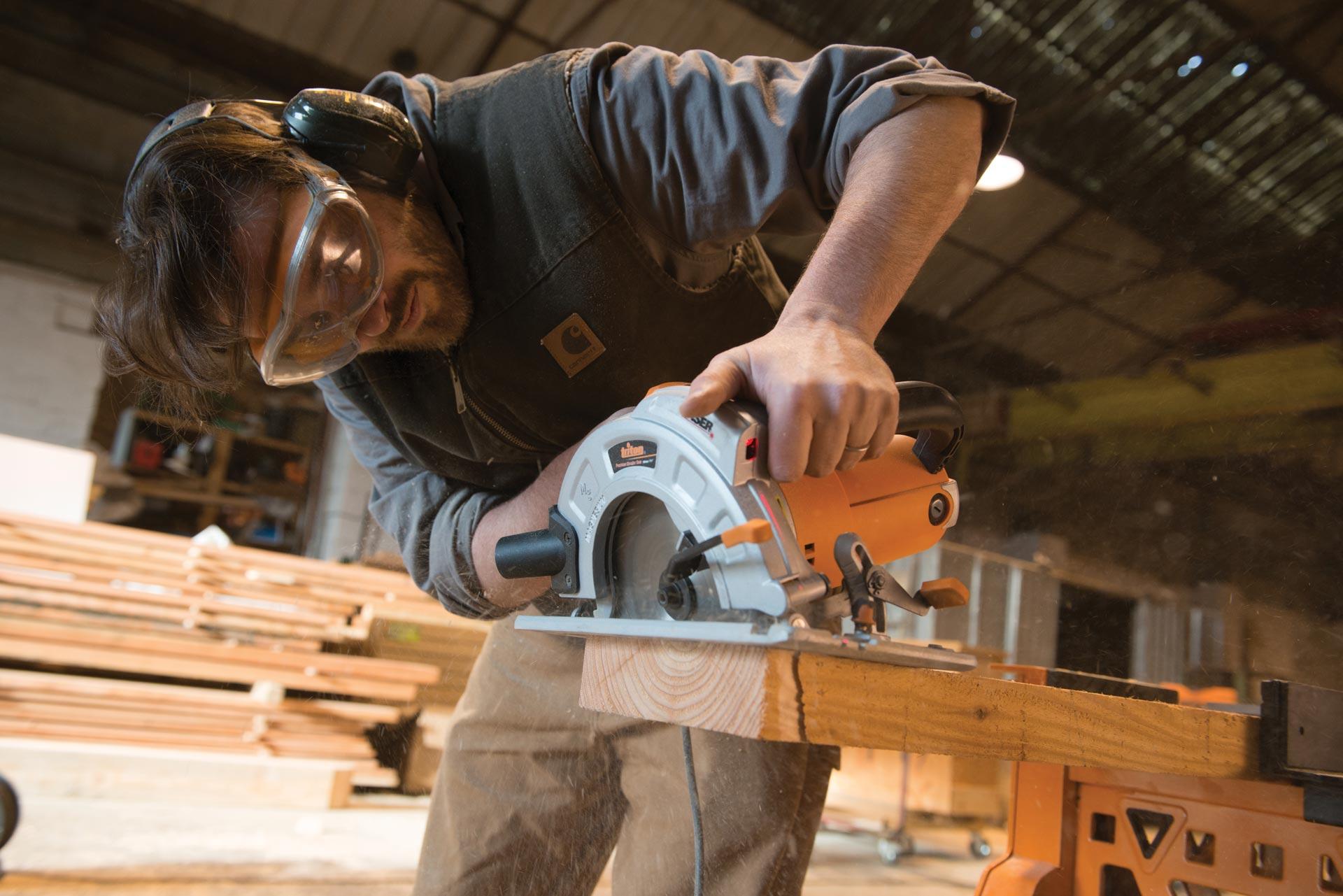 You could say the pieces are in place at the MiLL National Training Center.
The Manufacturing Industry Learning Labs started its first classes for students in August. In early October, the MiLL welcomed industry partners, educators and students to see the rapid progress of the training center at a special open house event that demonstrated the industry's support.
The shop floor is filled with equipment and signs to recognize the many industry partners. Machines include a Weeke CNC router, Stiles edgebander, Timesavers sander, Altendorf table saw, SCM case clamp, Striebig panel saw, JLT clamping systems, eight TigerStops, many Kreg products, Bessey clamps and Rikon machinery.
It's one thing to see the list of companies planning to contribute machinery and it is another to see the actual machines in place.
The 46,000 square foot training center will be used for manufacturing training for high school, college, and industry. The new training center's first semester started with about 100 beginning students from Widefield and Fort Carson districts in Colorado Springs. The first courses are Beginning Cabinet Manufacturing 1/2 and second-year Cabinet Manufacturing 3/4.
In the fall of 2015, Peyton 23-JT Superintendent Tim Kistler hired Dean Mattson to teach state-of-the-art woodworking manufacturing classes. Mattson is a former professional cabinetmaker who started a similar program at a high school in Oregon that was a success. The program became known as the Peyton Woods Manufacturing Program. Widefield School District Superintendent Scott Campbell was impressed by the potential of the program and took the opportunity to get his students involved.
At the recent open house Dean Mattson, who is founder and president, thanked Kistler and Campbell, along with Dennis Neal, director of facilities and support services for Widefield School District, who is acting as facilities manager for MiLL.
"We're humbled, proud and blessed by the event," Mattson said. "We had 350 people here."
The number of industry partners has grown quickly, from 52 at the beginning of 2017 to 101 now.
Sherwin-Williams on board
One of the most important new partners is Sherwin-Williams, which recently made an exclusive 10-year agreement with MiLL, and is providing finishing supplies to the training center.
Les Smith of Sherwin-Williams talked about the widening skills gap at the open house event. Smith had read one of the stories in FDMC Magazine in October 2016, exactly a year earlier, about the new MiLL training center.
MiLL already had a number of industry partners, but still needed a major finishing supplier. Sherwin-Williams would become that company.
Smith said that Sherwin-Williams will be involved in the installation of a DuBois Equipment Co. flatline finishing system and spray booths, all applying waterborne finishes. A UV drying oven may also be included.
At the open house event, Les Smith of Sherwin-Williams told FDMC and Woodworking Network that there was a need for finishing training.
"This is an opportunity to look into the future," he said. "And to train the next generation of finishers."
Smith said that Sherwin-Williams will also use the MiLL to train its own employees and industry partners in addition to students.
"This is what it's going to take for the industry to have a future," he said.
Special students
Mattson recognized industry and educational partners, and the students themselves.
"You students are awesome," he said.
"We asked students about what they did not like about education," Mattson said.
"They said, 'We have no say in it, and they shove all this stuff at us and we ask why, and they say we're getting you ready for a test.'"
"The new curriculum is all about that. (We tell them) why you students are here, what do you want to get out of the program, and these are the things that have been developed for you."
One recent student plans to become an instructor and is currently volunteering at the MiLL two days a week.
Colton Pring is a recent graduate of Peyton High School and was impressed by the recent display of equipment at the MiLL open house event, and industry's support of the program.
"It's hard to comprehend that so many people have come together here," he said.
Pring was one of the first students at the Peyton wood program and graduated this year. He will be attending college-level classes at the MiLL when they start.
A trio of Widefield High School students are taking classes and attended the open house event. Tenth grader Tim Blair, a sophomore in woods manufacturing, said that he had been in a woodshop before, "but nothing like this."
"We had to spend a month learning before even using the saw," he said.
Ninth grader Andy Gutierrez initially thought the woods manufacturing program would be fun, but it's also helped him learn things like fractions.
"Just in a week you learn so much," he said. "Now that I'm taking this and liking it, it would be a good job to have."
Jeremiah Gittleman, another ninth grader, said that he wants to continue with the program and learn how to build cabinets.
"I never imagined something like this," he said. "I thought it would be just another woodshop."
Support from Stiles
Stiles Machinery Inc. has been a major supporter of the program, and has already supplied a number of machines to the Colorado Springs training center, including a Weeke Venture 480 CNC machining center.
Derek Hart, representing Stiles at the recent event, said that Stiles University is working with the MiLL to help them train students on the equipment provided by Stiles. (Equipment is loaned to the training center by the machinery companies.)
Hart also worked with MiLL to help them identify the best machines that would provide worthwhile training to students.
The Weeke Venture CNC router was operated during the event and proved to be a crowd pleaser.
"It's a draw for someone to see the high technology," Hart said.
Training for teachers
"The next big push is the adult classes, including military, college students, industry students, and adult students and teachers," Mattson said.
Also coming soon will be CTE training for industrial arts teachers and administrators who want to bring professional, industry-oriented programs to their classrooms.
"We have developed a new curriculum and need to get it into public education."
"Teachers have to come to MiLL classrooms, become certified in WCA standards, and then receive the curriculum. We're trying to make it low cost. Our teachers will be teaching how to teach the MiLL model.
"We're also working on getting college course credit for coursework taken at MiLL. And we're still working on partnerships there."
Biggest challenges
The IWF management committee and its owner groups WMMA and WMIA made a $25,000 donation that was given to the MILL from IWF. The MiLL is an EDUcation member of the Woodwork Career Alliance.
What has been the biggest challenge so far?
Mattson mentioned four: Finding leaders who could execute the vision; His moving to Colorado; Finding the building for the MiLL and paying for it; Then getting all that machinery to Colorado.
For more information contact: Tim Kistler, superintendent:    [email protected], Dean Mattson, Founder & President, The MiLL: [email protected], Rosemary Mattson, Executive Assistant to Dean Mattson:  [email protected]
Or go to the MiLL's website and provide an email to get updates and more information: http://themillco.org.
Local contractors go extra mile for MiLL
Dean Mattson and the MiLL team built relationships with the local contractors, including wiring and air conditioning companies.
Mattson said that local contractors have been willing to put in an extra effort and even work on their own time because they believe the project "means something."
Specifically, project managers and technicians from Copestone General Contractors and Foster Electric Corp. volunteered to complete the job. Stephan Morin and Larry Cumley, Copestone General Contractors, and Julio Mariscal-Guzman, foreman, journeyman electrician, Foster Electric Corp., were among those that contributed. They felt this is something significant that's helping people. They did work on their own time to complete the building.
Have something to say? Share your thoughts with us in the comments below.