IMA Schelling America opens new hands-on Raleigh showroom
December 16, 2016 | 10:55 am CST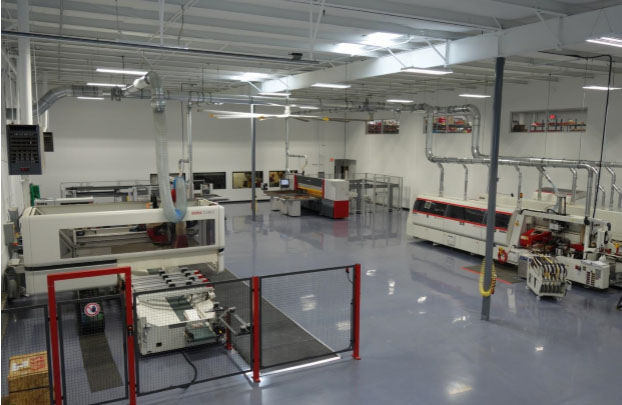 RALEIGH, N.C. -- IMA Schelling America has recently completed construction of a new showroom in its U.S. office in Raleigh, North Carolina. The 10,000 square foot showroom gives visitors the opportunity to observe machine demonstrations, receive training and hands-on experience with the machines, and speak face to face with the staff of IMA Schelling America.
The completion of the new showroom marks an open invitation for guests to come test and experiment the Schelling and IMA machines under power with their own materials and monitor their performance. The goal is to provide potential customers
with live demonstrations of their own work.
The technical support and service staff are available to answer in depth questions and address questions concerning the maintenance and operation of the equipment. The new showroom features the latest panel saws and edge banders IMA Schelling has to offer. Guests will be able to demo the following machines:
BIMA Cx40 E is the new ergonomic CNC-processing center range with integrated C-axis for high-quality and flexible complete processing of individual small batch- and batch-size-1 production of furniture components and components for interior fittings.
Novimat Compact R3 and Contour L20 allows for edgebanding of shaped components using tape up to 3 mm. The Novimat Contour L20 allows for cost efficient edge-banding of shaped components using tape up to 3 mm and lippings up to 20 mm thick.
Schelling fh5 and fh6 wood panel saws are cut-to-size saws meant for craftsmanship and the industrial production company.
Schelling fk4 and fk8 plastic panel saws cut panels made of plastic, composite, and innovative new materials. Both the fk4 and fk8 offer optimally adapted proven technologies. They can be used for a variety of materials and offer the highest degree of precision. See www.imaschelling.us for more information.
Have something to say? Share your thoughts with us in the comments below.