Hymmen hosts Tech-Together in-house event
November 4, 2022 | 6:47 am CDT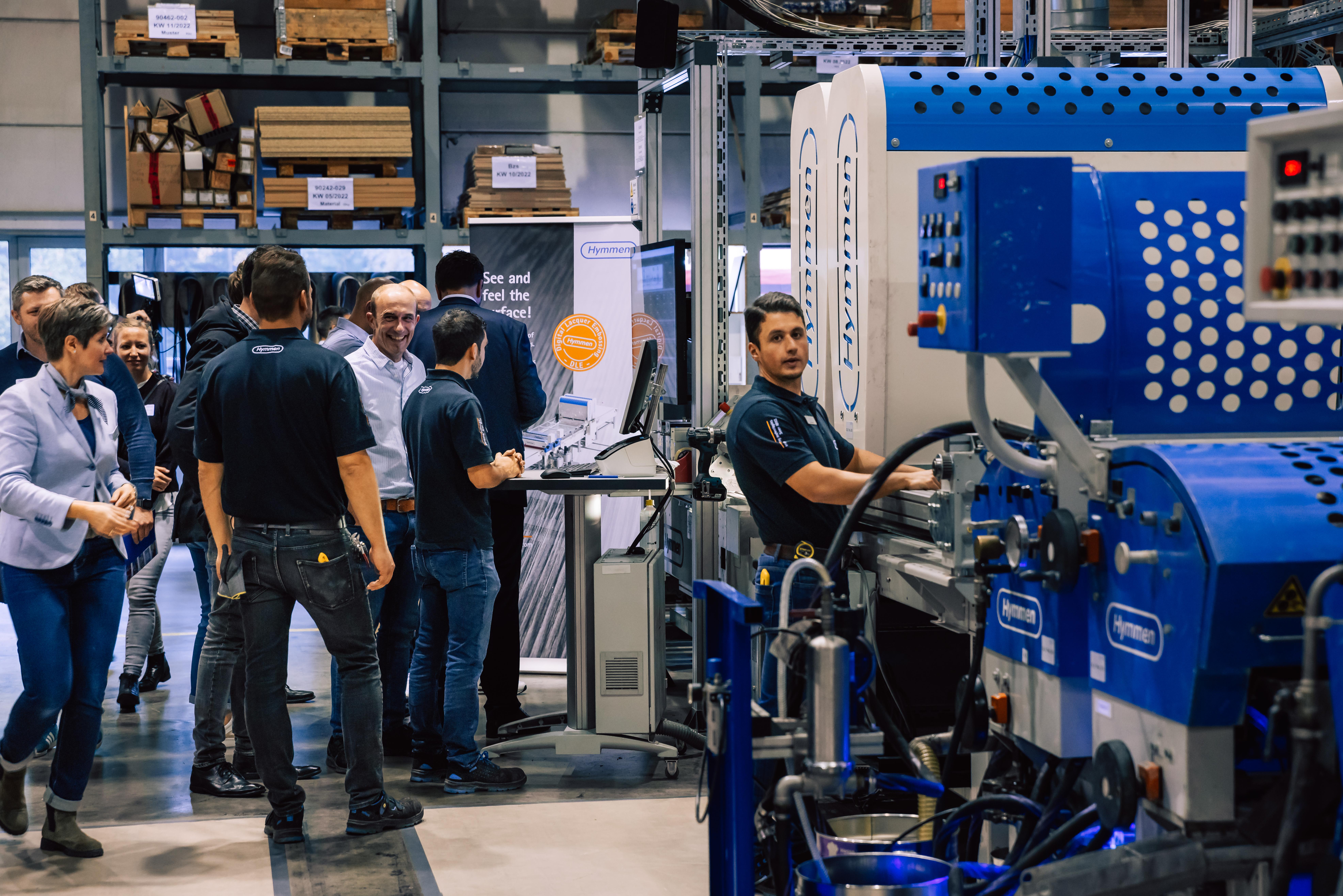 Photo By Hymmen
RÖDINGHAUSEN, Germany – Hymmen hosted the 2nd edition of the OWL-wide Tech-Together in-house exhibition event from Oct. 18-20.
About 60 visitors from throughout Europe took the opportunity to see a range of products from digital printing technology to press and coating systems and the Industry Intelligence solution smart2i. The event was held at the at the Hymmen Technical Center in Rödinghausen, Germany. 
From Tuesday to Thursday between 9 a.m. and 5 p.m., visitors took part in live demonstrations on the Digital Lacquer Embossing (DLE) line and the production systems for digital decor printing on board material with UV-curing inks (JUPITER) and water-based digital printing of decor paper (SATURN). 
Nearby, the HPL double belt press was waiting to press digitally printed paper into laminate on site. The company says it's coating finishing technology, the Calender Coating Inert, can produce outstanding quality mirror high gloss as well as super matt surfaces, which were also on display. 
Also shown was the smart2i Industry Intelligence solution samrt2i for cloud-based monitoring and analysis of all relevant process parameters to optimize the entire production. The live application of smart2i could be experienced in real time by means of the monitoring and analysis of the current production data of the technology in operation at the fair. 
Practical presentations were accompanied by talks on AI and the Industry Intelligence solution smart2i from Hymmen. Carsten Brinkmeyer, head of business development at Hymmen, put the Industry Intelligence solution smart2i into a larger theoretical context. 
Guest speaker Wilhelm Klat gave a keynote speech on artificial intelligence. Klat is a computer vision specialist, a research associate of the Applied AI Working Group at the FH Bielefeld and managing director of CircoVision UG. Dr. René Pankoke, managing partner and CEO of Hymmen led the following podium discussion. 
The OWL region, located in the eastern region of the German state of North Rhine-Westphalia, continues to offer concentrated machine, plant and supplier competence in the woodworking sector, the company says.
After the first edition in September 2021, suppliers covering the entire machining process once again presented themselves to the attendees. Customers were invited to tour the respective showrooms of the participating companies and get a personal impression of the innovations and technological advancements. 
The following companies participated in the event (in alphabetical order): 
Düspohl Maschinenbau GmbH 
Heinrich KUPER GmbH 
Hesse GmbH & Co. KG 
Hymmen GmbH Mechanical and plant engineering 
Koch Technology GmbH & Co. KG 
Lehbrink special machines GmbH 
MB Mechanical Engineering GmbH 
Venjakob Mechanical Engineering GmbH & Co. KG 
Wehrmann woodworking machines GmbH & Co. KG
Have something to say? Share your thoughts with us in the comments below.