Hooker reports 40% reduction in carbon-based energy usage
May 15, 2023 | 7:25 am CDT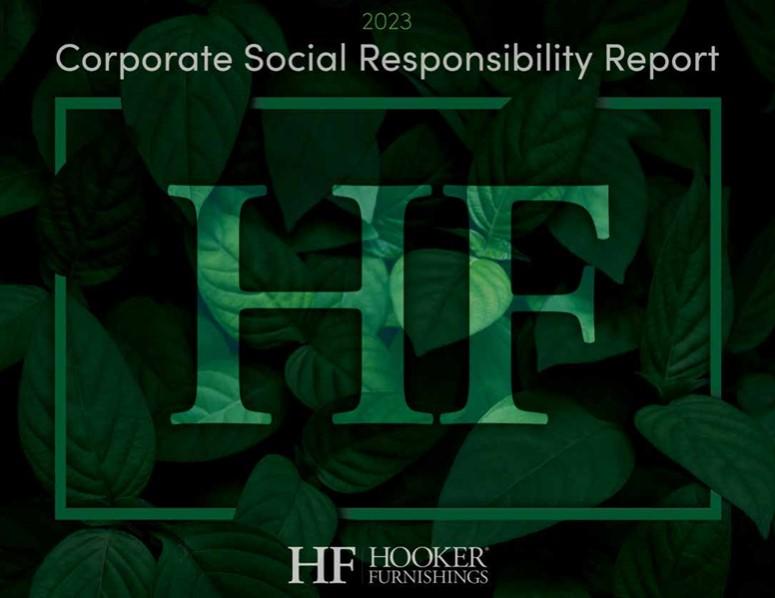 Photo By Hooker Furnishings
MARTINSVILLE, Va. — As part of its ongoing commitment to reduce its environmental impact, promote equity inside and outside the organization, and support the communities in which its employees live and work, Hooker Furnishings has released its third annual Corporate Social Responsibility (CSR) report. 
The 55-page document outlines the company's progress toward advancing its many Environmental, Social and Governance (ESG) objectives including several key areas of focus: climate and energy, diversity, equity and inclusion, health and safety and corporate citizenship. With an enhanced focus on KPIs, the report takes a deeper look at the company's current state, identifies areas of improvement as well as outlines key goals for 2024 and beyond.
"2022 was a transformative year for Hooker Furnishings," said Jeremy Hoff, chief executive officer. "Our team has laid the foundation for driving organizational change by creating processes, metrics, and reporting methods that provide us with better visibility of our progress, while allowing us to build on areas of success and identify improvements. As we head into our 100th year in 2024, I am proud of our team's progress and, more importantly, the promising path ahead."
Highlights from the report include:
The company now utilizes energy from renewable resources at three of its major facilities, resulting in a 40 percent reduction in the use of carbon-based energy annually. Hooker Furnishings plans to expand this program to all facilities and further reduce its carbon footprint moving forward.
All Hooker Furnishings brands, except for its newly acquired Sunset West brand, are now EFEC certified (Enhancing Furniture's Environmental Culture.) The company plans to seek certification for Sunset West in 2024.
Hooker Furnishings expanded its ongoing support of the Arbor Day Foundation with the recent launch of its new modern lifestyle furniture brand, M. For every piece of furniture sold within the brand, M will plant one tree in partnership with the Arbor Day Foundation to support restoration projects located throughout central Georgia.
From a diversity, equity, and inclusion perspective, the company will issue its first DEI annual report this year as well as host its first employee "listening session," moderated by its DEI partner, The Diversity Movement. The listening session aims to uncover gaps within the organization and help gain actionable insights to guide its overall DEI strategy.
The company donated $1.5 million of cash, in-kind donations, and countless volunteer hours to the charities important to its employees in 2022 in an ongoing effort to support the communities in which its employees live and work.
"As a company, we strive to integrate ethical, environmental, and social considerations into everything we do," said Anne Smith, Chief Administrative Officer, President of Domestic Upholstery, and an executive sponsor of the CARE committee. "By weaving these objectives into our company's day-to-day activities, they permeate deeper into our corporate culture, allowing us to make even greater progress toward our continued ESG journey."
The CSR Report is compiled and disseminated annually by the Hooker Furnishings CARE (Community Action & Responsibility for our Environment) Committee. Founded in 2021 with the purpose of addressing the topics of environmental stewardship, social responsibility, ethics and governance at a corporate level, CARE is a cross-functional, cross-company team that encompasses individuals from all divisions and levels of the organization, including the C-Suite. Members of the committee are tasked with identifying gaps and subsequently formulating solutions to issues under the umbrella of Hooker Furnishings' ESG performance. By seeing these projects through to fruition, CARE strives to continuously improve upon the company's status as a good corporate citizen, serving the environment and the local communities in which employees live 
Have something to say? Share your thoughts with us in the comments below.