Home Depot, Lowe's to hire over 125,000 workers for spring
February 15, 2016 | 12:42 pm CST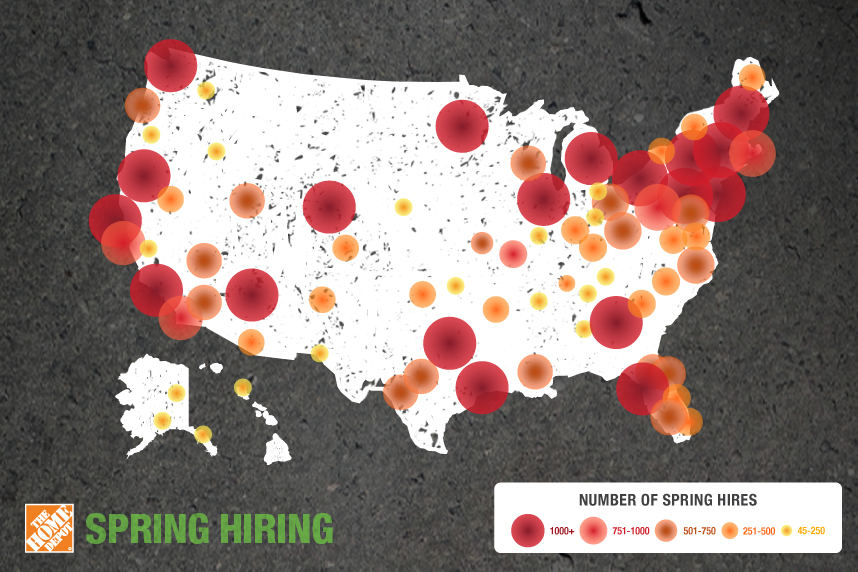 The Home Depot and Lowe's, two of the world's largest home improvement retailers, are hiring a combined 126,000 associates nationwide to ensure their stores are staffed and ready for both companies' busiest selling season.
"There's no better time to join our team than spring, whether you're a college student, recent grad or a veteran hoping to build a career," said Tim Crow, Home Depot's executive vice president—who plans to hire 80,000 workers. Opportunities include positions from the lumber aisle to the Pro desk.
The Home Depot has hired 80,000 seasonal workers since 2012, in which it hired 70,000.
ARTICLE

Remodeling Drives Up Lowe's, Home Depot

The Home Depot sales grew 6.4% third quarter, while its big box competitor Lowe's quarterly sales increased 5%. Both companies will expand next year as they expect the housing boom to continue unabated.
---
Home Depot's main competitor, Lowe's, is hiring 46,000 workers for spring - 6,000 more than last year.
Both competitors have been the twin giants of the home improvement industry for many years, sharing the first and second positions on the ladder.
Home Depot, who employs 371,000 full and part time workers and operates 2,274 stores around the world, earned $83.2 billion in revenue in 2014. Lowe's employs 265,000, operates 1,840 locations, and earned $56.2 billion in revenue in 2014. Both companies are poised for continued growth.
Have something to say? Share your thoughts with us in the comments below.