High school students get CNC chops, build guitars and bongo drums
February 18, 2020 | 3:53 pm CST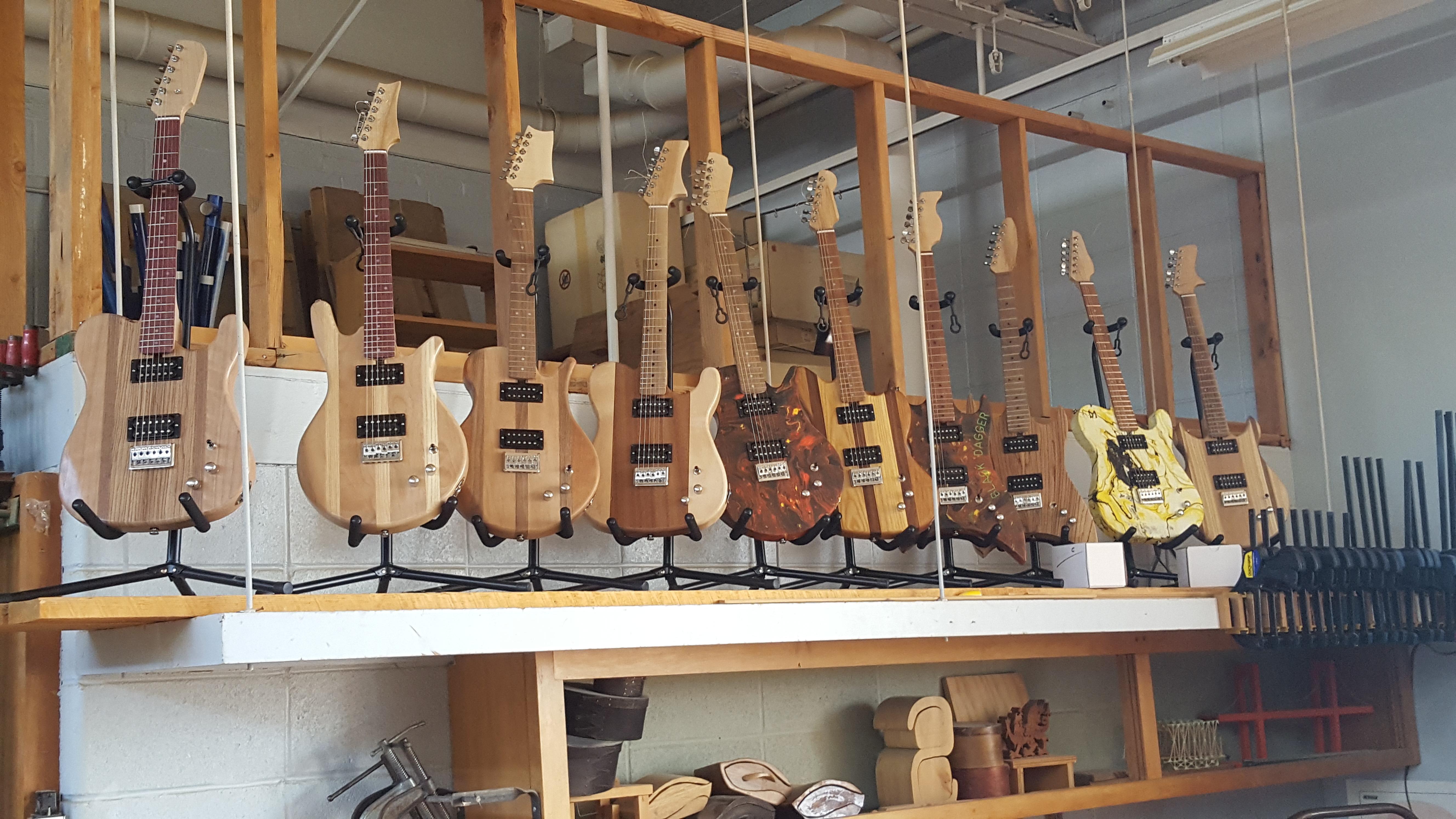 STRATFORD, Ct. – Larry Farrell has done it all. He's worked in transportation technology, video production, electronics, architecture and construction, mechanical and engineering with CAD-based design. If you ask him what he's enjoyed most, though, he'll answer without skipping a beat—being the Manufacturing Technology Instructor at Frank Scott Bunnell High School. His three classes, Introduction to Manufacturing Technology, Manufacturing Technology, and Advanced Manufacturing Technology, light a fire for creating things in students that may not have found their passion otherwise.
The first task Farrell's introductory class undertakes is a simple hand tool project, but the work quickly becomes more exciting. Farrell assigns a bongo drum next, which is created using CNC machining. His students take the process from start to finish, cutting out pieces of plywood, assembling and routing pieces, and performing secondary processes. The project is Farrell's idea of a home run—the kids enjoy it, the process is simple, and the skills are invaluable. He chose to incorporate an acoustic amplifier project in his teaching for the same reason.
The acoustic amplifier is part of Mastercam's Quick Part Series, which Farrell cites as irreplaceable. The software is free to instructors with the Educational Suite and the curriculum comes with teacher and student guides that take students from making a model to running the part. Students are also familiarized with powerful toolpaths and quizzed on valuable skills. 
"For our kids, the project is extremely doable," said Farrell, "The resources they gave us as far as the Quick Part manual were great. It's almost like reading a teenager's mind. It's something they would like, and this is going to be the easiest way for them to understand what to do."
Farrell also helps to host Bunnell High School's Career in Technical Showcase every year.
"We bring in the general population and we essentially put our shops in action. We let our kids show off what they do," he explained.
Farrell feels strongly that letting his students demonstrate their skills is the best way to express how much they've learned. One trick that never fails to impress is having the students run Verify, a function within the software, that is used to check for machining errors before they occur. Parents, teachers, manufacturing professionals, and residents can all watch the simulation run, and Farrell says that his favorite part is seeing the shock on their faces as they try to follow along with a 15 year-old's knowledgeable explanation.
This past year, Farrell's students demonstrated a guitar project at the Showcase. "We had kids at different stages of building a guitar where some kids were soldering, some were stringing their instruments, some were assembling necks and machine heads, and others were tuning them up and playing them." Farrell acquired the project from STEM Guitar Building, an institute sponsored by the National Center for Manufacturing Education and the Nation Science Foundation, rightly thinking that it would be a creative way to combine STEM with something that kids could actually get excited for. He devoted himself to getting the necessary equipment and materials, applying for grants and meeting with partners, until his students had what they needed.
Students have the option to use an existing file or to design their own guitar. Farrell guides them through the entire process, from setting contours to cutting the bodies to making pockets. After everything is cut, it needs to be assembled. "We get the hardware and shape the bodies after we're done. Then we put the electronics together and assemble and shape the neck, press the fret markers in, and attach the fret board, string, tune, and play." Next year, Farrell plans to facilitate even more creativity. "We're going to jump into the 3D machining on the neck themselves, in addition to machining their own design on the guitar head."
At first, the project is understandably daunting to some students. One of Farrell's students was convinced that he wouldn't be able to do it. There was absolutely no chance that Farrell would let that happen, though. He spent a few evenings after school helping his student, coaching and encouraging him, until the student had created a guitar he was immensely proud of. "He was just beside himself that he completed the project. It was a great accomplishment for the young man, it really was," Farrell recalled. "He actually came back the day after he graduated and he said, 'Mr. Farrell, I played Amazing Grace on the guitar for our church yesterday.' He was just as proud of himself as he could possibly be."
Farrell's excitement for and pride in his students is obvious in the way he describes their accomplishments. As they work through his classes, Farrell knows that his end goal for his students is for them to be prepared for fulfilling careers. "I want them to understand the soft skills of how important it is to be on time, how important it is to be responsible, how important it is to look someone in the eye when you're talking to them. All those interpersonal skills for being successful in life." Among the hard skills he instills, Farrell places the most importance on safety. He believes that a safe worker is the best worker. However, he also knows that his students graduate with confidence in many more areas. "I want them to be able to create the geometry, assign the toolpaths, set the cutting parameters, set up the mill, and get the job running. I want them to be able to take it from start to finish," he said. If they can do that, they are almost guaranteed positions in the field.
As part of an agreement with Housatonic Community College's Advanced Manufacturing program, Farrell recommends a few students every year to start their post-secondary training early. The selected students leave Bunnell after lunch every day to attend Housatonic's program. It's possible for them to graduate high school with a great start on their Associate's degree. Other Bunnell students go on to Housatonic after their high school graduation, while other graduates often go to a four-year university for engineering or to Lincoln Technical Institute's CNC Machining program.
When his students do enter the workforce, they find a surplus of opportunities waiting for them. Lockhead Martin's Sikorsky Aircraft and Ashcroft Inc. are the biggest employers in the area, but countless small shops support names like Schick, Alinabal, Pratt and Whitney, and Electric Boat. Regardless of where they go, Farrell is proud to have introduced his students to paths that they may not have ever considered. "A lot of kids that don't think college is the option for them come to us, and all of a sudden they see a whole different way of thinking and doing." His students leave knowing that they won't have to settle; they can find lasting careers that they'll truly enjoy.
Have something to say? Share your thoughts with us in the comments below.