Countdown to the Great Lakes Woodworking Festival
May 25, 2023 | 1:20 pm CDT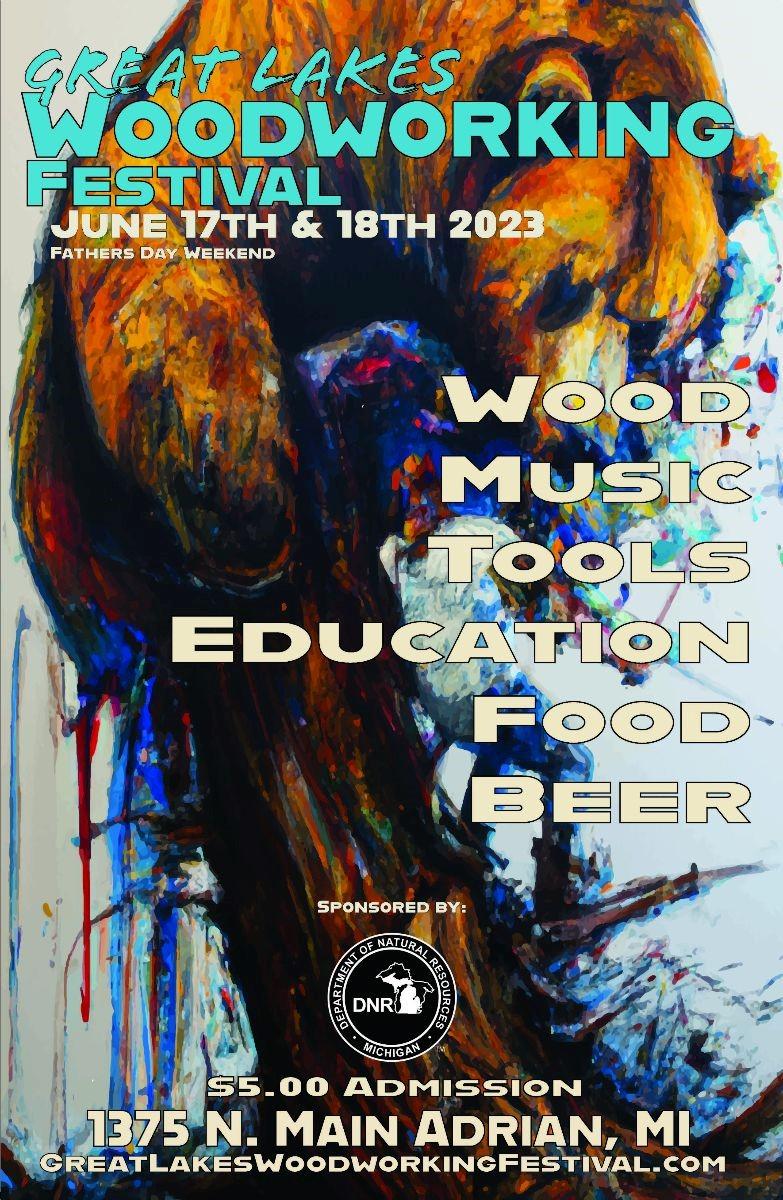 The Great Lakes Woodworking Festival is right around the corner! The event is scheduled for Father's Day Weekend -- June 17 - 18, from 11 a.m. - 7 p.m. each day.
Join us at the Sam Beauford Woodworking Institute in Adrian, Michigan, for a weekend filled with all things woodworking, inspired by the beauty and sustainability of our greatest natural resources - wood.
If you buy your tickets now and be entered to win a $200 Sam Beauford Woodworking Institute gift card.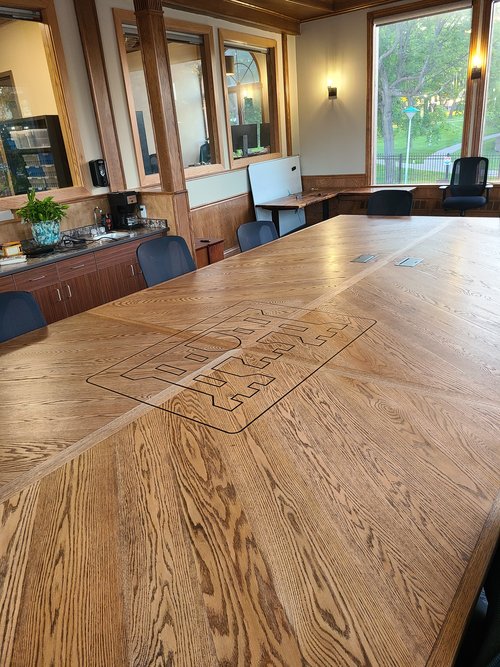 "Our festival celebrates the artistry and skill of woodworking, featuring exhibits from the finest woodworkers in the region, live demonstrations, and hands-on activities for all ages," according to show organizers. "Discover the stunning collection of handcrafted furniture, decorative objects, and unique pieces on display, created using sustainably sourced wood from our forests. Meet and chat with the makers, who will happily share their techniques and inspirations. View our woodworker line up here."  
The event welcomes Handshouse Studio of Norwell, MA to the Great Lakes Woodworking Festival. Handshouse will feature two collaborative projects during the event: an exhibit of the Notre-Dame de Paris: La Forêt Model and a Hand-Raising and Rigging Practicum of the Notre-Dame Choir Truss #6. Our Notre-Dame projects are proudly sponsored by Hardwoods of Michigan (HMI). 
Get inspired by live demonstrations, where skilled artists will show you how to transform a simple piece of wood into a work of art while highlighting the importance of responsible harvesting and conservation of our natural resources. Enter to win a custom guitar made by world renown luthier Gary Zimnicki. View our full event schedule here. 

Kids' Corner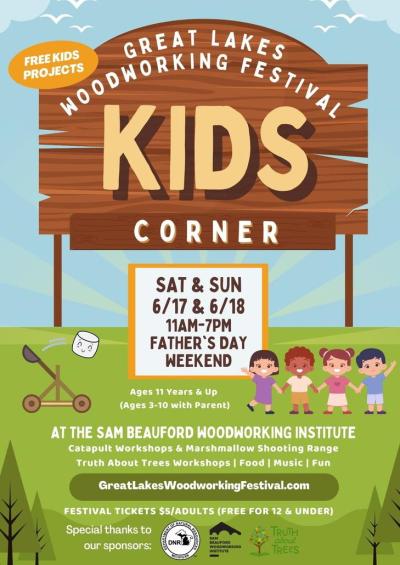 And for the little ones, we've got a special section just for them! Our Kids' Corner is the perfect place for children to learn about woodworking and the importance of caring for our environment. This year we are featuring a wooden catapult project sponsored by the Kappa Kappa Epsilon. This workshop is open to kids 11 years and up (and ages 3-10 with adult supervision). We supply the materials and instruction for kids to build their own wooden catapult. After your project is complete, test it out at our marshmallow firing range! The catapult workshop is offered 4 times during the festival, with enough supplies for 100 kids at each workshop. 
Kids can also learn the Truth About Trees! Did you know ping pong balls are made from wood?! Ping-pong balls are made with celluloid, which is a byproduct of the paper-making process. Kids will learn all about wood products in these fun interactive demonstrations.  
Music and food 
With food trucks, live music, and a friendly, welcoming atmosphere, the Great Lakes Woodworking Festival is the perfect place to spend a day or a whole weekend celebrating woodworking art, education, and sustainability. Check out our food vendors and schedule of events including musicians.  
Please mark your calendar and join us to celebrate the timeless craft of woodworking and the commitment of the Michigan Department of Natural Resources and the Sam Beauford Woodworking Institute to inspiring and empowering the next generation of woodworkers.
Click here to purchase pre-sale tickets and be entered to win a $200 SBWI Gift Card! Long Live Wood!
Have something to say? Share your thoughts with us in the comments below.