Cabinetmakers discuss workforce, supply chain issues at Florida woodworking conference
June 9, 2021 | 8:18 am CDT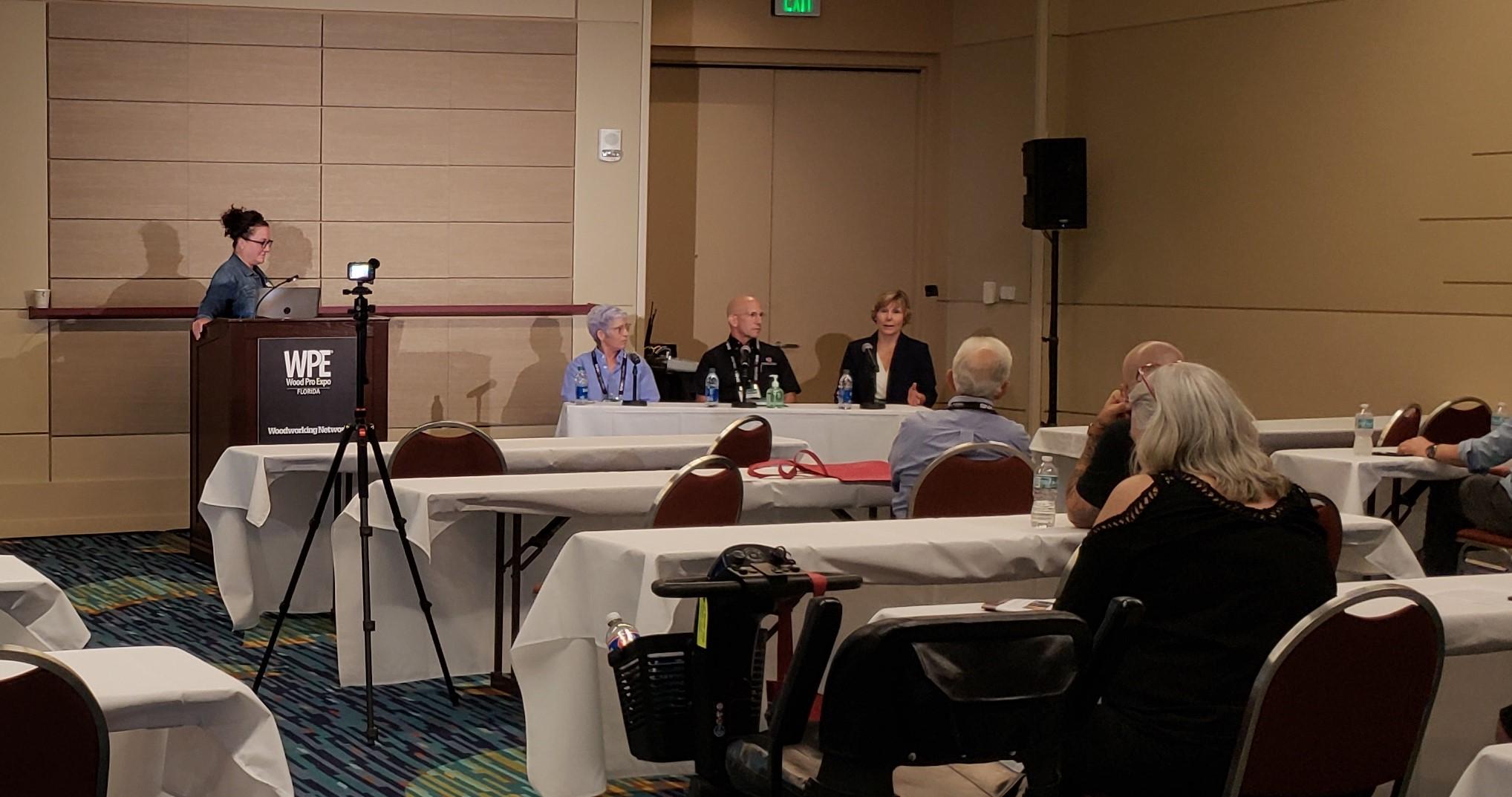 WEST PALM BEACH, Fl. - "Hire quickly, do not pause," said cabinetmaker and business owner Lois Snider. "It's an employee's market."
At a conference at Wood Pro Expo Florida on June 8, Snider and a panel of other cabinetmakers discussed how they're finding workers, issues affecting their supply chains, and other things. The session was moderated by the CMA's Amanda Conger. 
"I look for employees on Craigslist," continued Snider. "I want a complete beginner's mind."
Fellow panel member Edward San Juan, president of the 90-employee custom millwork and cabinet firm E.F. San Juan Inc., said he hires remotely.
"Hire remotely when possible. Salespeople - anyone who can do their job at home could be considered."
"Talk to your community college. Get involved with them," said Kelly Victor-Burke, CEO of Burke Architectural Millwork and creator of the first 21st century Department of Labor-approved apprenticeship program for woodworking 'Woodwork Manufacturing Specialist.'
Victor-Burke believes we are approaching the "Golden Age of Apprenticeship."
"Bring back the pride. Bring back the swagger. Hold our heads high," she said. "Our industry should be proud. Every room has things in it made by us."
The inability of many woodworking companies to find workers remains one of the industry's chief problems. 80 percent of our audience told us they're having trouble finding workers. And 65 percent of those said they're raising pay and benefits in an attempt to cope. 42 percent said they're opting to lower hiring standards. 
The panel then discussed issues affecting their supply chain and gave some tips. 
"Relationships with suppliers are critical," said Snider.
"Pay bills promptly, maybe even pre-pay if possible," said San Juan.
"Loyalty matters," he continued. "Don't always chase price. Instead, build loyalty with supplier."
"Educate your clients," said Victor-Burke. "They'll understand if you explain it. They know about the supply issues affecting every industry, not just ours."
Wood Pro Expo Florida and Closets Expo are live until June 10. More than a thousand wood industry professionals are in attendance and nearly 80 companies are exhibiting products.
Have something to say? Share your thoughts with us in the comments below.