Ashley Furniture begins largest expansion in its history
December 9, 2019 | 11:18 am CST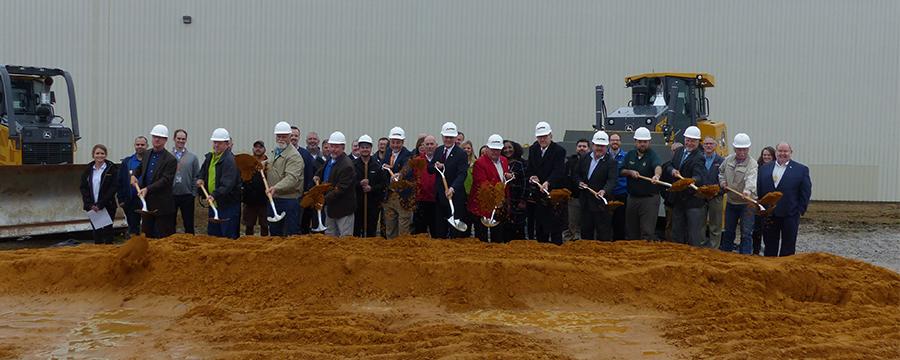 ECRU, Miss. – Furniture giant Ashley Furniture has broke ground on an expansion of its flagship Ecru manufacturing and distribution facility. Mississippi Governor Phil Bryant joined city officials, community leaders and company executives last week at the groundbreaking site of the 437,794 sq. ft. addition. The newest expansion will feature an E-Commerce Fulfillment and Distribution Center as well as a new transportation maintenance facility.
"Northeast Mississippi's furniture industry is a strong economic driver throughout the region, employing thousands of Mississippians – many of whom are employed at Ashley Furniture," Gov. Phil Bryant said. "Ashley has had tremendous success at its Ecru facility, and the addition of 100 more jobs for the area's skilled workforce will help ensure the company enjoys many more years of growth and success in Pontotoc County."
To enhance the company's ability to fulfill E-Commerce orders, which it says is an emerging demand, the addition will allow Ashley a better "speed to market" approach by storing more furniture on-site to better serve the regions customers. It also allows for the storage of the increased product from the company's Saltillo (mattress) and Ripley (motion upholstery) production facilities. Additionally, the largest private fleet in the industry, Ashley Distribution Services, will build a new transportation maintenance facility to keep their trucks serviced and prepared for their journey to our customers.
"Ashley Furniture has had a presence in Mississippi for 25 years, starting with 129,000 square feet of facility space to begin Ashley's production of upholstery furniture," stated Ron Wanek, Founder and Chairman, Ashley Furniture Industries, Inc. "Since then, we have expanded our Ecru facility 14 times, creating a 2.4 million square foot manufacturing and distribution footprint. These expansions are a testament to our regional support, great employees and customers, and Ashley's position in serving a global market."
Since 1994, Ashley Furniture's manufacturing workforce in Mississippi has grown to nearly 3,600 employees.
Ashley Furniture is the largest residential furniture maker in America. The company had annual sales of $5.209 billion in 2018, excluding retail. Ashley runs 12 manufacturing plants with a total square footage of more than 20 million. It employs around 27,000.
Have something to say? Share your thoughts with us in the comments below.