Acimall reports positive year for wood technology industry
March 1, 2019 | 1:15 pm CST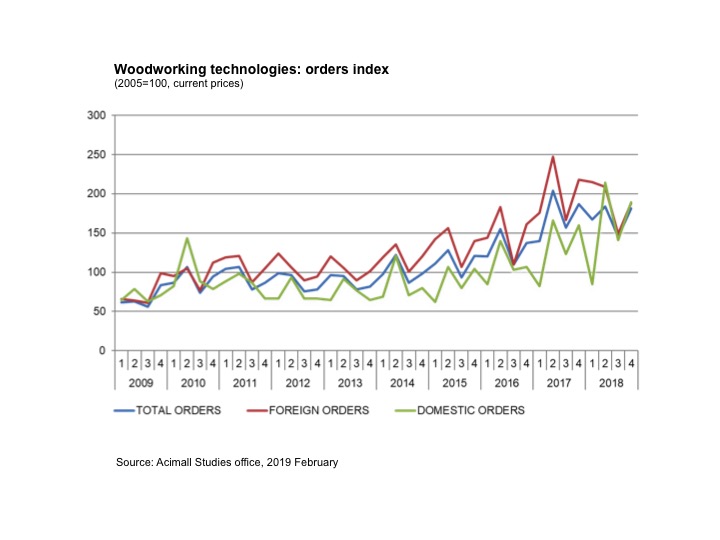 All economic variables analyzed by the Studies office of Acimall, the Confindustria association that represents industry companies in Italy, indicate that 2018 was another positive year.
Production reached 2.487 billion euro (resulting into the 9.5 growth figure, from 2.27 billion in 2017) and also export sales increased (1.694 billion euro, up by 6.5 percent).
Another sign that the Italian industry using technology for wood and wood-based materials is going through a good season comes from imports, at 239 million euro, 27.9 percent more than 187 million in 2017.
The trade balance is also positive (1.455 billion euro, plus 3.8 percent). In general, Acimall said that
the woodworking machinery industry closed another year of consolidation, certainly supported by government incentives to investments in production technology and Industry 4.0.
Optimism seemed to fade out partially in the final quarter 2018, with figures indicating a slight slowdown in orders of Italian equipment and technology. The Italian market was still lively, scoring 17.9 percent growth over Q4 2017, but this performance was offset by foreign orders decreasing by 13.6 percent, which means that the grand total for the October-December 2018 period is minus 3.2 percent. See www.acimall.com
Have something to say? Share your thoughts with us in the comments below.