Web-Cab webinar to demo its MES at Quebec's Richard & Lévesque
August 24, 2021 | 2:35 pm CDT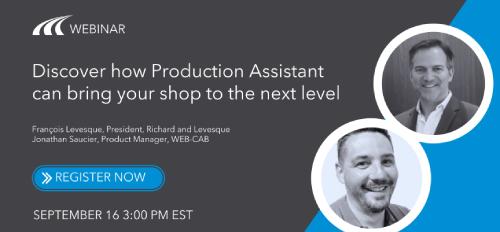 MIRABEL, QC -- Web-Cab, Inc. will present a demonstration of its Production Assistant Manufacturing Execution Systems (MES) software in action at Richard & Lévesque Cabinet Manufacturing in Saint-Augustin, Quebec. The webinar is scheduled for September 16 at 3 p.m. Eastern. François Levesque, president of Richard & Lévesque, and Jonathan Saucier, product manager for Web-Cab will deliver the presentation. Lévesque takes attendees on a tour of his shop and explains his gain in CNC, sorting, assembly line and shipping. He also gives an overview of the dashboard and its impact on his business.
The company said its Production Assistant software has allowed Richard & Lévesque to: 
Organize and structure its production
Provide efficient tools to its employees
Improve its production flow
Deliver their orders on time and without errors
Have something to say? Share your thoughts with us in the comments below.