Mercer to acquire most of Structurlam's assets for $81.1 million
June 1, 2023 | 7:42 pm CDT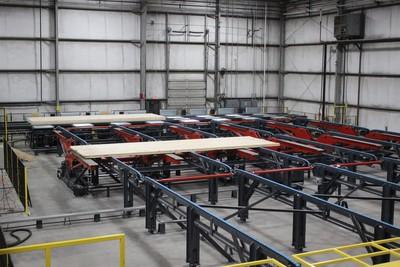 VANCOUVER, British Columbia -- A New York bankruptcy court ruled in favor of Mercer International's request to acquire substantially all the assets of Structurlam Mass Timber Corp. and its subsidiary for $81.1 million.
The transaction, pending standard approvals, includes a production facility in Conway, Ark., and three production facilities in British Columbia. The proposed acquisition would increase Mercer's cross-laminated timber (CLT) capacity to approximately 210,000 cubic meters and add 45,000 cubic meters of glued laminated timber (glulam) production capacity.
The Conway facility, built in 2021, has an annual capacity of approximately 75,000 cubic meters. The 280,000-square-foot plant can produce CLT and glulam.
The three operations in British Columbia have a combined annual capacity of approximately 40,000 cubic meters of CLT and glulam.
Structurlam has been a leader of the mass timber wood building boom, especially in British Columba. For the past decade, British Columbia government initiatives have supported the construction of mass timber buildings including the use of Structurlam products for building the 18-story Brock Commons at the University of British Columbia.

Structurlam filed the voluntary reorganization plan on April 21 in Delaware. Three days later the company announced plans to sell its assets to Mercer and file for Chapter 11 bankruptcy protection.

Juan Carlos Bueno, president and CEO, of Mercer, said, "The acquisition of the Structurlam assets is consistent with our strategy to expand and diversify our product mix in our solid wood segment and build out our existing mass timber business…. Our Mercer Mass Timber facility and the Conway facility are two of the most modern mass timber facilities in North America, which we believe will position us well to capitalize on the growing market share of CLT and glulam in the North American construction business." 

Mercer is a global forest products company with operations in Germany, the United States, and Canada with consolidated annual production capacity of 2.3 million tons of pulp, 960 million board feet of lumber, 140,000 cubic meters of cross-laminated timber, 17 million pallets, and 150,000 metric ton of wood pellets.
Have something to say? Share your thoughts with us in the comments below.