Alberta is the first to allow 12-story wood buildings province-wide
January 28, 2020 | 10:06 am CST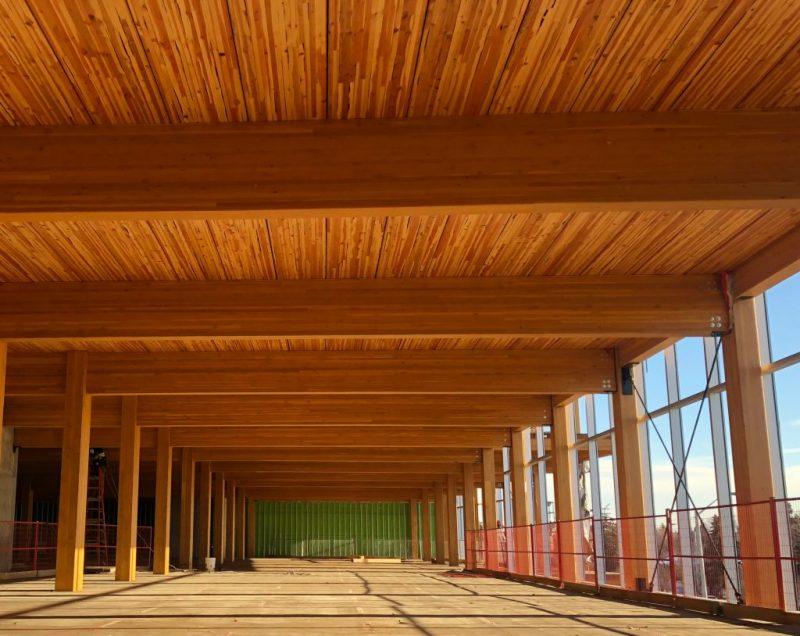 Photo By Alberta Forest Products Association
ALBERTA - Alberta is the first Canadian province to allow 12-story wooden buildings province-wide. The allowance raises the wood building height limit from six to 12 stories.
"The government of Alberta is to be commended for taking action to promote Alberta jobs and support local business," said Paul Whittaker, president and CEO of the Alberta Forest Products Association (AFPA). "By becoming a leader in wood construction, we are adding value to our resources right here. We are also creating public spaces and homes that Albertans will cherish for generations."
"This is a tremendous step forward for Alberta," said Rory Koska, program director for Wood WORKS! Alberta. "We have seen tall wood buildings sprouting up around the world. With the innovations in wood construction, building taller with mass wood will provide an economic and environmentally responsible option for builders and developers. This announcement will bring an exciting change to the architectural landscape across Alberta."
The AFPA says tall wood construction in Alberta has the potential to consume $40 million of locally produced lumber each year. It also says the market for wood buildings of seven to 12 storey buildings in Canada is approximately 27 million square feet.
Many wood buildings are being constructed of cross-laminated timber (CLT), a solid, large scale, prefabricated, engineered wood panel typically made of multiple layers glued to form structural panels with enhanced strength, rigidity and dimensional stability.
Info by sustainable construction firm Adera
"One of CLT's primary benefits is the way it influences design and scheduling," explains Ron McDougall, mass timber specialist. Unlike conventional construction, where you build the sheer walls and then frame with plywood, CLT panels are tilted up and connect directly to the steel columns — a 'click and play' method that's simple, fast and very accurate."
Have something to say? Share your thoughts with us in the comments below.