Architectural & custom woodworking facts & figures: Wood Industry Almanac
December 4, 2018 | 9:46 am CST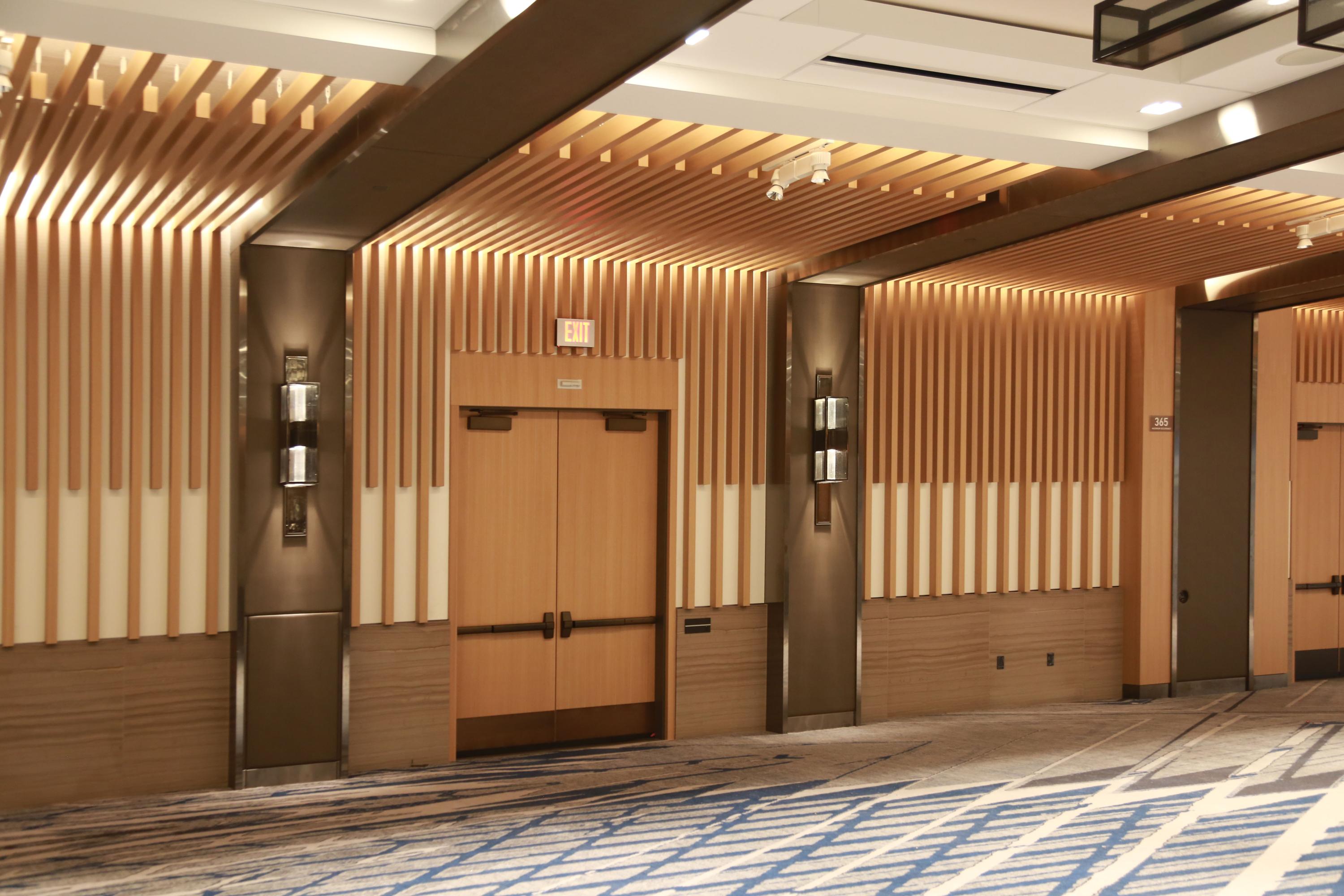 Photo By Montbleau & Associates, Paul Montbleau photographer. Wilshire Grand Hotel, Junior Ballroom
The architectural woodwork industry should experience improved operating margins in 2018 and 2019 as business in the institutional, residential and commercial/industrial markets all continue to show signs of strengthening, according to recent surveys by the Architectural Woodwork Institute and American Institute of Architects.
The same looks to hold true for custom woodworkers of cabinets and casegoods. In a recent survey by FDMC and the Cabinet Makers Assn., 65% of respondents predicted their 2018 sales would be better than 2017, while 27% expected sales would be equal to last year. While investments in technology will help improve the productivity and profitability of these small- to mid-size shops, challenges remain, particularly in regard to a good labor supply.
Click to enlarge/download the infographic, plus find more market data in the December 2018 FDMC Wood Industry Almanac.
Architecture firm billings slow, but remain positive
The Architectural Billing Index (ABI) shows Work-on-the Boards. An index score above 50 indicates growth.
Architecture firm billings growth softened in October but remained positive for the 13th consecutive month, according to a report from The American Institute of Architects (AIA). AIA's Architecture Billings Index (ABI) score for October was 50.4 compared to 51.1 in September, although effects from the hurricane season could account for some of the slowdown. However, continued strength in new project inquiries should result in billings remaining steady into the coming months, said AIA. (Source:  AIA Economics & Market Research Group 10-18)
The Canadian office & architectural trade balance
|   | 2013 | 2014 | 2015 | 2016 | 2017 |
| --- | --- | --- | --- | --- | --- |
| Exports | $498M | $554M | $704M | $807M | $790M |
| Imports | $206M | $230M | $247M | $260M | $302M |
| Trade Balance | $292M | $324M | $457M | $547M | $488M |
In 2017, the U.S. accounted for $772 million of Canada's exports and $108 million imports of wood window and doors.  Source: Statistics Canada (NAICS 337213)
Quick Stats
AWI's 2018 Cost of Business survey finds 52% of participants invested $100,000 or more in capital investments last year and 43% plan on investing $100,000 or more next year.

Firms specializing in institutional projects report strong billings (55.1), slightly ahead of residential (54.9) and commercial/industrial (50.8), according to AIA's September Architectural Billing Index. An index score above 50 indicates growth.

Architect firms report healthy revenue growth for 2018, but are projecting slower growth for 2019, according to AIA.

96.4% of small custom shops use websites and social media to market their products, according to FDMC/CMA's 2018 Benchmark Survey. Yet while these methods bring in sales, more than 98.3% said they get business from word of mouth/referrals and 90.9% from repeat clients.
How's business? The FDMC/CMA's Benchmark survey shows 60.0% are projecting better sales in 2018 vs. 2017 sales, with 30.0% saying their sales will be about the same while 10.0% are experiencing a decrease in sales.
Market Data Sources: Architectural Woodwork Institute (AWI), The American Institute of Architects (AIA), U.S. Census Bureau, Cabinet Makers Assn. (CMA), Statistics Canada, Woodwork Institute, Architectural Woodwork Manufacturers Association of Canada (AWMAC).
Category: Architectural & Custom includes: commercial & residential interior millwork, casework, furniture & cabinetry.
Have something to say? Share your thoughts with us in the comments below.