Wood cabins shipped to Haiti
August 15, 2011 | 5:43 pm CDT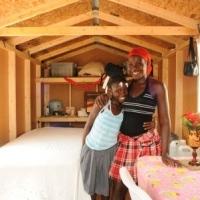 LEOGANE,Haiti
, January 10, 2011  — About 1,000 Haitians  have received  temporary wood cabin structures provided by Haitian Relief & Missions (HRM) and  and volunteer U.S. workers. The kits are built in Ohio by JDM Structures, Alpine Structures and Miller Storage Barns, then shipped via sea container to Haiti for assembly by HRM.
The shelters feature windows and solid floors, walls, doors and roofs.
"We've erected 200 custom-designed 8 foot by 16 foot shelters with more in the works. By American standards, the shelter is tiny and basic, but for Haitian people in desperate need, this is a very livable place for temporary housing," said Steve Miller, chairman of HRM, which has provided services to Haiti since 1984.
HRM's shelter kits include a folding kitchen table, kitchen wares, one built-in bed, mattresses for adults and multiple sleeping pads for children.The shelter has a metal roof. Wood cabin walls and floor are constructed of environmentally friendly engineered wood made of LP® SmartSide® siding that is stronger than regular lumber and treated for resistance to termite infestation, fungi and moisture.
Have something to say? Share your thoughts with us in the comments below.