Sandy Survivor Businesses SBA Aid Deadline Is March 1
February 18, 2013 | 5:46 pm CST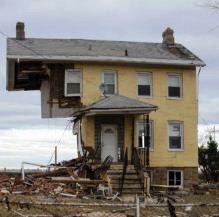 TRENTON, NJ - Businesses that survived Hurricane Sandy have until March 1 to return applications to the U.S. Small Business Administration for low-interest disaster loans, the primary source of federal funds for long-term rebuilding, according to the Federal Emergency Management Agency, or FEMA. The quickest way to apply for an SBA disaster home or business loan is filling out an online application at https://disasterloan.sba.gov/ela.
Private citizens in New Jersey also have until March 1 to register for Federal Emergency Management Agency (FEMA) support. The deadline is Friday, March 1 at 10 p.m. local time by phone and at midnight for those who register online.
FEMA says New Jerseyans who applied for federal disaster assistance are urged to stay in touch with FEMA and SBA. To date, more than $358.1 million in grants has been approved for home repairs or replacement, rental assistance and other needs. Another $446.7 million in SBA low-interest disaster loans has been approved for more than 6,400 homes and businesses.
Survivors can register online at www.DisasterAssistance.gov, via web-enabled phone or tablet at m.fema.gov until midnight March 1. New Jerseyans can also register by telephone until 10 p.m. March 1 via FEMA's toll-free numbers: 1-800-621-3362 or TTY 1-800-462-7585.
WoodworkingNetwork.com has invited New Jersey Hurricane Sandy relief agencies to participate in the home rebuilding and remodeling event, Cabinets & Closets Conference & Expo, Feb. 27-Mar. 1 in Edison, NJ.
Have something to say? Share your thoughts with us in the comments below.