New national manufacturing training center will include woodworking
October 3, 2016 | 10:22 am CDT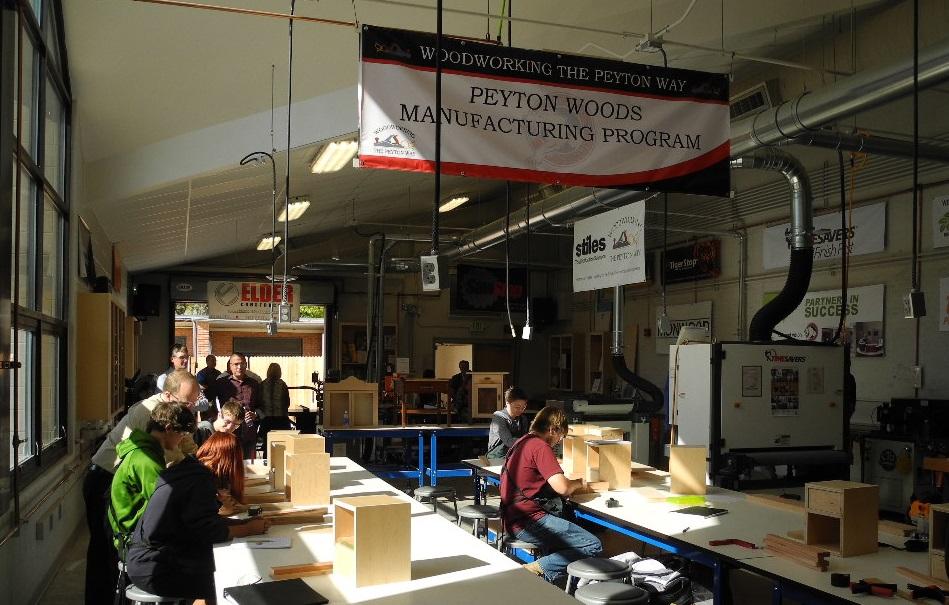 COLORADO SPRINGS, Colo. -- The new national manufacturing training center has a home, and a name.
The new training center will be called the Peyton-Widefield Vocational Education Center, and it will be the home of the National Manufacturing Training Center in Colorado Springs, Colorado.
The training center will be located near the Peyton Woods Manufacturing Program. Dean Mattson, director of Woods Manufacturing for the Peyton School District, and Tim Kistler, superintendent of the Peyton School District, announced the location at IWF. 
The training center will be in the district of Scott Campbell. He is superintendent of schools for Widefield School District 3 in Colorado Springs.
Campbell toured the Peyton program last fall and was impressed. Plans are still in the early stages, but Mattson said the target date for opening the training center is August 2017, the start of the school year.
"(This is) a very rare joint partnership between two school districts," Mattson said. "Peyton Schools in Peyton, Colorado, and Widefield Schools in Colorado Springs."
"Widefield and Peyton will eventually each own 50 percent of the $1.1 million dollar, 46,656 square foot building. Peyton is responsible to fill the building with machinery and cover the remodeling and overhead. A board of directors with two Peyton and two Widefield executives has been created." 
"We are a district with 16 schools serving about 9,000 students," Campbell said. "Our district is in unincorporated El Paso County. We are located just south of Colorado Springs. We have a free and reduced lunch rate of 45 percent.
"We have a strong k-12 Engineering Pathway for students, however we know not every student is going to go to college necessarily and so my interest in the Peyton Woods program was to provide an option for kids to learn skills that are needed to secure a good job in the manufacturing industry. Students can then make the decision of going on to college or pursuing their education by furthering their skills
"We plan on opening with students in the fall of 2017 so it is an aggressive timeline for sure. Along with Tim Kistler we are hoping to announce some upcoming open house dates but we could always arrange private tours for any interested partners.
Teachers will be drawn from colleges, high schools and industry, Mattson said, and will be trained in the Mattson/Peyton model of Career Technical Education. The training center will cover skilled trades, beginning with woodworking and expanding into automotive, construction and possibly other manufacturing.
Industry will play a large role. The new school will need a lot of involvement from woodworking manufacturers and suppliers.
Mattson said technology from organizations such as WMIA and WMMA is being supplied with in-kind donations. There are currently 39 national and international partners.
"Employers (such as) cabinetmakers are the main benefactors of the training center as they can hire trained employees from the graduates," he said. "This group needs to help cover the expenses of the training center."
Organizations such as the state contractors association or home builders also can contribute cash to assist in covering the overhead costs that will benefit their associations.
The building itself has been empty for eight years. There is plenty of work to be done. Machines have to be laid out by the manufacturers, utilities supplied to the equipment, dust control and air added, HVAC updated and the building itself remodeled. Public awareness. Industry and student open houses will help generate public awareness.
Building partnerships
Over the next few months, Campbell said he plans to continue to build partnerships with local and national businesses, and finalize the design and layout of the building, along with doing necessary renovations.
"I think industry could help by talking to us," Campbell said. "(They could) learn the complete vision of this project and offer ways to make this be as successful as possible for kids and industry alike."
This location and availability of this type of building were good for the training center. It's also within 15 miles of an airport with access to hotels and restaurants.
Widefield Schools' role in the development of the national training center was initially was to fund the purchase of the building.
"We are now a partner with Peyton school district in the operations of all of the programs that will housed in the center," Campbell said. "To hopefully include a construction trades program and potentially a metals or composite manufacturing program.  At this time the anchor of the National Training Center is the advanced wood manufacturing."
Initially, Mattson said, there will be five groups of students: CTE Teacher training, industry personnel, advanced secondary students, post-secondary students and military (retirees, active, or separating). Total number of students could be 1,000 per year.
"When I was awarded the 2013 Wooden Globe Award for Education, I was challenged to create a National Manufacturing Training Center to fill the skills gap in America," Mattson said. "We have done what we can do. The rest is up to the woods industry to step up and do the last parts. Industry told us to place the facility by an airport, hotels and restaurants. Colorado Springs (centrally located) within 335 miles from the center of the USA. We have done this."
Progress in Peyton
In 2015, Mattson brought his experience in business and education, and his own enthusiasm, to the new program to train high school students in manufacturing and other skills. Peyton Woods Manufacturing Program came together quickly, with support from educators, students, and many industry representatives that contributed equipment and supplies.
What has resulted is not a typical educational effort, but a special program that is the result of close cooperation between educators and industry. It's also a model for other schools around the country to follow.
The Peyton Woods Manufacturing Program started by providing entry level to advanced cabinet manufacturing, including wood manufacturing skills, math, problem solving and teamwork.
About 40 companies are exclusive partners or supporters of the Peyton school, and are providing machines, materials and technology. One of the first to respond was Kreg Tools and Fasteners, which made a large contribution of equipment. Stiles Machinery was also an early supporter, promising a wide range of equipment and support.
Other industry partners of Peyton include TigerStop, Triton Power Tools, Timesavers, Ironwood, Bessey clamps, Nederman dust collection, FastCap, 3M sanding, adhesives and safety equipment, Columbia Forest Products, Cabinotch, Blum hardware and boring machines, Belfab, JLT clamping, Grex fasteners, QuickScrews, Veritas Lee Valley hand tools, Cabinet Vision software, Microjig and Leitz tooling.
Partner companies include Williams & Hussey Machine Co., Bosch power tools, Rikon power tools, Felder Group, SawStop, Barbo Machinery, Elder Construction, JDS Multi-Router, Drillnado dust collection, Conquest Industries and CTD saws. Education partners include FDMC Magazine and Woodworking Network, WMIA, AWFS, Oregon State University, Woodwork Career Alliance, and Custom Source Woodworking.
For more information, contact Dean Mattson, [email protected], Tim Kistler, [email protected], or Scott Campbell, [email protected].
Have something to say? Share your thoughts with us in the comments below.