Anvil Motion creates seamless automated kitchens
August 14, 2011 | 9:36 pm CDT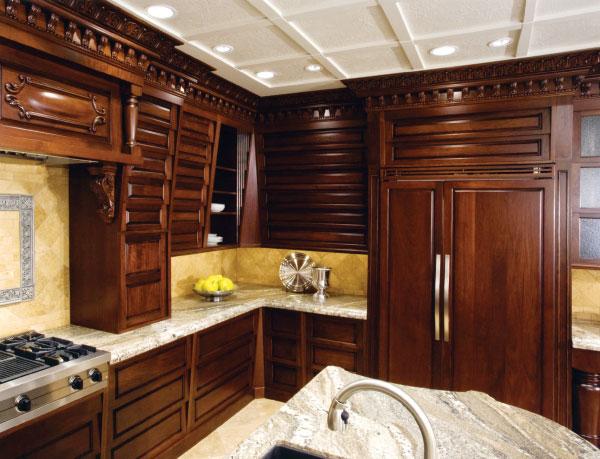 This kitchen features Anvil's unique new automated system. The base cabinets feature Grass Sensotronic and Blum Servo-Drive drawers.
The cabinets of the future are here and being manufactured in Brigham City, a little town north of Salt Lake City, Utah. These cabinets not only offer high-tech components in a completely automated system, but a sleek, tapered look as well.
Manufactured by Anvil Motion, the automated cabinet system can simultaneously open cabinets with a simple touch or the wave of a hand. (Watch video here).
"It's non-traditional cabinetry," says Randy Deem, president. "At the touch of a button or the wave of a hand, doors disappear and contents are totally accessible."
Many kitchen "scenes" can be programmed into a wireless touchscreen pad. For example, a typical scene that Deem describes is 'All Open' -- every cabinet in the kitchen opens vertically, revealing interiors finished to match the outside. The 'Bake Scene' is another programmed setting. Once it is selected on the AMX wireless touchscreen pad, all cabinets that have anything to do with baking (ingredients, ovens, pots and pans, etc.) automatically open. For instance, the ovens are uncovered and the pantry door opens.
"We feel that we're the only cabinet company that has successfully covered the ovens," adds Deem. "We've done that because this [oven] door will not close as long as the oven is warm. It has to [drop] to a certain [temperature] in order for the oven doors to close."
Other programmed scenes include a Dish Scene, Pet Scene and Grocery Scene.
In addition to its new automated cabinets, Anvil Cabinet and Mill produces traditional cabinetry for entry-level customers to high-end, which features hardware from Accuride.
What Lead to the Automated System
The level of technology in an Anvil kitchen is significant. Automation is in every cabinet. The Anvil staff developed this idea by thinking outside of the box, Deem says.
"We have a group that continually thinks of new ideas. We came up with this idea one day and said, 'I wonder if we can just get cabinet doors to disappear?' So we came up with different ideas and one thing lead to another, and the short version of that story is...Anvil Motion."
The development process took approximately two years. Deem says his staff continued to work on the idea while manufacturing traditional cabinetry. "We couldn't stop working. We had to keep making a living doing normal cabinetry in order to fund this."
Finishing is done by hand. "We do it the old-fashioned way, rub it on, rub it off and look to see if it is just right," says Randy Deem, president of Anvil Cabinet and Mill.
How it Works
The nuts-and-bolts of the internal cabinet components are the servomotors. At the end of each motor is a computer that 'talks' with a central processing unit.
According to Deem, "It's real simple to be able to get these cabinet doors to do exactly what he wants to because [the doors are controlled by] a computer [that] counts the revolutions. It talks to the central unit."
Take, for example, a door that is closing. As it descends down the track, approximately an inch above the closed position it begins to slow down and then it soft-closes. Deem says that only computers could give a door the ability to do that. "With computers and servomotors, the computers talk back and forth. The programmer says, 'When you get to this revolution, I want you to go from 300 revolutions per minute to 75 and then to 25.' It's counting revolutions. It's a working process to get all of this, but once it's done, it's done."
Programming for each automated kitchen is custom. Deem says that his son Russell is probably the best programmer on staff, but they have also hired an outside source. The name of the company is Mountain States Home Automation and the programmer, who lives approximately 100 miles away in Evanston, WY, comes in and works with Russell. However, the programmer also can make changes to the system online.
Another key component in the automated system is a tape switch that is located on the bottom of a cabinet door. Deem describes it as a safety feature. As a door descends, if it hits an object, it will automatically reverse to its docking position. The tape switches are on the large doors.
"We can put that safety feature on any cabinet, but the other cabinet doors are so light that we didn't feel that there was any danger," Deem says.
The way the tape switch works is that when pressure is applied, signals are sent through an electrical conduit to the wires at the top of the track and then a signal is sent to the servomotor.
Besides the servomotor, other high-tech components include steel bands that lift the doors. These bands are paper-thin, 3/1,000 inch thick and are often used in the aircraft industry.
"The aircraft industry likes to use them because they don't retain memory. When you coil it around a pulley and then uncoil it, [the bands] remain straight," Deem explains.
Even though these steel bands are paper-thin, they have the capacity to withstand heavy weight. Deem says they did a test. They made a loop, put a dowel on the band and had two guys stand on it. They had a combined weight of 300 pounds, but the bands did not break. In the automated cabinet system, the bands would only be required to lift five to 30 pounds at the most.
Machine Requirements
Because of the technology in the cabinet system, each component has to meet specific dimensions. So Deem says he asked his equipment suppliers to come in and recalibrate the machines to even closer than what the factory specs call for.
"We wanted it as exact and as perfect as we could get it because of the small tolerances," Deem notes. "We keep checking on the machines to make sure that they are right. Nothing can be perfect, but it's as close as we can get it -- the closer the better."
High-tech machines that were recalibrated include a Giben panel saw and a Holz-Her Easy Master 7015 point-to-point CNC. Other machines in the shop include a Weinig moulder, Timesavers widebelt sander, a Holz-Her Kundig widebelt sander, Holz-Her Sprint edgebander, JLT door clamp, an Accu-Systems HPJ dowel insertion machine and more, including conveyor belts.
As important as having the shop equipment properly calibrated is, it is also important that the designs are drawn carefully. Anvil uses the following software: AutoCAD, Ardis and Cabinetvision. "The machines follow exactly what you draw, so if you draw it right, it comes out right," Deem notes.
Product Launch
The process for building a kitchen with "Intelligent Technology" has been going on for the past two years, and Anvil Motion is now in a national product launch phase.
"We have a good marketing firm in Salt Lake called M2 Results and they do a good job as far as branding," says Deem. "They have been involved since day one."
Electronic press releases were sent to the press and design architects, which were later followed by hard copies with DVD, still photos of the kitchen and a business card. From that effort, Deem says they have received approximately 75 phone calls, including from television shows such as "Designing Spaces."
Bids are being processed currently. "I don't want to flower things up," Deem says. "But we [do] have five to six plans where we are bidding Anvil Motion. This is an expensive process. This kitchen, with normal cabinetry, we could do for $50,000. To do it with Anvil Motion it is closer to $200,000 to $250,000. We tell people that the range goes anywhere from $2,000 per lineal foot of wall to $4,000 per lineal foot of wall, which takes care of uppers and base cabinets."
Deem believes the market for Anvil Motion is comprised of upper-end clientele who have an enormous amount of disposable income and who love the "different and to be different." To go after this market, the marketing firm is targeting the top 150 designers in the US, many of whom live and work in New York or Los Angeles.
Anvil Cabinet and Mill
Anvil Motion is a part of Anvil Cabinet and Mill, which mainly produces residential and commercial work. Anvil Cabinet and Mill was originally created as a subsidiary of Anvil Construction. The plan was to build cabinets for the construction company, but they were soon approached by others to build cabinets for their projects.
Anvil's shop is approximately 30,000 square feet and it is located blocks away from the company headquarters in a building that formerly housed a grocery store. There are approximately 35 employees on staff.
Anvil's various divisions have all come together to allow the company to create something as unique as Anvil Motion.
"I think the whole concept is so different," Deem says. "It's not traditional cabinetry. We feel that by December we will have sold four of these jobs somewhere in the world."
Have something to say? Share your thoughts with us in the comments below.