Woodworkers converge on IWF
July 22, 2022 | 11:19 am CDT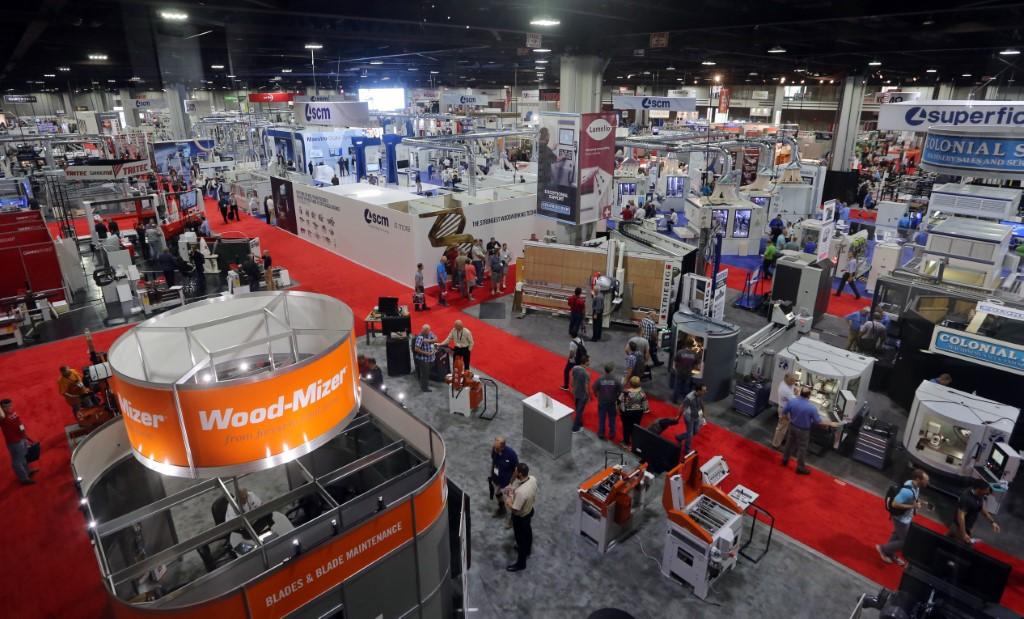 ATLANTA - North America's largest woodworking show, the 2022 International Woodworking Fair (IWF) will take place from Tuesday, Aug. 23 to Friday, Aug. 26 at the Georgia World Congress Center (GWCC) in Atlanta, Georgia. 
The biannual event attracts thousands from North America and around the world. This year's event is projected to be a huge draw as the overall strong demand for wood products across all industry sectors — despite the pandemic — is not expected to abate soon. All halls at the GWCC — A, B, C, and the newly constructed BC connector — will be occupied by close to 900 exhibitors on hand with products, services and expertise to advance the woodworking industry.
Reasons to attend IWF
Projected spending, particularly for remodeling projects, is keeping woodworking and home renovation professionals busy and in search of raw materials, supplies, finishing products, hardware, tools and machinery to get the job done. Along with the cabinet and closets industry, furniture manufacturers — both residential and commercial — and those serving the flooring, retail fixtures, architectural millwork and other markets are also seeing an upswing in business. 
But with supply chain issues disrupting the market over the past two years, the chance to walk the show floor and speak face-to-face with technology, equipment and material providers, along with associations and organizations primed to help you improve your company's profits and production, will be invaluable. 
Along with the hundreds of vendors displaying the latest technologies and supplies, IWF features an education conference with more than 50 sessions and numerous opportunities to network. Here are a few more reasons to attend:
• Thousands of top brands will be on display, with many cutting-edge demos live on the show floor.
• See award-winning exhibits. Check out the products entered in the IWF Challengers Award to look at the latest woodworking innovations. Winners of the distinguished Challengers Award will be announced at 11:00 a.m. on Aug. 23, at the IWF Challengers Award Gallery located in Hall B, Level 2, overlook area.
• Also, check out the Design Emphasis Showcase featuring furniture pieces designed and built by college/university students. Categories include Seating, Case Goods, Commercial/Office/Hospitality Furniture, Accent Furniture/Accent Tables, and Design Creativity. A prize is also given for the Best of Show. The winners will be announced, and prize money will be presented at 3:30 pm on Aug. 23 in the Design Emphasis Gallery in Hall C.
• Network and take advantage of the opportunities to learn new methods and solutions to your business challenges from industry leaders during booth visits, conferences, or just talking on the show floor.  Help your company work more efficiently and become more profitable.
New to IWF 2022
Embracing the social media age, IWF will host a Woodworking Influencers Lounge for the first time during the show. The lounge will be adjacent to the IWF Network News exhibit, in BC hall.
According to show organizers, it will serve as a gathering spot for the dozens of woodworking social media personalities to meet with their fans during the show. In online social media channels like YouTube, Facebook, Instagram, and podcasts, woodworking influencers have risen in prominence in recent years. They have become important in communicating technology trends, tools, materials, and techniques for producing furniture, cabinetry, and casegoods.
IWF's education sessions are always a huge draw. To expand those offerings, IWF is launching Exhibitor EDU sessions, which will provide woodworking industry professionals with practical learning and development opportunities relevant to contemporary business operations and management in a focused setting just a few steps away from the show floor. These sessions will run from one to two hours and be presented during the show. 
IWF is owned and sponsored by the Wood Machinery Manufacturers of America (wmma.org) and the Woodworking Machinery Industry Association (wmia.org). At IWF 2022, for the first time, more than 20 of the woodworking industry's top trade and professional organizations are also coming together in an all-new program, The IWF Industry Partners Alliance, to deliver members-only benefits. Showgoers can visit these IWF Industry Partners Alliance associations at their booths or attend the education sessions many will produce during the show. Organizations in the IWF Industry Partners Alliance include:
Association of Closet and Storage Professionals (ACSP), closets.org; AIMSAD, turkishwoodworkingmachinery.com; APA – Engineered Wood Association, apawood.org; Appalachian Hardwood Association, appalachianhardwood.org; Architectural Woodwork Institute, awinet.org; AWI Quality Certification Program, awiqcp.org; Cabinet Makers Association, cabinetmakers.org; Composite Panel Association, compositepanel.org; Decorative Hardwoods Association, decorativehardwoods.org; Forest Products Society, forestprod.org; International Saw & Knife Association, iska.org; International Wood Products Association, iwpawood.org; NBMDA, nbmda.org; Powder Coating Institute, powdercoating.org; National Hardwood Lumber Association, nhla.com; National Wood Flooring Association, nwfa.org; Stairbuilders & Manufacturers Association, stairways.org; Taiwan Woodworking Machinery Association, twma.org.tw; Wood Component Manufacturers Association, wcma.com; and Wood Products Manufacturers Association, wpma.org.
Atlanta attractions
As IWF attendees prepare for a busy four days inside the GWCC, there are plenty of activities within steps of the convention center to keep them busy during their downtime. 
Top attractions include the Centennial Olympic Park, the Georgia Aquarium, World of Coca-Cola, CNN Center, Center for Civil and Human Rights, the College Football Hall of Fame and Chick-fil-A Fan Experience, and Mercedes-Benz stadium. Plus, just a quick drive away just beyond Atlanta's bustling downtown are a wealth of attractions.
For more information and updates about IWF 2022 and to register to attend the show and education sessions, visit iwfatlanta.com. 
 
Have something to say? Share your thoughts with us in the comments below.