Two component polyurethane, plural component polyesters at IWF finishing event
July 19, 2018 | 9:13 am CDT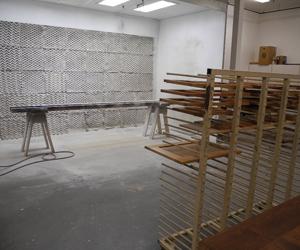 ATLANTA -- The IWF Finishing Symposium is set for August 21, 2018 in the Georgia World Congress Center in Atlanta, the day before IWF exhibits open.
The full-day event will look at new technologies and best methods that finishers could use in their business. This symposium includes a number of presentations and an opportunity to talk to suppliers and finishing experts face-to-face with your questions.
David Jackson of Gemini Coatings will discuss finishes that many shops may not have adopted, such as two component polyurethane, plural component polyesters, and some UV finishes.
Two Component Polyurethane (2K PU) coatings are gaining in popularity due to their ability to provide the various aesthetics with great durability, Jackson said. They can be used for high gloss to the "natural look" dead flat. 2K PU are also used to create durable faux finishes. Both the "natural look" and faux finishes usually create durability issues in many other commonly used wood finishes, but 2K PU's great durability can often make up for this. Many 2K PUs are very flexible and can be applied at higher dry film thicknesses without cracking versus some other commonly used wood finishes. Also, some 2K PUs have exterior durability.
Plural Component Polyesters (PE) are used in niche applications for closed pore high build appearance. PE sealers are capable of high application rates of 10-12 wet mils per coat. Two coats like this typically provides a closed pore even with substrates such as oak. This with their durability leads to their use in many high end closed pore applications.
UV coatings unique chemistry allows them to be cured by light. This rapid film formation leads to many uses for wood substrates. Add this to UV's exceptional durability and UV finishes popularity is growing quickly.
Learn about these wood finishes and more at the IWF 2018 Finishing Symposium.
https://registration.experientevent.com/ShowIWF181/Flow/ATTFLOW#/registrant//Dashboard/
The IWF Finishing Symposium is sponsored by Fuji Spray, Gemini Industries and Milesi Wood Coatings.
Have something to say? Share your thoughts with us in the comments below.