Hidden Atlanta gems for IWF 2018 attendees
June 11, 2018 | 3:53 pm CDT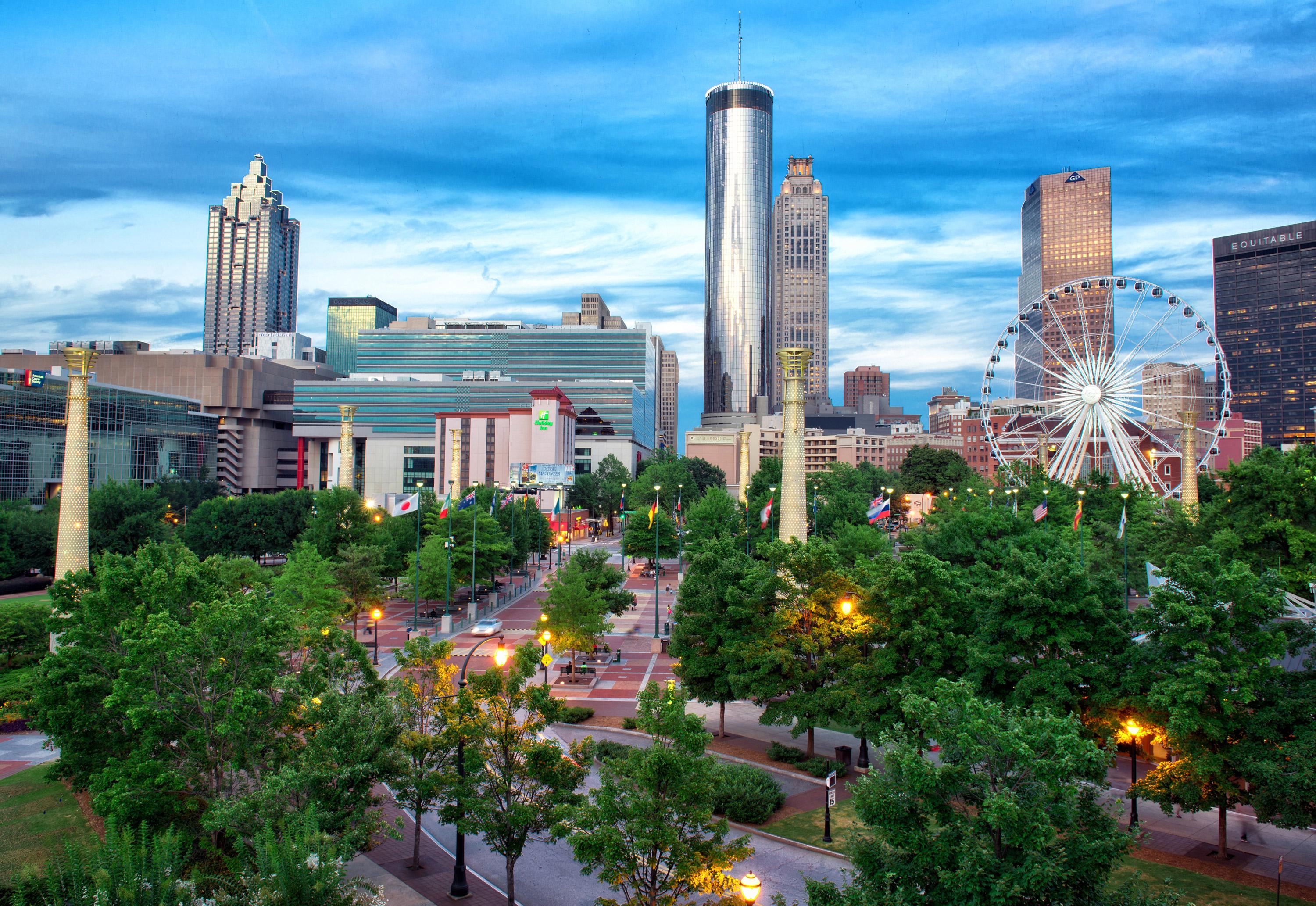 Photo By Atlanta Convention & Visitors Bureau
As woodworkers gear up for the 2018 International Woodworking Fair (IWF) in Atlanta August 22-25, looking for new machinery and products, they should also make a schedule of how to spend their downtime and make the most of their visit to Atlanta.
Although there are plenty of activities within steps of the Georgia World Congress Center (GWCC), including visiting Centennial Olympic Park, the Georgia Aquarium, World of Coca-Cola, CNN Center, Center for Civil and Human Rights and the College Football Hall of Fame and Chick-fil-A Fan Experience, just beyond Atlanta's bustling downtown there are a wealth of attractions that are a quick drive away.
However, before heading out, the newest addition to the GWCC Campus should make everyone's to-do list: Mercedes Benz Stadium
Mercedes Benz Stadium
Opened in August 2017, the multi-purpose world-class sports and entertainment venue, home to the Atlanta Falcons and Atlanta United, is renowned for its bold design and eye-catching features including a retractable roof. It has a huge video screen that wraps around the inside of the stadium and throughout there are vending areas and spots for fans to congregate as well as art displays and as per the stadium name, numerous displays of Mercedes Benz cars. But you don't have to wait for a Falcons game or United match. Tours and lunch/dinner at Molly B's are available to visitors on non-game days.
Tour
Experience the signature features of Mercedes-Benz Stadium including stops at locker rooms, the field, Window to the City, Skybridges and the 100 Yard Club. Tour routes and locations are subject to change. Whether you are a die-hard Falcons fan, an Atlanta United supporter, or interested in a guided walk to explore the architecture, technology, or art within the space – a customized tour can be provided.
Molly B's restaurant
A southern-inspired chophouse, destination restaurant and private club boasting an outstanding view of the field. Molly B's, named on behalf of Arthur Blank's mother, is a contemporary, southern-style restaurant with a modern twist. While Molly B's offers a unique, exclusive pre-game food and beverage experience for fans attending Atlanta Falcons and Atlanta United games. The restaurant is also open on non-game days.
Atlanta hot spots and attractions
DINING
Atlanta's dining and culinary scene features a variety of eateries with new twists on Southern fair from comfort food to high-end dining experiences. A few hidden gems include the following:
Highland Bakery
Highland Bakery
The Highland Bakery is located in the Old Fourth Ward neighborhood of Atlanta, Georgia. The eatery serves breakfast, lunch, and brunch and also offers decorative cakes, wedding cakes, and catering. Short on time? Customers can stop in for a quick cup of coffee and baked pastries.
Bread & Butterfly
Bread & Butterfly
A café and bistro located in the heart of Inman Park. It is a European-inspired space to enjoy a cappuccino and croissant, breakfast, lunch or dinner. A full-service bar is available to accommodate a mimosa at brunch or an evening nightcap.
Sweet Auburn Barbecue
Sweet Auburn Barbecue, located in the Virginia Highlands neighborhood, combines classic barbecue, slow-smoked meats, and Asian flare. Diners can dig into traditional spare ribs, deceptively delicious pimento cheese wontons or the Sweet Auburn taco plate.
TOURS
There is no better way to get the feel of a city than to take a tour with a guide not only knowledgeable about current attractions and hot spots but with a keen sense of the city's history as well. The Eastside Electric Car tour provides such a tour with a very informative ride through Atlanta's neighborhoods.
The Eastside Atlanta Electric Car tour includes an in-depth look at the city of Atlanta. The guided 90-minute tour includes both historical and scenic views of some of Atlanta's oldest neighborhoods. Highlights are Inman Park, Martin Luther King Jr. National Historic site, Historic Old Fourth Ward, Oakland Cemetery, Grant Park and Cabbagetown.
ENTERTAINMENT
Ponce City Market
Situated along the nationally-acclaimed Atlanta BeltLine, Ponce City Market serves as a hub between Atlanta's most popular in-town neighborhoods. Housed in the fully renovated 1925 Sears, Roebuck & Company building, the largest brick building in the Southeast, this urban market features a central food hall, leading retail brands, living and working spaces. A few of the food and entertainment highlights include the following:
Skyline Park
Skyline Park brings old-time fun to the heart of Atlanta. Perched high above the hustle and bustle of Ponce de Leon Avenue on the top of the restored Ponce City Market, Skyline Park is becoming a destination for delicious food, refreshments and good times.
Nine Mile Station
Nine Mile Station is an elevated beer garden located adjacent to Skyline Park on the top floor of Ponce City Market. The indoor-outdoor space offers sweeping views and serves craft beers including those from local breweries, classically prepared cocktails, and delicious, shareable food.
The Mercury Restaurant
The Mercury, a cocktail-focused, American eatery located in Ponce City Market, is inspired by the culture of the 1960's. The Mercury promises well-crafted American cocktails and cuisine, inspired by the relaxed glamour of Mid-Century American culture. The menu features a raw bar, chops, and steaks, and classic American entrees. 
BREWERY
New Realm Brewing
Georgia has a growing craft beer scene and Atlanta is home to about a dozen local breweries. One of the newer ones is New Realm Brewing which opened in January and is already expanding. Located in Poncey-Highland, New Realm Brewing joins Atlanta's craft beer scene with locally brewed IPAs, Pilsners and an assortment of ales. Drinks pair well with wood-fired pizzas, beer can chicken, light bites and sandwiches. Also, New Realm Brewing's patio provides a great view of downtown Atlanta's skyline.
TRAILS
Using a 33-mile network of multi-use trails, the Atlanta BeltLine creates a pedestrian-friendly environment for walking, jogging, and biking. The trail, which includes the core 22-mile corridor that follows the original railroad segments, as well as other extensions linking to many of Atlanta's existing parks and trails, connects neighborhoods making it a great way to explore.
Eastside Trail
A combination of multi-use trail and linear greenspace, the Eastside Trail is the first finished section of the Atlanta BeltLine trail in the old rail corridor. Funded by a combination of public and private philanthropic sources, the Eastside Trail runs from the tip of Piedmont Park to Inman Park and Old Fourth Ward.
Northside Trail
The Northside Trail through Tanyard Creek Park treats visitors to one of the most scenic stretches of the Atlanta BeltLine. The Northside Trail was the first segment of the Atlanta BeltLine trail to open on the north side of Atlanta, and it serves a connector for two previously existing trails. Learn more
Southwest Connector Spur Trail
The Southwest Connector Spur Trail is a PATH Foundation-led project that will ultimately connect to the Atlanta BeltLine through the Westview neighborhood in southwest Atlanta as part of the 33-mile network of paved trails.
West End Trail
Opened in two phases, the first in October 2008 and the second in June 2010, the West End Trail was the first section of the 33-mile Atlanta BeltLine trail system to be built. It stretches 2.4 miles from White Street to Westview Cemetery, seamlessly connecting several Southwest Atlanta neighborhoods, including historic West End, Mozely Park, and Westview.
Interim Hiking Trails
Unlike the West End Trail, Northside Trail and the Eastside Trail, the Interim Hiking Trails are more like unpolished gems. In the roughly seven miles of hiking trails on the east and west sides of the Atlanta BeltLine, there has been no construction in these corridors since the railroads ceased operations.
Have something to say? Share your thoughts with us in the comments below.