Wireless Charge Table Matches IKEA Qi Furniture Technology
September 11, 2015 | 4:49 pm CDT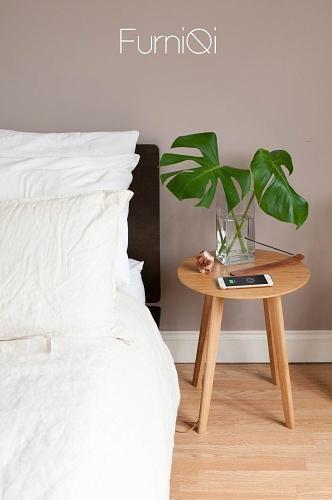 Photo By FurniQi
LONDON -- The FurniQi RTA side table from London-based Fonesalesman is made from hand-harvested Mao Zhu bamboo and is expected to launch in October along with a crowdfunding campaign on Indigogo. It will be the first product in the FurniQi collection.
The side table will feature wireless mobile charging technology, Qi, which is an interface standard for wireless charging developed by the Wireless Power Consortium.
"Marking our entry into the world of furniture, we have put a lot of thought into the table's design and usability," said Bavan Palasanthiran, founder of Fonesalesman. "The FurniQi side table is incredibly easy to assemble taking a mere 60 seconds from opening up the box to having a complete table ready to charge your device. This table brings wireless power naturally to your home, making charging your smartphone more convenient than ever."
The FurniQi furniture line follows IKEA's announcement earlier in the year of its line of Qi-powered furnishings including bedside tables, lamps and desks.
Fonesalesman has additional wireless charging products including WoodPuck: Bamboo Edition and the first completely wireless mobile battery QiStone+.
 
Have something to say? Share your thoughts with us in the comments below.