Stickley releases its annual Collector Edition
January 6, 2023 | 12:12 pm CST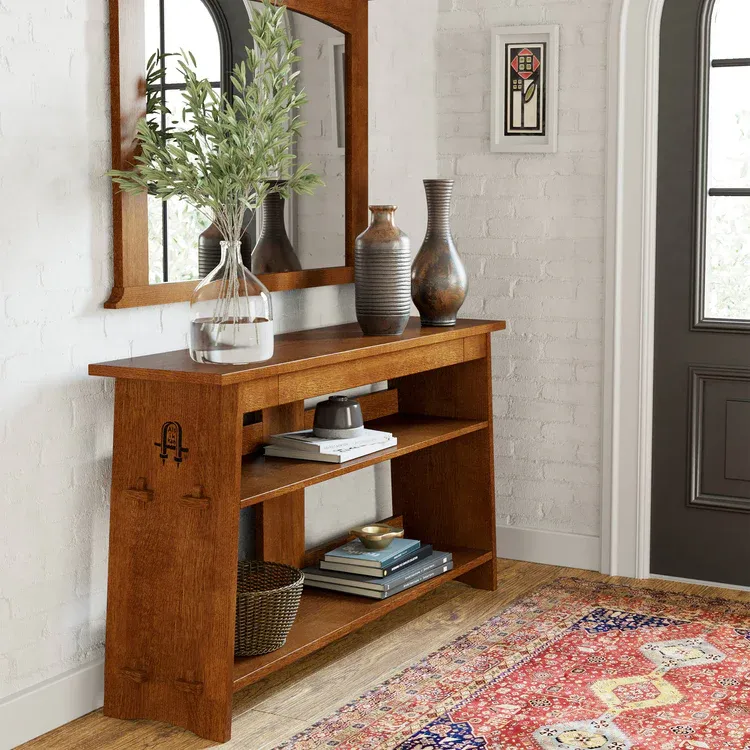 MANLIUS, N.Y. --  L. & J.G. Stickley has launched its annual Collector Edition for 2023, the Craftsman Console. This limited-edition piece honors a fundamental Arts and Crafts idea: that true beauty is found in simple, useful objects, impeccably crafted.
Associate Designer Joe Dunaske took the lead on this year's piece, advised by Director of Design Marissa Brown. He asked colleagues for their wish lists of features, then incorporated those requests into the final design. As a result, the upper shelf is wide enough to hold the longest high-end sound bars; the lower shelf space is tall enough for a collection of LPs and large coffee table books; a center back splat conceals power cords from TVs; and there's enough room under the bottom shelf for a robot vacuum. Few Collector Editions have been so specifically designed for the modern world, the company says.
Dunaske was inspired by early Gustav Stickley Mission style in conceiving the Craftsman Console's solid-oak slab construction, and he relied on "bold, visible joinery that lets you see how the piece fits together," according to a company statement. Two shelves are joined with keyed tenons to slightly canted sides, and subtle arcs at the base help lighten their footprint. Beneath the 56-inch overhanging top, a 34-inch side-hung, center-guided drawer is extra-wide yet unobtrusive thanks to its lack of hardware.
Stickley's Als Ik Kan shop mark is laser-engraved on both sides. Als Ik Kan, interpreted as "to the best of my ability," is a guidepost for the designer who dreams a new piece of furniture into existence; for the lumberjack who harvests the perfect tree; for the artisan who meticulously crafts every detail; for the merchant who brings the finished piece to market. Finally, Als Ik Kan becomes an affirmation, quietly reminding you how to take on life's challenges each day. 
The Craftsman Console is available nationwide.
L. & J.G. Stickley Inc. is a genuine American icon that has set the standard for furniture craft for more than 120 years. Through enduring tradition, superior craftsmanship, and an unshakeable philosophy of excellence, Stickley continues to produce America's finest hardwood furniture and upholstery, all while responding to the needs and trends of today's homes with updated styles and modern collections.
Have something to say? Share your thoughts with us in the comments below.