Production scheduling system cuts lead time, inefficiency
June 28, 2018 | 6:35 am CDT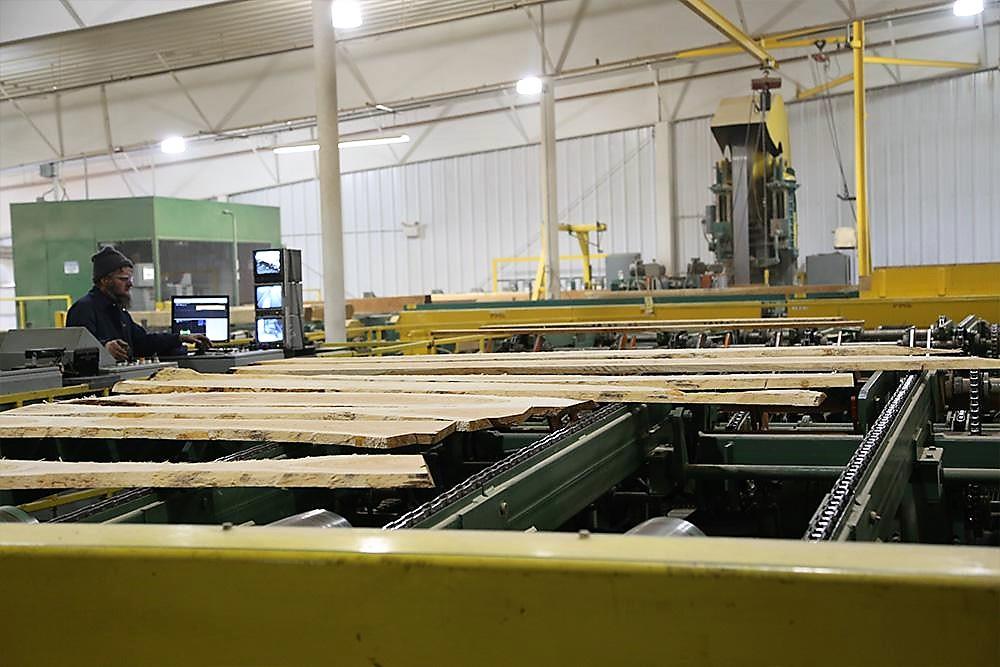 Dutch Design honors the past but gets the most out of the present with lean manufacturing techniques and a software program that helped them organize and streamline their entire operation.
The company, located in Amish country in Mount Hope, Ohio, makes custom and standard dining tables, cocktail tables, consoles, desks, bedroom furniture, living room furniture, hospitality furniture and wall display units. The company serves the hospitality, commercial and residential markets.
Dutch Design is a 40,000-square foot-manufacturing plant providing furniture through its Abner Henry design center and the Homestead furniture retail outlet.
The Dutch Design model is a little different than most furniture makers. Their drafting department draws the prints and components. Then they source furniture parts from the many different craftsmen in the surrounding, mainly Amish, community. Then they handcraft, assemble, and finish. For example, doors, drawers, solid panel and engineered panel sides and tops are sourced from outside vendors.
Both standard and custom furniture are built using a variety of joinery methods and tools depending on the application.
"Other lean principals used are Kanban, pull systems, 5S, continuous improvement ideas and waste identification from all employees weekly, metrics-based process mapping, one piece flow, and daily morning lean meetings with all team members, cross-training, and buffers between work centers," said Joel Kurtz, lean facilitator, Dutch Design.
Scheduling and organization needed
Previously, Dutch Design used QuickBooks for accounting and order entry, Top Solid for drafting and Excel for purchasing and tracking, but they also needed a new system for scheduling and organization.
"One of our requirements was that the new system utilize our custom-built Excel interface for the initial data input," Kurtz said. "This insured immediate adoption, eliminated the need for additional training and support for data entry, plus accommodated our plan to split apart the weekly product scheduling task into two parts.
"The basic, weekly schedule was to be input and automatically generated by the office clerk, and only the tweaks, changes and optimization of the schedule would require the skills of a production scheduler."
The first step was investing in a new production planning, scheduling and tracking system that ensured accuracy across the shop, while accommodating changes to the schedule and product mix. User Solutions Resource Manager-DB was chosen to streamline and improve the overall process.
Adopting best practices
Kurtz said Resource Manager-DB (RM-DB) provided great flexibility and ease of adaptation. The new software needed to help Dutch Design adopt manufacturing best practices such as lean manufacturing, just-in-time inventory, optimized labor loading, and theory of constraints.
It also had to blend with current processes, so as to be easily understood and supported by current personnel. The producers reverse-engineered the entire system, so as to blend it in with the current system, and filled in the gaps to provide accurate planning, scheduling, tracking, and job performance data, Kurtz said.
"The scheduling system has allowed us to plan and visualize one piece flow for each job across all work centers," he said. "With such a diverse mix of projects, each project will vary a lot by how long it will be in each work center. Using the schedule system allows us to plan and schedule accordingly in order to balance the capacity of the work centers and skill levels needed.
"Work center capacities are adjusted by moving cross-trained team members where needed. With the schedule system we can now see the workloads ahead into the future and manage the workloads across multiple work centers, resulting in smoother and more efficient workflow, shorter lead times, and jobs completed on time consistently."
Before, the formats and methods for managing the Excel sheets, created individually by each department foreman, were not consistent. Manually maintaining the multitude of different Excel files and worksheets was not only inefficient but also created a risk of costly rework due to data inconsistencies and miscommunication.
"Scheduling became a full-time job," said Kurtz. "There are so many variables that affect a job's start date. Subsequent customer design changes, parts not passing incoming inspection, or a customer suddenly bringing in a piece they've damaged resulted in new start dates at each work center."
Flow of work
At Dutch Design, the flow of work starts at drafting where a blueprint is made according to customer specs. Then parts are ordered from the company's vendors (all of the artisans from the surrounding Amish community). When the parts arrive they are placed on a cart. Each cart holds all the needed parts for a single job. These carts are held in a staging area until all parts have arrived, then are released to a prep area where a team member preps the parts for assembly. This may include drilling, grooving, edge banding, sanding and shaping.
Upon implementing the production scheduling system, the process became clear enough to see that the work center priorities needed adjustment in order to smooth out bottlenecks, for a more even process flow.
No job is started unless it is believed it can be turned around in the one- to five-day range, other than finishing, for the purpose of keeping inventory out of WIP. Inventory other than small, mainly universal parts such as hinges, knobs and nails are brought in basically as immediately kitted.
After being prepped, the cart will then move to a craftsman who will assemble the piece using a variety of joinery methods and techniques. After being assembled it moves to the finish room prepping area for final prepping before being stained or painted.
"Every craftsman doing the construction has their own cell, complete with all the hand tools, routers, cutters, and drills needed to complete each project," "Individual jobs are normally assigned to a single craftsman unless multiple craftsmen are needed to complete within the needed time frame.
In the finish room the process is dependent on the color and type of finish. After the finish is cured the piece is moved to final assembly for installing doors and drawers. The company does all kinds of distressing and finishes and has their own color lab and produces their own proprietary colors, techniques, and finishes. Then it is moved to final inspection/quality control and staged for shipping.
Kurtz said the machines being used in the shop are mostly small hand tools, a variety of sanders, sanding tables, bandsaws, drilling machines, and shapers. Materials being used are handcrafted metal, machined metal, hardwoods, and engineered woods of all types.
Management of Dutch Design itself is Amish and they have 40 employees, mostly Amish.
Kurtz said that what is most important to note is the Amish aspect of the corporate culture.
"Abner Henry has found a way to combine the best aspects of the past with the technological advantages of the present," he said. "For example, they continue to incorporate the apprenticeship approach to skill development of long ago, avoiding the much-maligned manufacturing skills gap of late. That's combined with an 'heirloom' approach to furniture creation, expecting each piece to last generations, (and) utilizing new finish techniques that create wood surfaces impervious to moisture and heat stains."
Other improvements Dutch Design has made are the office structure for point of sale and customer service. The distance between POS and the scheduling has shortened. The request for quote is now a one-day turnaround and creating an approval drawing and having it to the customer is five days.
"The future plans are to continue an upward sales growth by continuously seeking to improve our customer service and providing colors according to market demands," Kurtz said.
Custom vs. standard
Dutch Design sought to expand the company's competitive edge. They concluded that a product mix more evenly balanced than the current 80 percent custom and 20 percent standard was needed, and researched new technologies that supported the company's commitment to the Kaizen cell method of lean manufacturing and continuous improvement in operational efficiency.
At Dutch Design, what typically happens is that a custom piece becomes desirable by others. So occasionally the business decision is made to make it a standard offering. They will make two or three pieces as offerings in the Homestead store. As one or two get sold, they make another one or two to replace.
Since the standard furniture is made-to-standard, but not made-to-stock, the process is the same for both custom and standard because there's a delta of only one or two pieces. This keeps the retail side of the business lean as well. In that way, they don't stock any more parts inventory for standard pieces than they do for custom. Increasing production to one or two more pieces doesn't justify changing out of the Kaizen cell method to a mass production scenario.
FACTS
Dutch Design
Mount Hope, Ohio
Products: Residential, commercial furniture
Employees: 40
For more information:
User Solutions   Production planning and scheduling
248.486.6365   www.usersolutions.com
Have something to say? Share your thoughts with us in the comments below.