Furniture maker refines his process to deliver quality in custom
June 3, 2020 | 4:30 pm CDT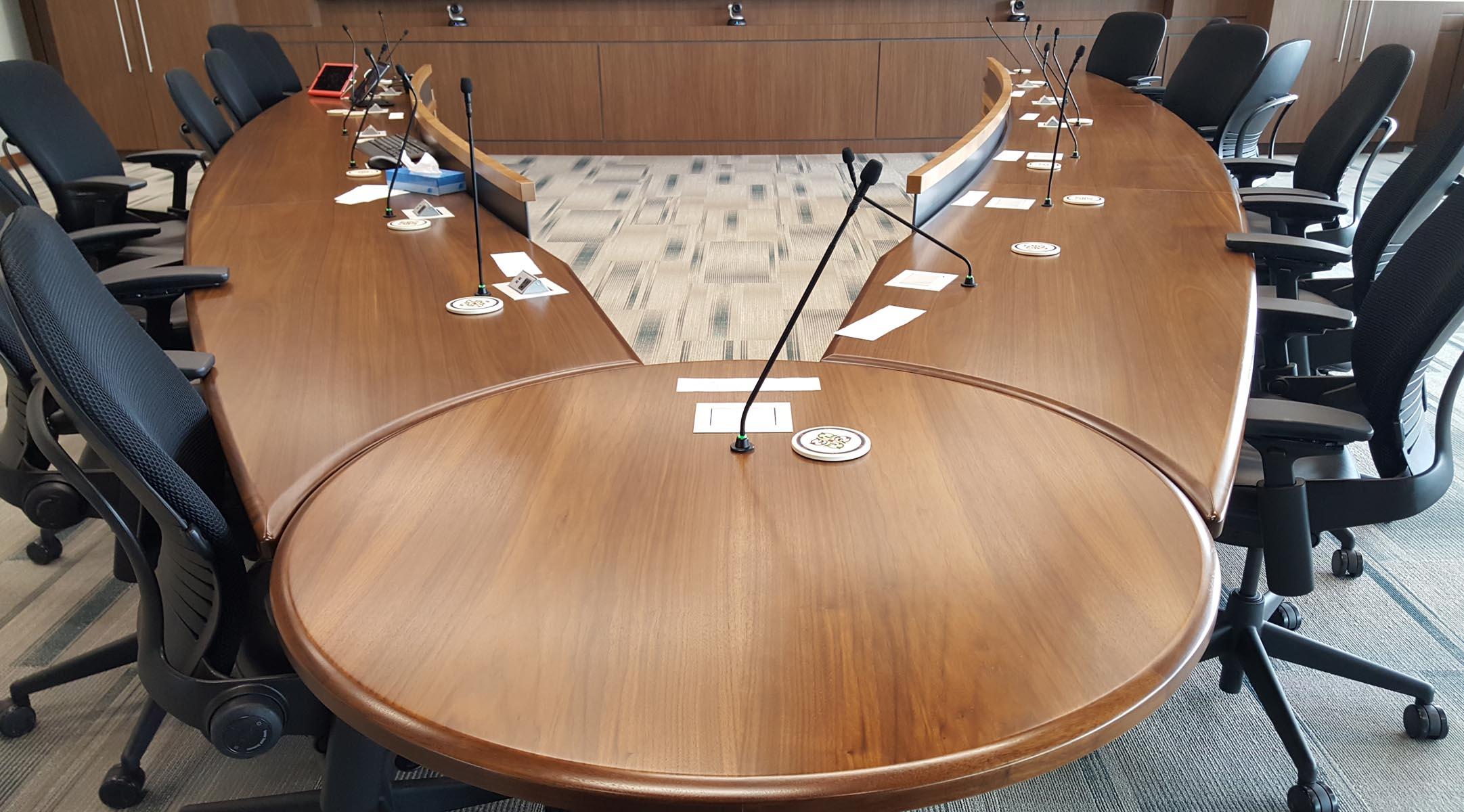 Roltgen's Woodworks specializes in custom furniture and furniture grade cabinetry – and in helping the customer get exactly what they want through 3D modeling.
"My niche is highly specialized, refined items, which are often considered too fussy or too small for larger production shops," said Jeff Roltgen. "Veneering is one of my favorite specialties.
"I make living room, dining room and bedroom furniture. Clientele are typically very successful small business owners, medical professionals, attorneys, and retired executives."
Roltgen, located in Rapid City, South Dakota, said the custom process typically begins with concepts found by the client and/or the designer.
"Generally, they have a collection of images illustrating a general idea of what they're looking for, but want to direct the fit/function and subtleties of form to suit their needs and space. Utilizing 3D modeling, I often meet repeatedly with clients and designers with laptop and an HDMI cable, sit down in their home and review and refine designs.
"It's great that they can see it in 3D, and direct the final outcome based on their vision. It really helps the client to "own" that design, as they are able to steer it towards the final look, right there on the television screen in their own home."
Roltgen uses a Safety Speed Manufacturing single drum, 43-inch widebelt sander that features a 75-inch belt to precision sand veneers safely.
Software strategy
Roltgen has developed a software strategy that works well for him.
He has been a Sketchup user for more than 12 years. It was originally selected because it offered a 'blank-slate' approach, as it appeared to allow him to accurately draft anything, from a dining table to a chest of drawers, and the most complex of all: dining chairs. The ability to prototype on screen cannot be overlooked or overstated, he said.
"As the years have gone by, my clients began requesting my work for their remodels," he said. "I had the typical woodworker's dream life in my sights: Make high end furniture.
"Turns out, cabinetry was unavoidable, and the highly specialized designs keep me challenged and interested. I declined a few kitchens at first, but worked into the cabinetry processes eventually.
"Fortunately, I've found ways to incorporate the CAD/CAM processing into the Sketchup workflow. While realizing there are dedicated programs for the CNC that are more adept and less time consuming for typical cabinet runs, my work remains highly specialized and varied, so that at this point, I'm sticking with this methodology."
Using Cutlist Plus and Vectric VCarvePro, Roltgen can optimize, vector, cutlist and generate part labels to keep things flowing and organized. While a bit cumbersome for the straight cabinetry, he said, its open nature is necessary for all that fits in between.
"In working with designers, I've found, to my surprise, many are not interested in learning 3D modeling software. This means I'm relied upon for not just drafting a piece of furniture or a couple (of) prop walls with cabinetry, but now evolving into a large percentage of billable hours attributed to highly detailed interior modeling."
Images of actual wood, tile, granite samples, flooring, light fixtures and furniture are used to present visuals for a client to really have a clear grasp of what things are going to look like.
"I'm even laying out complex decorative tile patterns on floors and walls for a project. Turns out, I enjoy the heck out of this part of the business as well!"
After two years searching and a year of construction in between completing jobs, Roltgen moved into his 2,700 square foot shop with dedicated finishing room.
Moving the shop
In addition to delivering just what customers want, Roltgen wanted a space for his own shop that was the right fit.
"I spent more than 10 years in a facility that was a great location and starting place, but due to business growth, aging of that facility and a desire to upgrade the presentation for the occasional client visits, I was ready for a change," he said.
"Like anyone else, I find rent is not pleasant to digest. While atypical, I decided my commitment to this work is likely for life, so why not push that investment into an ideal shop that is ultimately my own design, built on my own property?
After two years searching and a year of construction in between completing jobs, it was ready, and Roltgen said he is much more in harmony with his workplace. 
The new shop in Rapid City is 42 x 64 feet (about 2,700 square feet) with dedicated finishing room. Occasionally he has a helper, but 99 percent of the time, he is on his own.
Roltgen said he has worked to improve the workflow in the shop.
Table saw, jointer, planer and sander are set up in a tightly grouped zig-zag pattern. What comes off the jointer is stacked at its out-feed, which is at the in-feed of the planer. What is stacked at the out-feed of the planer is next to infeed for the widebelt sander. That, combined with a pair of rolling racks of adjustable shelves, helps keep production runs organized and under control at each stage of lumber processing.
Cook top bases in white oak. Roltgen originally wanted to focus on fine furniture, but has applied his skills to cabinets as well.
Stars of the shop
Roltgen uses a Safety Speed Manufacturing 4375 widebelt sander. This single drum, 43-inch widebelt sander features a 75-inch belt, providing more abrasive surface than 60-inch belt machines.
Roltgen said that he is using the 20hp three-phase version, a machine that he said has sanded veneers safely and at a much lower cost than an imported machine.
On a tabletop veneering project, he used 220 grit paper, and was able to "sneak up" on the perfect surface by increments of .005 inch with no sandthrough. The key, he said, was sanding substrates to equal thickness prior to veneering. That way, the veneers are sanded at equal increments, reducing the risk of sandthrough.
Roltgen said the Safety Speed sander can do a lot of work in a little time, with nice results. He said even the fussiest of finishes only needs a cursory random orbit sanding after coming out of this machine.
In a race for MVP machine in the shop, Roltgen said the widebelt is second only to the CNC router. "I have a ShopBot PRS Alpha 9660 with spindle and vac hold-down," he said. "Especially as a one-person crew, I cannot imagine being able to survive in this business without (it).
"As a furniture maker, I am highly attuned to wood grain selection and proper location for looks and function, so hardwood processing starts at the Grizzly G0455 10-inch jointer. Retrofit with a Byrd Shelix head and 84-inch tip to tail beds, it easily handles flattening and straightening of almost any slab of wood my variety of work calls for."
That, and its counterpart, the Grizzly G1021X that Roltgen recently rebuilt, are key to starting with optimally prepped lumber for traditional, heirloom grade furnishings. 
"What I love about the ShopBot is its flexibility. I've got several jigs that allow me to do 'end work,' as it has a good 10-plus inches of over-travel off the loading end of the table. This allows the use of a dovetail jig which utilizes a custom code to direct the tool path for the bit to follow. It looks like a Porter Cable jig without the forks. It allows super-clean production of dovetail drawers, with fit adjustments down to .001 inch.
"A similar jig and approach is used for producing tenons for the more traditional furnishings, like Arts & Crafts and Mission styles. As of late, I'm being called upon to do more intricate mouldings and carvings, so (I am) really using the Vectric (CNC software) product to its full potential. The CNC has enabled me to do more in house, resulting in a well-rounded repertoire of techniques, allowing me to say 'yes, we can do that' more frequently." 
Digital fabrication is key for a single-person shop to consistently provide high quality and high accuracy at reasonably good rates of speed.
Roltgen said that he loves finishing and what it can do.
"Due to my appetite for challenges and wide variety of work, the sky's the limit. I love finishing, as that's where the magic happens! As of late, I've developed methodology to produce a very genuine barn board look, and even reclaimed lumber. (I am) also doing lots of rubbed-back paint finishes.
"Key to executing these multi-level finishes is Trans-Tint dyes, wax-free shellac seal/barrier coats for rub-back paint finishes, and Mohawk knock-down glazes. These products allow a variety of options while offering fast cure rates, little to no oil residues to impede adhesion, which means world-class finishes (can be) executed in a timely fashion.
Combining the right methods, equipment and software has helped Roltgen deliver a high quality product to customers.
ShopBot PRS Alpha 9660 with spindle and vac hold-down has proven to be especially useful in a one-man shop making custom work.
FACTS
Roltgen's Woodworks
Rapid City, South Dakota
Products: Custom furniture and cabinets
Employees: 1
Have something to say? Share your thoughts with us in the comments below.