Contract furniture, retailers expand home office partnerships
September 4, 2020 | 2:21 pm CDT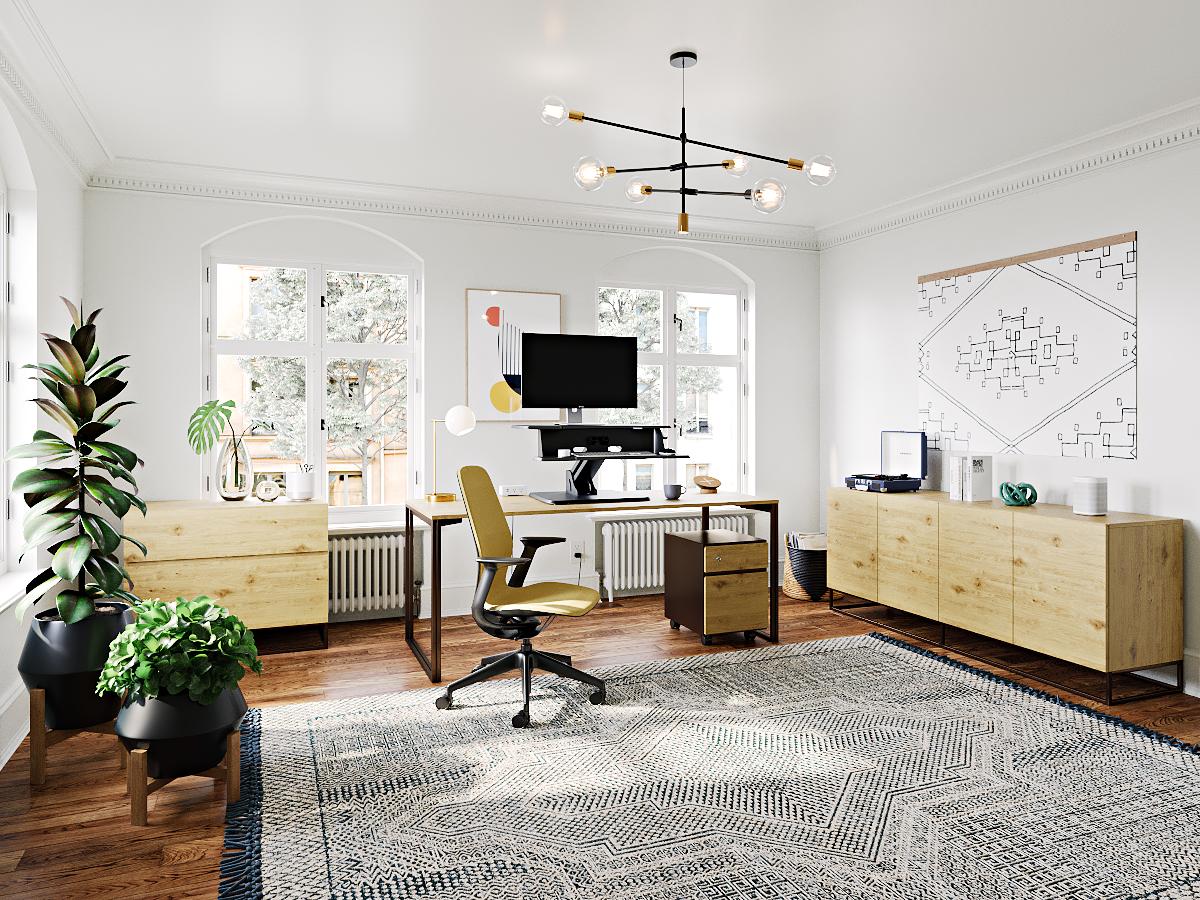 By some estimates, about one-half of U.S. office workers are working from home or elsewhere rather than their company's offices. The move to home offices has been going on for a number of years, but the Covid-19 pandemic has resulted in a rapid change in the workplace in 2020.
Many workers will return to the office when the pandemic ends, but it is likely that many will continue to work at home, at least part of the time.
"The home office market has been a cultural and business 'gentle giant' that has been in our presence for over four decades," said Mike Dunlap of Michael A. Dunlap & Associates, LLC.
"Until the movements since Covid-19 arrived into our daily global life, people who worked from home or other remote locations were "outliers" -- people or things situated away or detached from the main body or system."
Today, those outliers are buying a lot of desks, chairs and shelves, but one of the biggest questions is not what they are buying, but where?
"This is a more complex question than you might expect," said Dunlap, an analyst of the contract furniture market based in Holland, Michigan. "The primary question is where to buy? Retailer? Dealer? Distributor? Online direct or through a portal like Amazon? What about Wayfair, West Elm, Staples, Office Max, Office Depot, Costco, Sam's Club?
"Some of the major contract manufacturers offer their products through online stores, but the choices are very limited," Dunlap said. "If you search online for 'home office furniture,' it's not likely you will find what you are looking for. You can purchase a table or chair online from one of the major contract manufacturers, but it won't be the 'deal' you want."
Of the traditional contract manufacturers, Dunlap sees both Knoll and Herman Miller introducing products targeted to the home office market, and believes other companies are looking closely at the market.
What are some of the characteristics of home office furniture compared to standard contract furniture?
Dunlap doesn't see a lot of differences. "But fewer choices of upholstery or color are probably the most noticeable," he said. "Selection of low cost and lighter duty components don't make sense if they blemish the brand or reliability, just to save a few dollars and cents in material cost.
Dunlap also doesn't see specific products developed for the home office market, but does expect both smaller and less expensive products. For example, he sees chairs with fewer features and tables with less range of height adjustment.
"Price is also a very sensitive element. If employers are requiring their people to work from home, they should spend the same money as they would for their own offices."
In June, Steelcase and design company West Elm announced the expansion of their contract interiors partnership with the launch of a selection of retail products available to consumers on WestElm.com.
The introductory selection of 26 product lines ranging from $90 to $4,500 includes Steelcase ergonomic office chairs, desks and storage, and flexible pieces from Steelcase such as laptop stands, charging accessories and side tables for additional working surfaces. 
"More people are working from home today and will continue to do so in the future, yet many lack the ergonomic seating or smart work tools to be comfortable and productive," said Meghan Dean, director of Steelcase ancillary partnerships. "Together, Steelcase and West Elm will help workers create work-from-home spaces that are healthy and inspiring." 
In July, Knoll, Inc. launched Knoll + Muuto Work from Home furniture, lighting and accessories. Consumers can shop online for work-from-home products that are reported to be shipped in one to three days. Muuto is based in Denmark and specializes in Scandinavian design.
"People who have been working from home miss their workplace-specific furniture such as a high-performance desk chair, an adjustable height desk and accessories, even a comfortable reading chair," said Knoll design director Benjamin Pardo. "Our work-from-home offering responds to the need for good design for today's work-from-home lifestyle."
Knoll is also working with clients in the commercial, healthcare and education sectors on programs that allow their employees to purchase Knoll + Muuto work-from-home furniture online.
Sauder Palladia line for home workers. RTA leader has a wide variety of furniture for home offices.
Ready-to-assemble leader Sauder Woodworking Co. has a large selection of ready-to-assemble desks, home office computer desks, writing tables, base cabinets, lateral files, credenzas, hutches and office chairs on its own website.
The company's home office products are also widely distributed and are available at Home Depot, Walmart and Office Depot, Amazon and other retailers.
After the merger of Bestar and Bush Industries early this year, the combined company expanded sales through e-commerce, especially meeting increased demand for work from home products including desks, chairs, file cabinets and bookcases. The Bush factory in Jamestown, New York, has reopened and plans to hire additional workers
Bush Furniture is intended for the casual or temporary home office, and Bush Business Furniture is for the full-time home worker. Bush is offering free shipping in the U.S. within three to five days to help those working from home.
Increased demand for Bush Business Furniture is expected from employees working from home permanently, or returning to reconfigured offices. Bestar-Bush has also created relationships with online retailers.
Ashley Furniture's home office category includes desks, bookcases, office chairs, storage and office sets.
Among the best sellers for Ashley include the Aldwin home office lift-top desk, Bolanburg 75-inch high bookcase, and Program home office desk chair.
Have something to say? Share your thoughts with us in the comments below.