Get a double dose of advice from The Wood Dr. at Wood Pro Expo Lancaster
May 30, 2018 | 12:39 pm CDT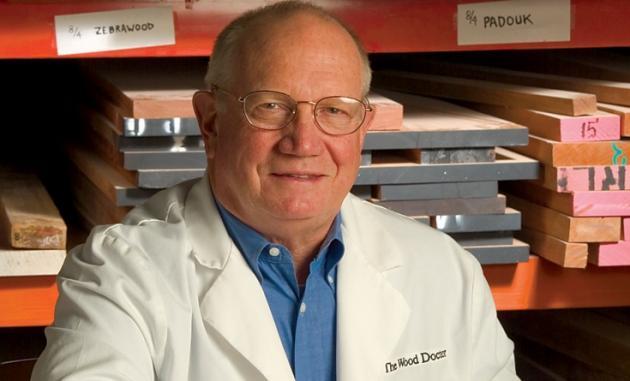 LANCASTER, PA -- Dr. Eugene Wengert, AKA the Wood Doctor, will bring his sage advice to Wood Pro Expo Lancaster October 18 and 19. Wengert has been training people in the efficient use of wood for 35 years. He is extension specialist emeritus at the University of Wisconsin-Madison and a regular columnist for FDMC and the Woodworking Network.
Wengert's first presentation, Practical ideas for increasing yield from lumber, will be held October 18 at 2:30 p.m. at the Warehouse at the Nook in Manheim, PA, just outside of Lancaster.
According to Wengert, improvements in yield are often three times more important financially than savings in labor or machine cost. Stated another way, the wood cost of manufacturing the final product is often around 75 percent of the total production cost. So, this means improvements in yield will have a bigger impact than labor savings. (Of course, safety is always the #1 item, so yield is #2.)  Before becoming too concerned about yield, Wengert said we must also consider the cost of the raw material. As an example, when we buy No.1 common oak, we might get 60 percent yield. If we looked at No.2 Common grade, the yield might drop to 50 percent, but because No.2 costs half as much as No.1, the overall cost when using No.2 is less than when using No.1, considering yield, longer time to process, and so on.  "With the increasing price of lumber, we need the look more closely at the factors influencing yield and what practical steps we can take in our own operation to increase yield," said Wengert.
Keynote:  The Wood Doctor is in
Wengert will headline Day 2 (October 19)  of Wood Pro Expo Lancaster with his opening keynote, The Wood Doctor is in.  His wide-ranging presentation will address the changes in the industry and their effects on the typical woodworker's business.  "No doubt that many basics in our industry are changing, " said Wengert.  "We'll look at changes in wood availability, wood prices, wood product market changes and more, and then what we can do to be ready- -to minimize the impact or even benefit from these changes."  He'll also save some time to field questions from the audience on practical or technical challenges you encounter in lumber and panel - the Q+A's in FDMC magazine that have made him such a treasured woodworking industry resource.
Wengert is the author of eight practical books and has published over 500 articles relating to the wood products industry. As a former professor and extension specialist at Virginia Tech University and researcher at the USDA Forest Products Lab in Madison, Wisconsin, Wengert taught over 30 practical wood processing classes and seminars a year for the wood products industry, including sawing, edging, grading, drying, machining and gluing.
Wood Pro Expo is a regional show for woodworking businesses bringing suppliers and experts together for a localized presentation of equipment and supply solutions. In each city where it takes place, it includes a strong educational program on best practices for shop production, and as well as an expo oriented to equipment and supplies geared to small and medium-size shops, including CNC basics, employee recruitment, finishing, lean manufacturing, business management, software, and shop safety.
Launched in 2014 in Baltimore, the show moved in October 2017 to Lancaster, Pennsylvania as an annual event. Following the 2018 Lancaster event, Wood Pro Expo will return to Charlotte on March 6-8, 2019, co-located with the Cabinets & Closets Expo. 
Registration for Wood Pro Expo Lancaster will open June 25.
Have something to say? Share your thoughts with us in the comments below.